A fire appliance was pelted with missiles after disorder in Craigavon late on Thursday night.
And police in Craigavon are warning young people of the consequences of becoming involved in such activities.
The warning comes after a fire was started on a main road in the Drumellan Court area.
Police received a report of the fire at around 11pm on Thursday. It was also reported that a number of youths were in the area with unlit petrol bombs.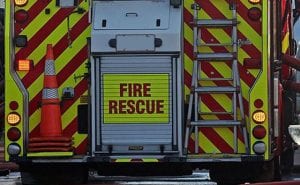 Northern Ireland Fire and Rescue Service attended and missiles were thrown at the fire appliance.
Further reports were received by police of youths being rowdy, causing annoyance and the theft of a wheelie bin which was subsequently set alight.
Officers attended and monitored the situation before two males, aged 17 and 18, were arrested for disorderly behaviour and later charged.
Inspector Duncan McBain said: "An incident like this causes misery for everyone. The local community is disrupted and intimidated and put in danger, emergency services are using resources that could be put to better use and the young people involved are jeopardising their futures.
"Setting a fire in the middle of a housing area is foolhardy at best and life-threatening at worst. The young people involved are putting themselves and their own community at risk. They appear to have no understanding of the consequences of their actions. Not only could someone have been seriously harmed but they are oblivious to the repercussions that a criminal conviction can have on their own lives.
"We know that the vast majority of the community in Brownlow simply want to go about their business in a safe environment and we want to devote our resources to achieving this.
"I would ask anyone with information about these incidents to contact us on 101, quoting ref: 1255 040216."
Read more news:
Furious parents to stage Stormont rally over autism assessment waiting list shambles
Shots fired at house as young family slept
Police warn public after rogue 'trader' fleeces man and flees with cash
Police reissue appeal following crash which killed Shannon Weir
Massive £3m park-and-ride facility for Portadown 'to be in place by 2017'
Man killed in single vehicle crash in south Armagh named locally
New £670,000 full-sized 3G pitch officially opened in Markethill
Sign Up To Our Newsletter