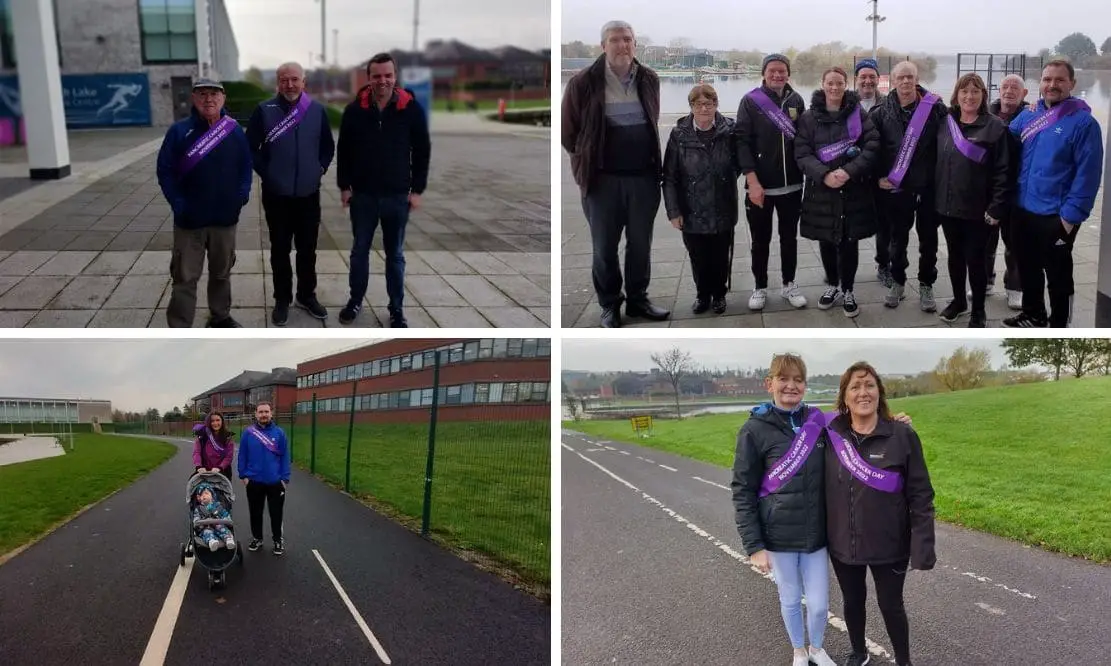 A Craigavon man has taken part in a 30km sponsored walk this week to raise money for charity after his step-father was diagnosed with cancer.
Neill Wells, his mum and a range of friends and family, took part in a 30km sponsored walk around Craigavon Lakes in order to raise money for Pancreatic Cancer UK.
Pancreatic Cancer UK are a charity organisation which seeks to support people affected by pancreatic cancer, alongside helping to fund research into the disease.
This cause is particularly important for Neill and his family, as Neill's step-father has been diagnosed with stage-four pancreatic cancer.
Shay Conway – Neill's step-father – is originally from Kildare but had been living in Craigavon for 20 years.
Neill told Armagh I: "Our stepfather means a lot to us, so we're looking to do it for him."
Speaking to Neill about the fundraiser and why it is important to him, he said: "Pancreatic cancer needs a lot more research carried out into it to help us treat people better, so we want to put as much money as we can towards it.
"It's a great cause because there are so many people dying of pancreatic cancer each year, and it's one of those cancers that can't really be cured, so we hope that the money we raise for research can help us to get a better understanding of how to treat people that are diagnosed with it."
Neil, speaking to Armagh I during the event, says that despite the challenge being a big undertaking, a lot of people have got involved.
"We're taking turns doing the laps, so people have been here all day. There were people here this morning, there's people here now and there will be people coming down later.
"There's probably around 20 or 30 people involved, all taking turns doing laps, so it's a big challenge. It's meant to be 30km, but because there are so many people that are doing laps, we're doing a lot more than 30km.
"My mum's aiming to do 30km herself, and hopes to be able to get around the lake six times."
Neill's mum, Gabrielle Conway, said: "Pancreatic Cancer is known as the silent killer. Pancreatic cancer is cancer that's found anywhere in the pancreas, an organ in the top of your tummy that helps digest food and makes hormones.
"The symptoms are hard to spot. They can include jaundice, sickness, changes in your poo, losing weight, indigestion and tummy or back pain. There are no identifiable warning signs of pancreatic cancer."
Gabrielle added: "More funding is needed to research means of early detection for this horrible disease. That's why we're out on our walk today to raise as much money as we can and also to help raise awareness."
Those interested in donating to the appeal for Pancreatic Cancer UK can do so here.
Sign Up To Our Newsletter