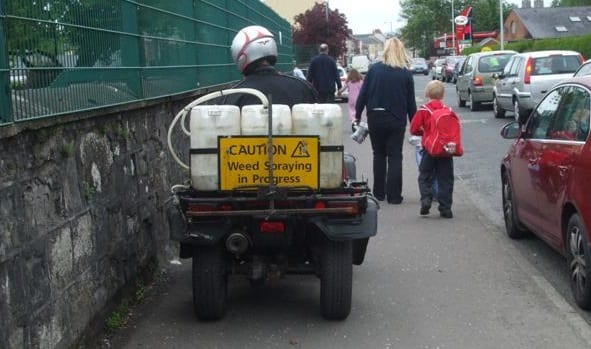 Councillors rejected a proposal to halve the costs of spraying weeds across the Borough earlier this week.
Currently, Armagh City, Banbridge and Craigavon Borough Council spend over £50,000 a year to spray weeds with some areas benefiting more than others.
In the last financial year more than £33,000 was spent in the Armagh area alone, with spraying in the Craigavon legacy area costing just over £12,500, while Banbridge added the final £4,000 to that total.
Council officers had proposed two options; one of which was to continue as is, while the other was to reduce the overall costs to just under £19,000 by spreading the work carried out evenly across the entire Borough. This was the recommended option.
However,  councillors opted to keep the current system in place, which will cost around £51,000.
Armagh I understands that weed spraying for the year ahead had already been budgeted for making it difficult for any changes to be implemented for the coming financial year.
Councillors also expressed concerns that if Council did not do the work Transport NI and the Housing Executive would not, leaving residents and businesses in the area in a difficult position, which would then lead to further issues.
Armagh-based councillors in particular were opposed to any cuts in services in their area.
There are plans for a report to be compiled to be brought back to Council in the post-summer months but it is believed councillors are in favour of bringing the entire Borough up to the standard applied by the legacy council in Armagh City.
A report brought before the Environment Committee earlier in the week recommended a harmonised approach which "would mean that a resident or business in any part of the Borough will be treated in the same way, no matter where they are located".
That move was aimed at reducing costs by £32,000. Councillors did agree on the harmonised approach but instead of reducing the service in Armagh, they want to see an increased approach in both the Craigavon and Banbridge legacy council areas.
The plans are still to be debated and ratified at the full council meeting later this month.
Sign Up To Our Newsletter