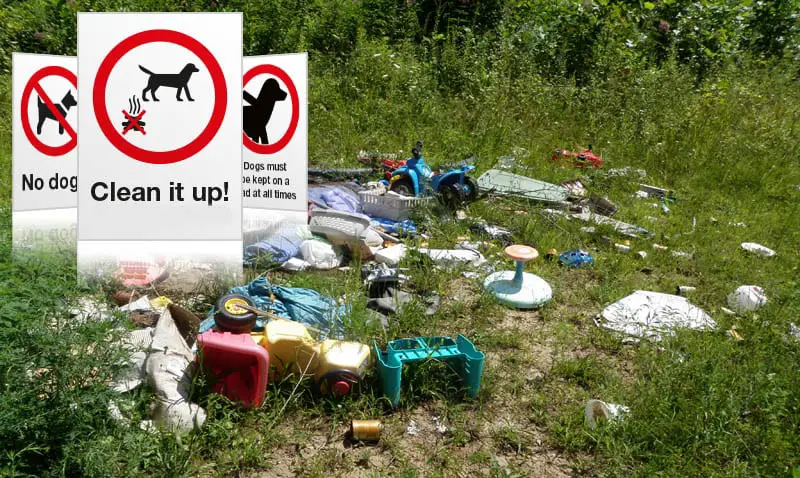 A 'zero tolerance' approach is set to be adopted by ABC Council in a bid to radically improve cleanliness across the district.
Concerns have been raised recently regarding dog fouling, littering and fly-tipping within the Borough boundaries.
And now the Council has drafted up a meticulous four-point action plan, which includes members of the public being "encouraged to provide information on known offenders" and "officers working from unmarked vehicles or clothing".
The robust blueprint will go before councillors this afternoon for their seal of approval. The four key action points are: visibility; education, engagement and enforcement.
It is aimed at making sure there is a "zero tolerance" approach adopted, and there are plans to lobby "for increased fixed penalties and court fines" for offenders.
Dog owners could be hit hard too, with consideration being given to the "introduction of Dog Control Orders". This would mean 'Dogs on leads' and 'Dogs on leads by direction' as a means of reducing dog fouling in public parks, which could include fenced areas to allow dogs off leads in what would essential be a dog park.
Council want to review service delivery models with the aim that patrols will be able to take place in the evenings and in rural areas across the Borough in addition to existing patterns.
Officers will become more visible in terms of uniform and vehicle livery but will also retain the flexibility of working from unmarked vehicles or clothing depending on the most suitable approach to the situation under investigation.
There will also be programmes, which will include those suitable for parents/grandparents and early learning settings. These programmes will include information on the harmful effects of illegal dumping, legislation and enforcement and alternative disposal options.
Public knowledge of Council costs in clean ups will be increased through education and publicity.
Community engagement with residents, to encourage ownership of area, through schemes like 'Adopt-a-Street' will be implemented across the Borough.
Today, it will be recommended that councillors endorse the proposals as the foundation for a Clean Neighbourhoods Action Plan, which will be presented to Committee in June.
Read more news:
Serious road accident as van collides with tree outside Armagh
Two cars destroyed in petrol bomb attack
Brother pays tribute to inspirational sister found dead in Lurgan
Almost 1,000 bags of rubbish collected on rural roads in recent weeks
Owner hits out after gym is destroyed in suspected 'sectarian arson attack'
Man arrested after woman's body is found in apartment block
Four arrested with suspected firearm in car – including teenage woman
Concerns grow for missing 25-year-old woman
Sign Up To Our Newsletter