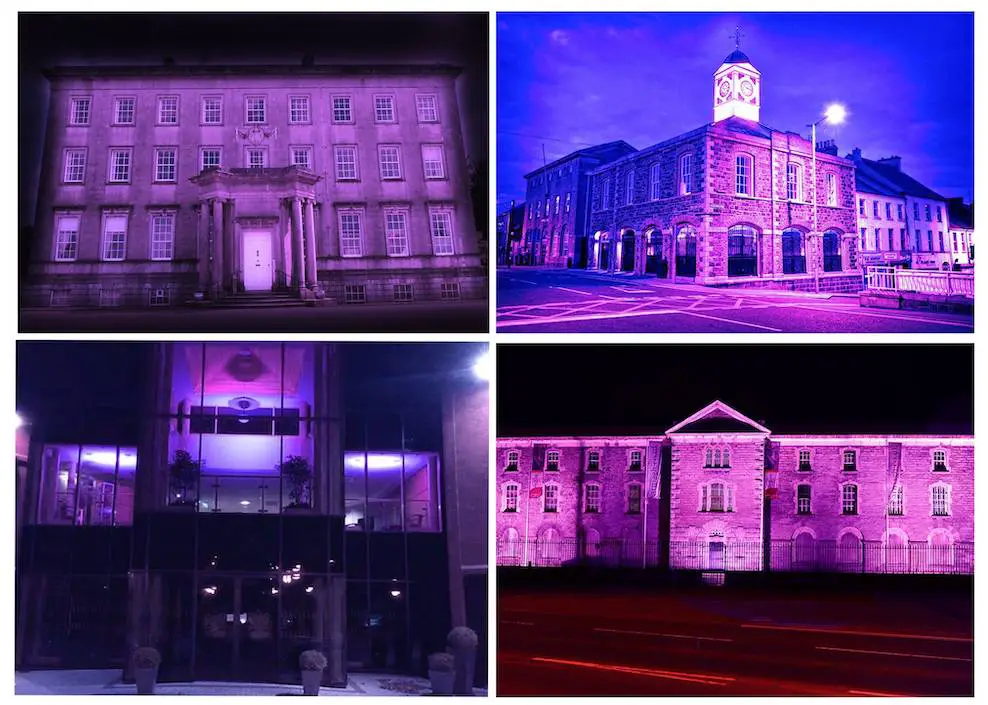 A request to light up civic buildings in the borough in support of the Black Lives Matter has been refused.
A request had gone forward to light buildings purple.
But the move was rejected on the opposition of the DUP and Ulster Unionists and an alternative proposal brought forward.
They stressed the matter was due to the "political affiliation" of the Black Lives Matter campaign.
It was proposed and passed instead that buildings be lit up red on March 21, which is a specified day to display support for anti-racism and this would be an annual occurrence.
In the meantime, it will be lit red within the next week on the proposal of Sinn Fein Councillor Catherine Nelson who had backed the original proposal.
The buildings which are traditionally lit are the Palace and Armagh Gaol, the Town Hall building in Banbridge and Craigavon Civic Centre.
Sinn Fein Councillor Catherine Nelson said she was happy to propose.
She said racism was not just something that exists within the US.
Councillor Nelson said lighting buildings would be a "welcome act of solidarity".
SDLP Councillor Joe Nelson seconded the proposal.
Alliance Councillor Eoin Tennyson voiced support. He expressed sympathy to the family of George Floyd in the US and the "horrific image" of the officer with his knee on his neck as he shouted that he could not breathe.
He said the incident had "shone a light on systemic racism". He said this was a "small but hugely significant gesture that will send a very clear message".
DUP Councillor Darryn Causby said he supported the message of anti-racism and he encouraged people to report such crimes.
"Where our issue with this item is in relation to Black Lives Matter," he said. "Black Lives Matter is not just a phrase. While they do matter the phrase and organisation is that of a left-wing organisation, political movement who seek and very openly endeavours in its own words to dismantle capitalism, defund police and take down state structures."
That, he said, was not something the DUP as a party could endorse or support. Given this, he said, Black Lives Matters' "political leanings" was not something they saw as "appropriate at this time".
He said they would support anti-racism measures but this issue was around political connotations and not anti-racism
Councillor Causby said they were more than happy to have other requests around anti-racism just not around the Black Lives Matter movement.
Ulster Unionist Councillor Sam Nicholson said as a party they had no issue with the sentiment and congratulated the Lord Mayor Kevin Savage on opening a book of condolence following the "terrible actions" which had led to the death of George Floyd.
He said: "This is not just a group, this is a political movement. We have all witnessed the demonstrations, the chaos of recent weeks where basically there's been attacks on war memorial statues, basically anything of British heritage. It makes you wonder what those things do to help against racism."
He added: "Every life matters. We're all human beings."
Councillor Nicholson said he would like to to see discrimination stamped out, and said there was a day against racism where buildings are lit in red, on March 21.
He proposed they consider lighting buildings red on that date "against racism".
Independent Councillor Paul Berry said George Floyd's death had been a "despicable murder", adding that any right-thinking person would "condemn it and condemn it outright".
Racism of any type, he said, was "totally and utterly wrong".
Sinn Fein's Catherine Nelson said it was "disappointing" people were "hiding behind the cover of every life matters".
She said this was "misinterpreting" the issue and she described the scenes witnessed on television as being carried out by a "handful of idiots".
But she said she was happy instead to light up buildings in red in a show against racism and "hopefully we can all get behind that".
"If it broadens it out to get others to come behind the motion," said Catherine Nelson, then she would agree and she asked it be done "next week or as soon as it possible".
This was accepted and agreed they then move to "annualise" the lighting of buildings red on March 21 as a step against racism.
Sign Up To Our Newsletter