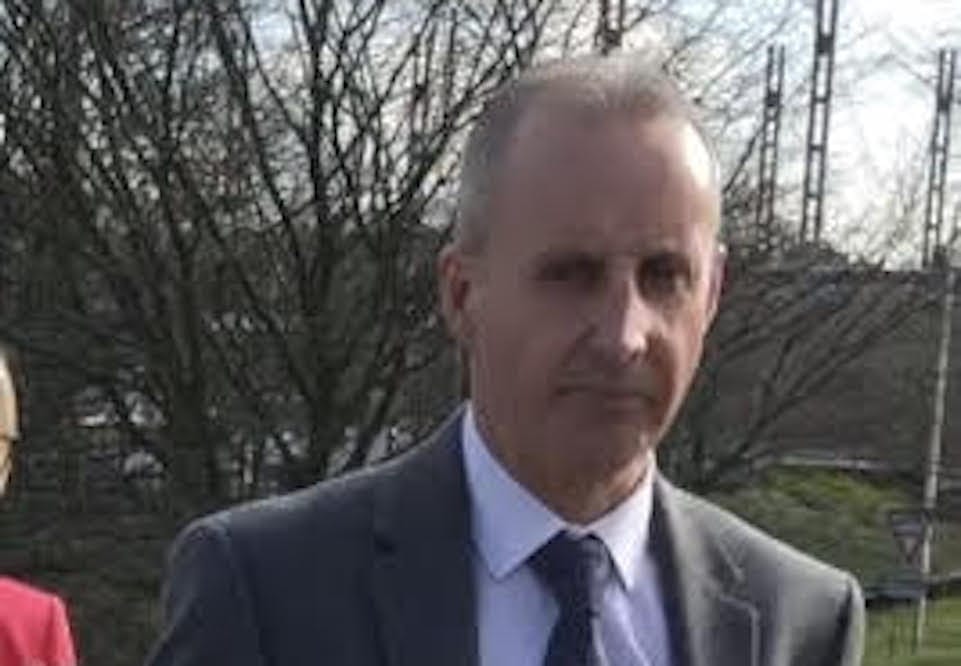 A Co Armagh youth group leader who masturbated in front of three teenage schoolgirls at public playing fields has been given a three year jail sentence.
Ordering former Craigavon youth bank co-ordinator, 52-year-old Terry McCollum, to spend 15 months in jail and the rest of his sentence under supervised licence conditions, Judge Patrick Lynch QC praised the three teenage girls for their actions and common sense not to run away but instead to "surreptitiously record" the deviant as he exposed himself from 30 to 40 yards away.
Giving evidence at McCollum's trial last January, the girls told the jury they decided to video the creep on a mobile phone in case he denied what he had done.
And on Friday, the judge said it was that explicit video which "gave a total lie" to the defendant's claims he had simply been trying to pee.
It was thanks to the girls' actions that McCollum "is now convicted as a sexual pervert," said Judge Lynch, who told the court he wanted the teenagers to be "officially commended" for bringing him to justice.
At the end of his one day trial in Craigavon Crown Court, McCollum, from Kernan Hill Manor in the town, was unanimously convicted on three counts of indecently exposing his genitals in a "lewd, obscene and disgusting nature" and three counts of engaging in sexual activity in the presence of the three girls "for the purpose of obtaining sexual gratification" on May 26 last year.
The jury heard how the three girls, who were aged between 13 and 15, were sitting on a ledge near the car park at Kernan playing fields when they saw a man, who turned out to be McCollum, "peering" around the corner of the changing rooms looking at them.
With his shorts around his ankles, McCollum had his genitals exposed and was masturbating.
Fearing that no one would believe them, one of the girl took video recording of the incident on her mobile phone and that recording was played to the jury.
The recording showed how McCollum twice alternated between hands and raised them up to his mouth.
Giving evidence on his own behalf, McCollum denied those actions were him "spitting" on his hands.
He claimed he had been out for a run and was in fact waving flies away from his face.
McCollum further claimed he had recently lost weight so his shorts were at his ankles because they had simply "fallen down".
Outlining how he has a problem with his prostate and urinating, he told the jury that the actions the girls witnessed was him trying to pee, conceding that although "there's no support scientifically" for it, he found it helped him relieve his urinary problem.
By their verdicts, however, the jury, who deliberated for two hours before coming to their unanimous finding, rejected his claims.
In court on Friday, prosecuting counsel Ian Tannahill said "one might wonder" what the outcome of the trial would have been if it had not been for the actions of the three schoolgirls.
He revealed however that as a result of the incident itself, and having to go through the ordeal of giving evidence in the trial and being cross-examined, victim impact statements recorded how McCollum's three young victims had been left feeling "on edge" and unsettled, avoiding public parks and specifically where the incident happened.
Mr Tannahill submitted the fact there were three victims was an aggravating factor in the case, as was the effect the incident has had upon them.
The court heard that during interviews with a probation officer, McCollum tried to give a "watered down version" of what had happened, partially maintaining that he had been trying to urinate.
But defence counsel Conor Lunney told the court he had addressed that point specifically with the defendant and he accepted his action.
Although Mr Lunney submitted "there's an element of remorse" from McCollum, Mr Tannahill was scathing of the submission, declaring that his sorrow was "of a man who had been caught out lying".
"The only remorse is for the position he finds himself in, not for the position of the girls or for anything that anyone has seen or heard in this court," declared Crown counsel.
Mr Lunny told the court McCollum himself had claimed during consultation that he felt he had "no alternative" to take the case to trial as he had "so much to lose", including his job, his house "and his liberty".
"In his own words, in hindsight, he would go back and plead guilty," said the lawyer, adding that he had been instructed "to apologise to the girls".
Jailing "miscreant" McCollum, Judge Lynch told him that as a youth worker in the highly socially deprived areas of Lurgan and Craigavon, "there's no doubt that you conducted yourself in the past by doing valuable work".
He added however "that cuts both ways", because McCollum "must know the potential impact of sexual impropriety on children".
"It's perfectly clear that he deliberately went to be in close proximity to the three girls and that he started to masturbate, deliberately exposed himself so that he was seen and that he knew he was exposing himself," said the judge.
He said while he accepted McCollum going to jail would have an affect on his daughter, Judge Lynch said that tragically, it was often the case that relatives of defendants "suffer as much and sometimes more" than the offender themselves, "but that cannot be a barrier" to a proper and justified sentence.
In addition to the jail sentence, McCollum was ordered to sign the police sex offenders register for the rest of his life, was barred from working with children and made the subject of a seven year sexual offences prevention order.
Sign Up To Our Newsletter