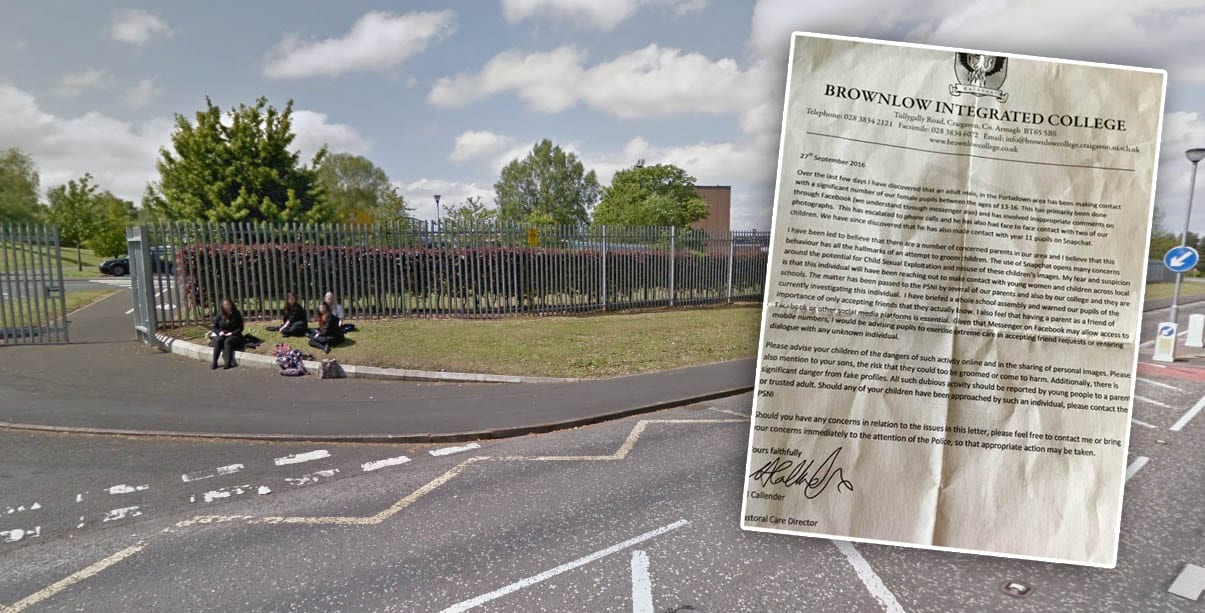 A County Armagh school has written to warn parents to be on their guard after it was alleged that a man had made contacted with students – both online and in person.
A number of parents of children attending Brownlow Integrated College have mad reports to the PSNI.
The college has also contacted police after raising very serious concerns over behaviour which it claims has "all the hallmarks of an attempt to groom children".
The college's director of pastoral care wrote a lengthy and detailed letter after claiming that "an adult make in the Portadown area has been making contact with a significant number of our female pupils between the ages of 13-16".
The letter states: "This is primarily being done through Facebook (we understand through messenger also) and has involved inappropriate comments on photographs. This has escalated to phone calls and he has also had face-to-face contact with two of our children. We have since discovered that he has also made contact with Year 11 pupuls on Snapchat.
"I have been led to believe that there are a number of concerns parents in our area and I believe that this behaviour has all the hallmarks of an attempt to groom children. The use of Snapchat opens many concerns around the potential for Child Sexual Exploitation and misuse of these children's images. My fear and suspicion is that this individual will have been reaching out to make contact with young women and children across local schools."
The pastoral care director says the matter has been passed to the PSNI by several parents of pupils and by the college itself, and police are "currently investigating this individual".
The letter continues: "I have briefed the whole school assembly and warned our pupils of the importance of only accepting friends that they actually know. I also feel that having a parent as a friend on Facebook or other social media platforms is essential. Given that messenger on Facebook might allow access to mobile numbers, I would be advising pupils to exercise extreme care in accepting friend requests or entering dialogue with any unknown individual.
"Please advise your children of the dangers of such activity online and in the sharing of personal images. Please also mention to your sons, the risk that they could too be groomed or come to harm. Additionally there is significant danger from fake profiles. All such dubious activity should be reported by young people to a parent or trusted adult.
"Should any of your children have been approached by such an individual please contact PSNI."
Read more news:
County Armagh father-of-three knocked from bike as he cycled to work
South Armagh man jailed after 'criminal cash' seized from house and vehicles
Youth in custody tonight and drugs seized after car stopped in Keady
Teenager arrested following Armagh burglary
Scrap yard fire which destroyed 300 cars 'suspicious', police confirm
Pictures show shocking extent of suspected arson outside Keady
Streets closed after two homes shot at in county Armagh
Young couple attacked in their home by armed robbers
Sign Up To Our Newsletter