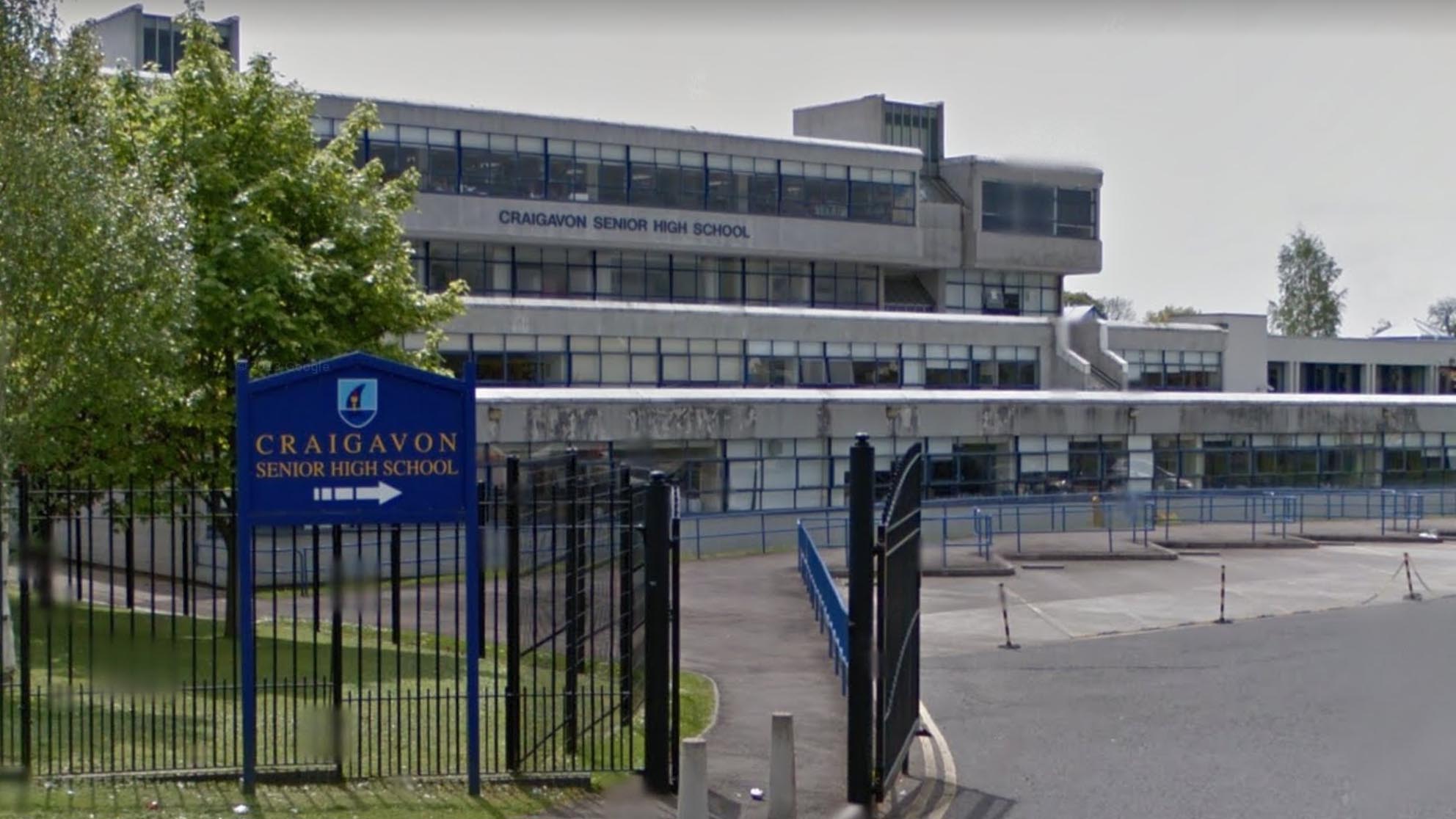 Parents and politicians have accused a Co Armagh school of "giving up" on children after a letter was reportedly issued informing that some GCSE Maths pupils were to be transferred to a lower level course.
The move, according to the letter, was based on the result of an exam which forms a part of the overall GCSE Maths course.
The letter which indicates a decision taken that affects children at Year 11 in Craigavon Senior High, based on the outcome of an exam at the end of last term which accounts towards 45% of the GCSE Maths mark.
Ulster Unionist Upper Bann MLA Doug Beattie hit out after the correspondence emerged this weekend, claiming it was essentially telling children they "don't measure up".
The letter, dated last Wednesday, informed parents: "After analysis of your child's module result, we feel it may be difficult for your child to improve upon this module result in order to achieve a pass grade C at GCSE level.
"We have therefore decided to withdraw your son/daughter from the GCSE Mathematics course and transfer them to Level 1 Essential Skills Numeracy. We have taken the decision to change the course to Essential Skills Numeracy as it will enable your child to achieve a recognised qualification that can be built upon should they progress to Southern Regional College or Further Education."
The letter advises recipients that their child will continue to study Mathematics with a course placing "greater emphasis" on its use in "everyday life situations", adding: "I am confident your child will develop numeracy skills that will equip them for life beyond Craigavon Senior High School."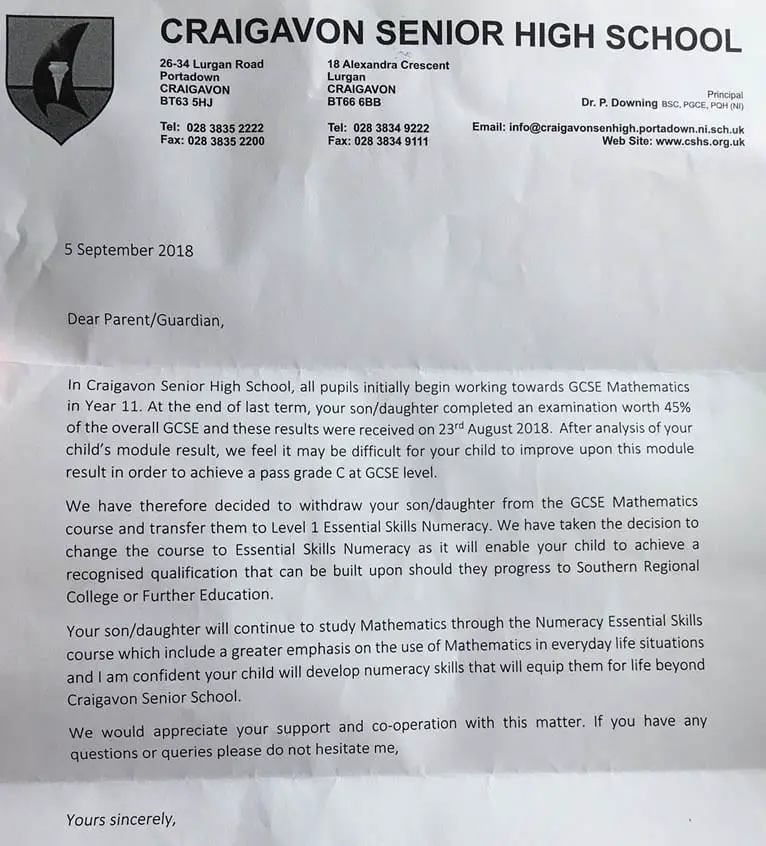 After the emergence of the correspondence on social media, Mr Beattie was outraged.
He said: "I have a serious concern that Craigavon Senior High School has given up on its pupils.
"For any pupil to be told that they don't measure up or not be given the opportunity to strive for better is both devastating for the pupil and their families.
"I simply cannot accept that any pupils will be stifled from trying to achieve a GCSE pass in Maths."
Local lobby group Education Equaity for Lurgan also issued a hard-hitting response and accused the school of having "absolutely no stability" and of those in a position of authority having "let down" the people of south Lurgan.
They claimed: "They don't care about your children, they are not fit for purpose, they have guided Craigavon Senior High School to the bottom of the pile and now to add further insult they send these letters out to tell parents that after completing 1 year of their 2 year GCSE course that they are pulling them out of the exam and placing them in Level 1 Essential Skills Numeracy.
"These are children who it is claimed went through at least 8 different maths teachers in one year and some pupils claiming there were periods where they weren't receiving GCSE maths classes at all. How are children expected to be at a level where they should be when the clowns are running the circus, there is absolutely no stability at this school.
"Children claiming large parts of their tests weren't even taught throughout the year. Is this CSHS trying to manipulate their way up the league tables? We already know the children come second where the authorities are concerned with this school, and we have called the BoG out time and time again on their dereliction in duty of care to these kids and the environment they are taught in.
"Further to this letter we have been informed that the children will be receiving even less classroom time this term with 1 day per week spent in work placement and another as a non uniform 'Link' day. This is precious time that should be spent in the classroom and is exactly what we are hearing from parents who are absolutely fuming to have received this letter.
"We know of a number of parents who opted to send their children to other schools rather than CHSH this term, some to Banbridge some to Brownlow and some even further afield, and have been hearing the same for parents regarding next year's group of transfer pupils due to the mess they have created with this school.
"South Lurgan has been let down by the politicians, by the Education Authority and by the Board of Governors who have run this school into the ground and people are becoming sick to the back teeth of it.
"There is a lot of anger and frustration the way our children are being treated, it is their future that is at stake here.
"Reform is needed and it is needed immediately."
Sign Up To Our Newsletter