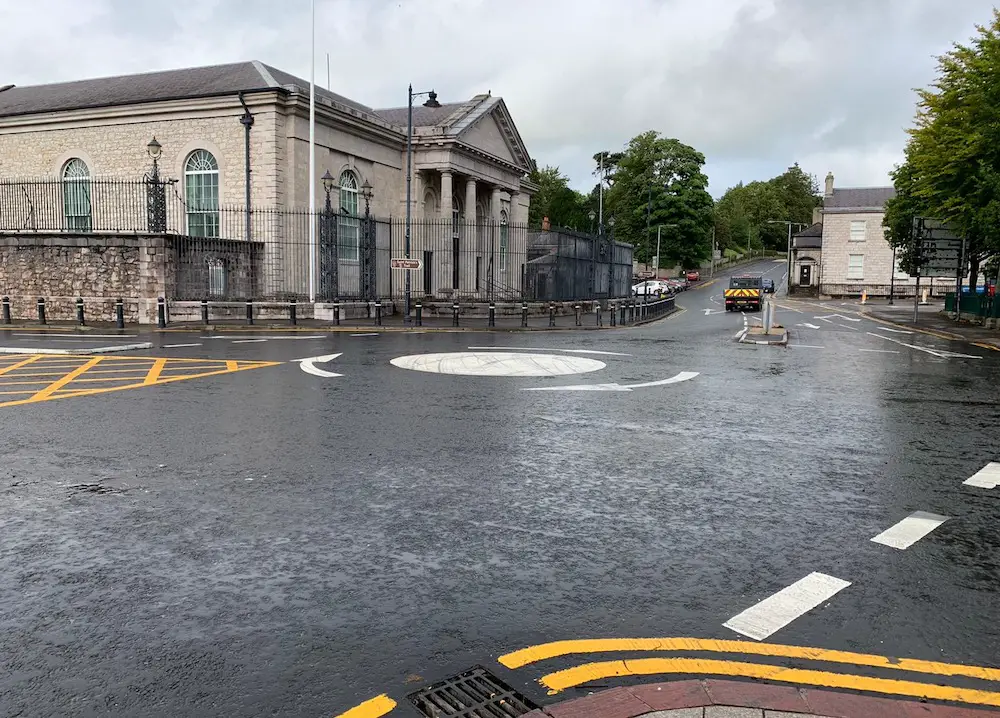 A man who is accused of stealing £2,000 in cash and a haul of other items from a house in Moira has been remanded into custody.
Stephen McIlwaine, with an address of Norglen Parade in Belfast, is accused of an aggravated burglary in which he – and another unknown male – allegedly threatened the lone female occupant stating that "they were LVF and that if she contacted police they would return and burn her house down".
The 50-year-old appeared before Armagh Magistrates' Court – sitting in Newry – on Tuesday charged with aggravated burglary, criminal damage and theft.
The offences are alleged to have occurred at a property in Castlevue Park last Thursday, July 20.
An officer told the court that police received a report on the Friday from a woman stating that the day before, shortly before 8pm, she was alone in her house when the Ring doorbell was activated.
She told police that she thought this was her partner and called for the person to come on into the house.
The officer stated: "An unknown male then entered the house and demanded to know where the money was kept. He was wearing an army style jacket and carrying a dog lead which he was noted to be wrapping around his hands.
"The victim stated she did not have any money and the male began to ransack the property. A second male is then alleged to have entered the property. The male was masked, wearing a black beanie hat and goggles, and a black scarf around the bottom half of his face. He also demanded to know where the money was."
The court heard that the males then allegedly took her into the kitchen and that "the first male held down her arm while the second male took a knife from her kitchen drawer and threatened to cut her finger off if she didn't tell them where the money was".
The alleged thieves then left the property with nine pairs of Nike trainers, a white Xbox One, canine dog leads, aftershave, perfume, Armani watches, a Canada Goose black body warmer, over £2,000 in cash and a blue iPhone 13.
The officer added: "Before leaving, the victim alleges the males told her they were LVF, and that if she contacted police they would return and burn her house down."
The victim's partner further alleges that on Friday, July 21 he received a phone call from "a lady with a Chinese accent" before receiving further abusive voice notes from a male who called himself Stevie Mac.
On Monday, July 25, police carried out a search of a property in Belfast under warrant. The defendant was located inside and arrested.
An army style jacket was found which the police officer said matched the description given by the victim as a jacket worn by one of the suspects.
A Canada Goose body warmer, aftershave and perfume were also seized from the property.
The court heard that, when arrested, McIlwaine – who has 97 previous convictions – answered 'no comment' to all questions put to him during interview.
Defending, Richard McConkey BL, in making an application for bail, suggested the allegations were likely to go on indictment which could mean it's at least a year before he faces trial.
However, District Judge Laura Ievers rebuked: "I don't think it'll come as any surprise to you Mr McConkey, or your client, that there is absolutely no way I can manage this man on bail conditions."
She added: "He's under a Crown Court suspended sentence for burglary from March of this year. He has nine burglaries on his record.
"He was remarkably fortunate to be on bail for the Belfast charges for those burglaries. There's no way this can be managed so I'm refusing bail."
The case was adjourned until August 21 where he will reappear before Lisburn Magistrates' Court.
Sign Up To Our Newsletter