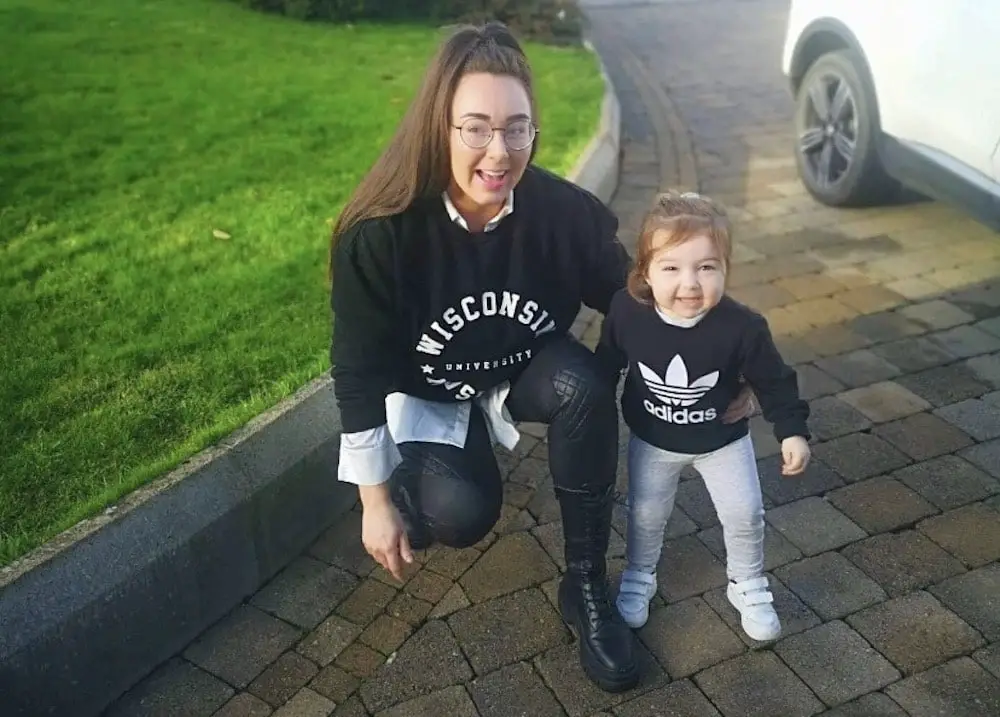 An inclusive commemorative space for those who have lost a child looks set to be created in a Craigavon park, following the approval of an Armagh City, Banbridge and Craigavon Borough Council committee.
At a meeting of Council's leisure and community services committee a proposal to install a memory bench in Tannaghmore Gardens was approved.
Speaking to the Local Democracy Reporting Service after the meeting, the mother behind the proposal, Danielle Donohoe – who lost one of her twin daughters during her pregnancy – is delighted the idea will soon become a reality.
"When we lost a little girl (Ellie) we were absolutely devastated," said Danielle. "I felt so alone and thought how unlucky we must be for this to happen to us.
"It was only after sharing news of our loss on social media, where I had been documenting my pregnancy, did I realise how unfortunately common baby loss truly is.
"Many, many people reached out to me to share their stories and it was utterly heartbreaking to hear just how many families are affected.
"Baby loss affects one in four pregnancies. That is a devastating statistic and the messages coming into my inbox made that statistic all the more sobering. Yet sadly, the silence and stigma remains in our communities.
"That got me thinking about how we could create an open and inclusive space locally, that would give families a place to grieve and reflect, whilst also potentially addressing awareness around this topic.
"Messages from those who had lost babies early in pregnancy made me very aware of how many affected families don't have a physical place or memorial plot to visit and they yearned for a sense of attachment to their babies.
"That was something I wanted to address."
Danielle also explained that she wanted somewhere bright and cheerful that she could bring Ellie's surviving twin sister, Elsie as she grows up.
"Building this memorial space within a park creates an opportunity to bring along siblings in a much more cheerful and open place," said Danielle.
"The loss of a baby is unfortunately part of many people's reality and I wanted to acknowledge that by having this space in a public place which is accessible to all – not behind closed gates like a shamed secret or governed by any denomination.
"This is a small step but I really hope it will give grieving families a spot to go and reflect and feel a special closeness to their little angels, while still having the additional walks, beauty and amenity of the park available to them.
"The decision to base it at Tannaghmore Gardens was decided with the help of park officers. I can't credit them enough for their support and compassion on this project.
"They suggested various sights in the borough to both Julie and I which we visited. Tannaghmore was eventually chosen as it's in a central location with good parking making it accessible to a lot of people and it has various additional facilities."
Danielle continued: "It is somewhere I will look forward to bringing Elsie, we can have little conversations about her twin sister and then I can let her go and play and enjoy the park's other offerings.
"The whole point is to make this conversation a part of everyday life, it is an unfortunate normality of life that is much more common than people realise."
After working on the proposal for a year, Councillor Julie Flaherty proposed the recommendation to install the park bench in Tannaghmore Gardens. The proposal was seconded by Councillor Declan McAlinden.
"I want to say a huge word of thanks to the officers who, as I said when I first put this forward, have been so caring and so thoughtful," said Cllr Flaherty.
"It is pretty much a year since we since started looking at sites before we settled on an ideal location.
"Clearly, I will propose this recommendation and I hope that you will all support me on this."
Cllr Flaherty outlined the need for spaces like this in the borough and the amount of support this proposal has received from residents across the area.
"This is a place that will be for all who need it throughout all of our borough. The location was selected because of the nature of it and the safe and secure environment that is provided there," said Cllr Flaherty.
"This is a special thing for me and many of the parents who speak to me about this on a regular basis.
"From this was first spoken about I have had so much contact with different groups and parents and individuals asking me about this and sharing their own stories about it.
"This place is for a personal space and time for families. I hope that Danielle is watching and I know we have been waiting for this and if you are watching this – we got there in the end."
The committee Chair, Councillor Catherine Nelson praised the work of Cllr Flaherty and Danielle in securing this bench.
"What a partnership it has been," said Cllr Nelson. "Fair play to you and Danielle for keeping this very much at the top of the agenda."
Cllr Declan McAlinden commended Cllr Flaherty for bringing the "tremendous" proposal forward and seconded the proposal.
"Many families have lost young ones and I totally support this. I just want to throw it out there but could there be a memory bench or memory trees brought to other parks as well?"
The committee Chair said a future report on the policy would be presented to members of Council's environmental services committee.
Alliance Party councillor, Peter Lavery welcomed the proposal and said the installation should be made a priority
"I think it is a very important issue and hopefully the installation of the bench can be given priority status," said Cllr Lavery.
"I agree with Cllr McAlinden about other locations as well and look forward to that report. I also want to say the message on the plaque is beautiful."
Cllr Louise McKinstry praised her party colleague's efforts in making this a reality.
"I want to say I fully support my colleague's efforts, not just in this one issue but on lots of issues to try and help support bereaved families.
"I really congratulate her and all council officers that have worked on this issue".
Alderman Jim Speers was also full of praise for his party colleague.
"Cllr Flaherty has been speaking to us on a number of occasions about it," said Alderman Speers.
"I think it is very good and I am very happy to see this become a reality and congratulate all those involved on what is a very important and sensitive issue but is certainly very worthwhile."
The committee's Vice Chair, Councillor Margaret Tinsley congratulated Cllr Flaherty for bringing the proposal forward.
"I want to congratulate Cllr Flaherty for bringing such a beautiful idea forward," said the Vice Chair.
"it will mean so much to so many people and I think it is a beautiful idea. It must have been frustrating how long this process has taken but it makes it all that bit more special.
"Julie – well done. I just hope that in time, it will be of some comfort to all those families who are hurting and grieving."
If approved at a full Council meeting in November, the bench will be installed in Tannaghmore Gardens with a plaque that reads: "Remembering all our little angels who play above the clouds".
The bench will cost £500 and installation will cost £150.
Sign Up To Our Newsletter