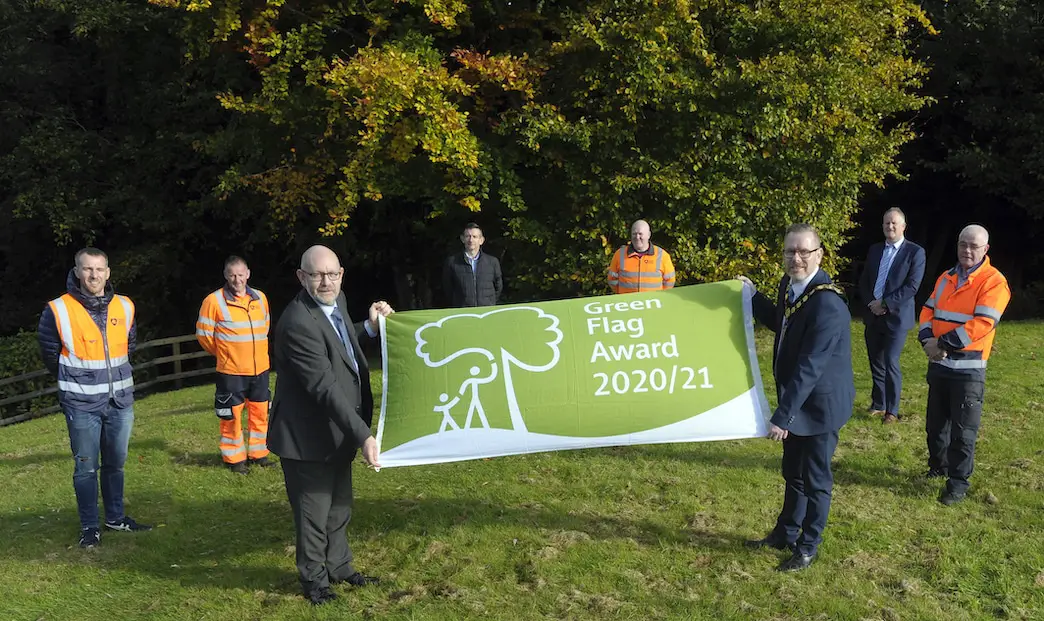 Armagh City, Banbridge and Craigavon Borough Council continues to build on its Green Flag success – with ten of its parks securing the prestigious award.
The award-winning parks include Gosford Forest Park, Palace Demesne Public Park, Canal Greenway, Solitude Park, Loughbrickland Park, Lurgan Park, Portadown People's Park, Brownstown Park, Edenvilla Park and Tannaghmore Gardens.
Undergoing a rigorous and robust assessment process led by a volunteer panel of experts, the parks had to demonstrate that they met a range of strict criteria including horticultural standards, cleanliness, environmental management, biodiversity, community involvement and safety standards to achieve the distinguished accreditation.
Lord Mayor of Armagh City, Banbridge and Craigavon, Councillor Kevin Savage commented: "I'm absolutely delighted for our residents and staff that ten parks across our borough can proudly fly the prestigious Green Flag. Securing this remarkable recognition is a testament to our dedicated and diligent officers, parks and grounds maintenance staff who work tirelessly all year round to ensure these important places are well maintained, welcoming and safe.
"Our parks and green spaces play a vital role for the health and wellbeing of our residents, they provide a safe and open place for quiet reflection, exercising, recreational activities, reconnecting with nature as well as offering a sense of freedom. As a council we are committed to ensuring these beautiful natural assets remain safe, welcoming and accessible for everyone."
Keep Northern Ireland Beautiful (KNIB), the environmental charity who operates the Green Flag Award Scheme in Northern Ireland, has witnessed a surge in successful participating locations since the initial three awarded sites in 2008 – with a record number of 78 locations across Northern Ireland recognised this year.
KNIB Local Environmental Quality Manager, Jamie Miller commented: "This year more than ever we have seen the value our parks and green spaces offer to people in Northern Ireland. They play a hugely important role in supporting the health and wellbeing of our local communities. Keep Northern Ireland Beautiful are therefore delighted that we are able to award the Green Flag Status to 78 parks and green spaces."
The full list of Green Flag Award winners can be found at www.keepnorthernirelandbeautiful.org
Further information please contact Rachelle Coyle, Communications rachelle.coyle@armaghbanbridgecraigavon.gov.uk
Sign Up To Our Newsletter