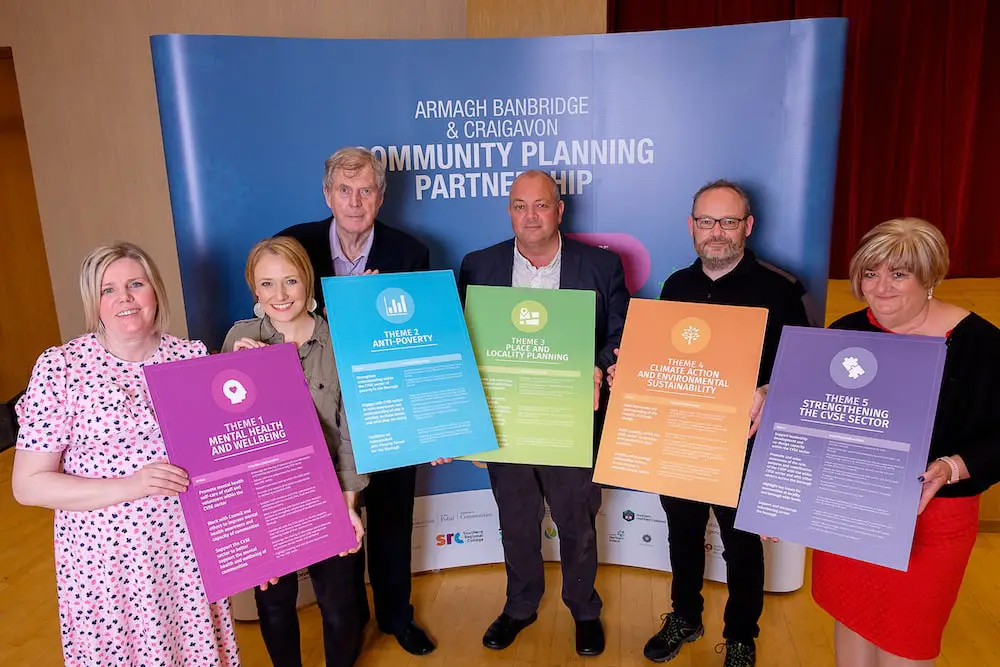 The Community and Voluntary Sector Panel for Armagh, Banbridge & Craigavon launched its Action Plan on Monday evening in the Mayes Hall at Craigavon Civic Centre.
The Action Plan marks a significant step forward for the Panel, which was established in 2018 as part of the ABC Community Planning Partnership.
The Panel now has over 60 members from Community, Voluntary and Social Enterprise organisations from across the borough working together to create a shared vision for community and voluntary support across the borough.
The Community and Voluntary Sector Panel was established to ensure the Community & Voluntary Sector has a voice on the Community Planning Partnership, to promote collaborative working and facilitate wider engagement with local residents.
The Community Plan, called Connected, is the overarching, long-term plan for the Armagh, Banbridge and Craigavon borough. The Community Plan sets out nine long-term outcomes or aspirations, and the panel has developed a set of key actions through its Action Plan detailing how the sector intends to work together to delivery this long-term vision.
Speaking at the event Councillor Tim McClelland, Chair of Governance, Strategy and Resources Committee, Armagh City, Banbridge and Craigavon Borough Council, said: "I commend the Community and Voluntary Sector Panel for the leadership they have shown in developing this inclusive Action Plan. Throughout the pandemic, we were reminded of the role this important sector plays in supporting people through crises, and this plan sees the sector coming together in a strategic way to work towards early intervention and prevention. It also highlights how important it is for us to support the sector, its staff and its volunteers."
The Panel's Action Plan has been developed to respond to the most pressing issues for communities and the sector; issues that have been amplified by the pandemic.
The themes for action detailed in the plan are: mental health and wellbeing, anti-poverty, place and locality planning, climate action & environmental sustainability, and strengthening the community, voluntary and social enterprise sector.
Addressing the audience at the launch event, Chair of the Community and Voluntary Panel Geraldine Lawless, said: "I would like to thank everyone in attendance at this important event for our Community and voluntary sector today. This Action Plan is an opportunity for everyone with an interest in the wellbeing of local people and places to work together to tackle some of the big issues facing our community: improving mental health, tackling poverty and promoting environmental sustainability. I encourage anyone with an interest to get involved in helping to deliver on the actions detailed in this plan for the benefit of our community.
Organisations and individuals from across the borough are being encouraged to get involved in the delivery of the plan, to build on the positive momentum created through working together.  If anyone is interested in finding our more about the Community & Voluntary Sector Panel, you can telephone the Community Planning Team: 0300 0300 900, email: communityplanning@armaghbanbridgecraigavon.gov.uk, or  go on-line  at www.armaghbanbridgecraigavon.gov.uk/communityplanning
Sign Up To Our Newsletter