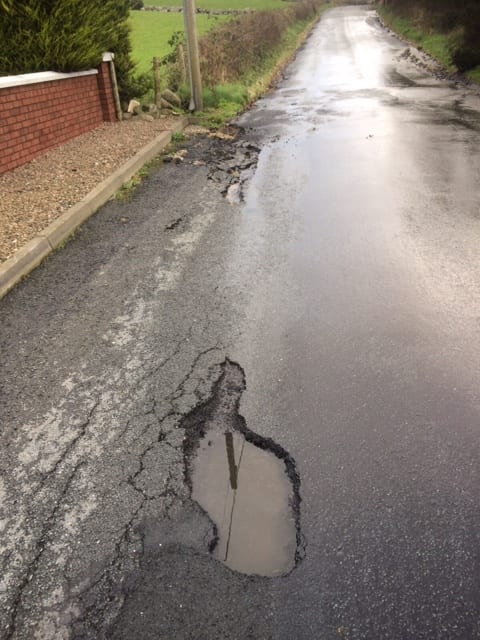 Concerns are growing for the state of some roads in south Armagh.
Councillor Liz Kimmins has warned that road conditions in the constituency are getting worse and that repairs must be carried out soon before major resurfacing work is necessary.
"I have now reported to Transport NI several roads in the area which are in a very bad way, including the Ferryhill Road, Clontigora, which is in an awful state," she said.
"As well as damaging vehicles and leading to further wear and tear on roads, potholes such as these can cause accidents as people hit them or try to avoid them.
"I haven't yet received a response but I have asked transport NI to look at this as a matter of urgency."
Recent flooding hasn't helped road conditions and with a number of months remaining of the winter, roads will worsen.
What are road conditions like where you live? Comment below or on Facebook.
Meanwhile, councillor Kimmins has revealed that an alleyway gating scheme is to be considered in Barcroft Park in Newry.
"Following a number of attempted break ins and on-going general anti-social behaviour, I have met with council representatives and residents regarding the alleyways to the back of houses in the Fourth Street area of Barcroft Park," she said.
"The Council has now agreed to look into an alleyway gating scheme for this area.
"I will also be speaking to the relevant bodies who are responsible for maintaining this alley as it is in a particularly bad state at present."
Read more news:
Young couple caught up in floods hell after moving home from Australia
Young couple caught up in floods hell after moving home from Australia
Police restrain man in hospital after he causes thousands worth of damage
CCTV appeals: Police investigating thefts across county Armagh
Snow and ice warnings across county Armagh
Three injured as two lorries crash in county Armagh this morning
Newsletter
Sign up for our weekly newsletter here.