As the only dedicated health visitor for twins and multiple birth families in the UK, Carmel Hamill is in high demand.
She is based in the Southern Health and Social Care Trust, which developed the post in partnership with TAMBA – Twins and Multiple Births Association – to meet the demands of its growing number of multiple births.
Reflecting on her first year in post, Carmel who works closely with TAMBA for ongoing training, supervision and information, says: "About 30% of Northern Ireland's multiple births take place in the Southern area so there was a clear need for some specialist support for these families in this Trust, and this has certainly reflected in the fact that I have received 60 direct referrals to help families since last May.
"In addition to this I am regularly being contacted by other health professionals to advise them on multiple specific issues for families who I don't work with directly."
Herself a mum of five, Carmel, who has a background in Nursing and Midwifery, works as a Health Visitor, dedicating one day a week to this specialist role.
She explains what her role involves: "I support families in addition to their routine health visiting service from pregnancy up until their multiples reach school age.
"It can be an exciting time to find out you are expecting multiples but equally daunting, so I attend the multiples Parentcraft sessions at both Daisy Hill and Craigavon hospitals, to help prepare parents for what to expect and advise them of the support that is available. I also liaise with other agencies, both from the statutory and voluntary sectors to get families support they may need.
"As multiples are at risk of being born preterm, I also work closely with the Neonatal Unit at Craigavon and Special Care Baby Unit at Daisy Hill to ensure that parents are referred to me when they are discharged.
"Parents of multiple birth children experience unique challenges. It can be both physically demanding caring for more than one child and emotionally difficult trying to cope with the additional pressures families may face.
"A UK wide TAMBA survey highlighted a number of issues for multiple birth parents – like a lack of specific information on feeding and sleeping and a higher risk of postnatal depression.
"I phone and visit families to help parents cope with these issues and help them through problems like stress and exhaustion, encouraging them to look after their own wellbeing as well as helping to ensure the best possible outcomes for their children."
"With it being such a challenge to get out and about, isolation can be another issue for parents of multiples. To help address this I organise baby massage sessions in different areas – so far in Craigavon and Dungannon and we hope to hold the next one in Newry.
"As well as teaching parents a new skill to help their babies with various issues like teething and digestion, these sessions are a chance to get them out of the house, meet others in the same situation and benefit from that friendship and support."
Feedback from parents who have received Carmel's support has been very positive.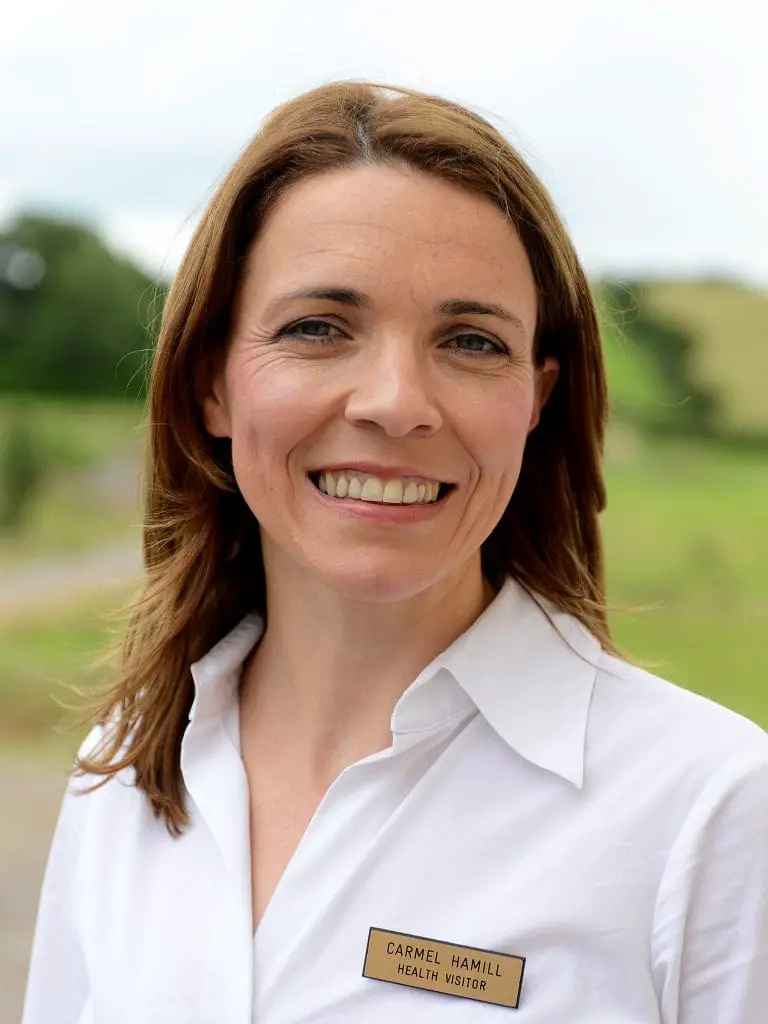 As Donna, mother to seven-month-old twins, says: "The TAMBA Health visiting service really helped our family during my pregnancy by offering guidance and information on what to expect when our twins were born and how to adapt our family life to our new circumstances.
"Carmel gave me really practical advice on how to breastfeed which has been invaluable as I'm still breastfeeding seven months later.
"Just before the birth of Callum and Caitlyn I had an accident which made it very difficult to cope both with pregnancy and two small children at home.
"I would not have been able to manage without Carmel's intervention during this time, she was always on hand to offer advice and put us in touch with other agencies which could help us.
"After the birth Carmel visited us regularly which was really reassuring. I was also invited to a twin baby massage course which was a really special opportunity for me to bond with my babies and spend time just with them without interruption.
"It was also a great way to meet other mums of twins and get a chance to relax and socialise over a cuppa.
"I really appreciate the ongoing support that is still available for any queries or questions. It is so reassuring to know that there is a dedicated health visitor to support multiple birth families."
If you are expecting or already have twins, triplets or more and live in the Armagh, Dungannon, Craigavon, Banbridge or Newry and Mourne areas, you can contact Carmel through the TAMBA office Tel: (028) 9023 9050 or ask your GP, Midwife or Health Visitor to get in touch on your behalf.
Click here to see Carmel with Elaine Donnelly and her twin boys.
Read more news:
Pipe bomb discovered by police near Primary School
County Armagh farmer dealt 'devastating blow to his livelihood'
Traffic disruption expected in Armagh with weekend of events
Minister confirms Armagh earmarked for all-in-one 'health hub'
Colin Morgan on playing 'man on a mission' in Channel 4 drama
Sign Up To Our Newsletter