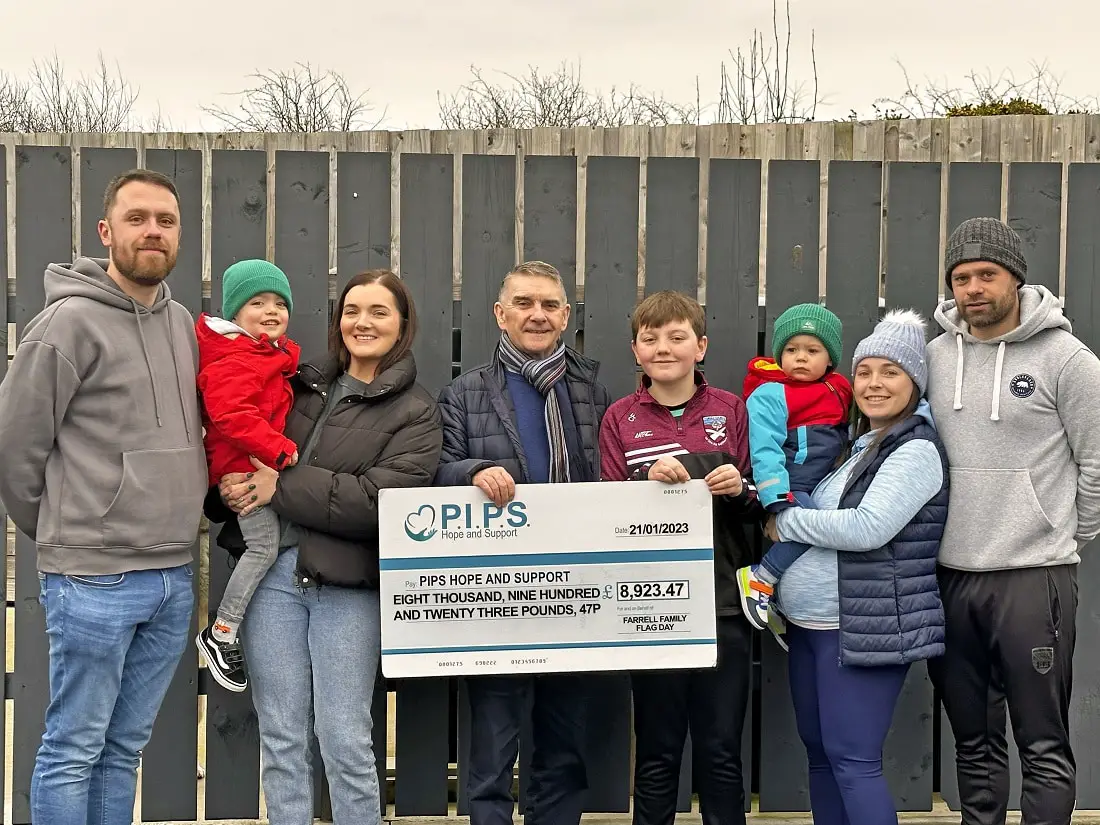 In what has now become an annual fundraising event on Christmas Eve, brothers Sean & Brian Farrell, assisted by many of their family, friends and neighbours once again took to the roads of Camlough village in honour of their brother Stephen and father John to raise funds for PIPS Hope & Support.
On January 21, Sean and Brian along with their partners, children and Stephen's Son, Callum, presented PIPS Hope and Support's CEO, Seamus McCabe with an incredible cheque for £8,923.47, bringing the total the family have raised from the Christmas Eve street collection over the past ten years to £61,670.03.
The funds go directly towards supporting the crucial crisis, self-harm and bereavement counselling and support services that PIPS Hope & Support provides across the Newry, Mourne & Down, Southern Trust and Upper Bann areas.
Sean and Brian, on behalf of the Farrell family expressed their personal thanks and gratitude to all their friends, family members, neighbours and everyone who assembled on the day or raised funds in other ways to support their fundraising.
They offered a special thanks to the commuters and others who gave so kindly and that of everyone who continues to support them with their endeavours.
Seamus McCabe said: "On behalf of everyone here at PIPS Hope and Support, I would like to thank Sean, Brian, Callum and their dedicated team of volunteers for the continued fundraising support.
"Each year, it is heart-warming to see the success of the Farrell family's traditional street collection and the kindness that is displayed from those donating and those who have given up their time so freely. This support has and continues to make a huge difference to the lives of families and individuals who are emotionally distressed and in need of meaningful support, helping to save lives and supporting bereaved families.
"The weather like previous years did not deter their efforts and we also wish to pass our thanks to the extended Farrell family, friends and all the volunteers on the day, your efforts are very much appreciated."
Sign Up To Our Newsletter