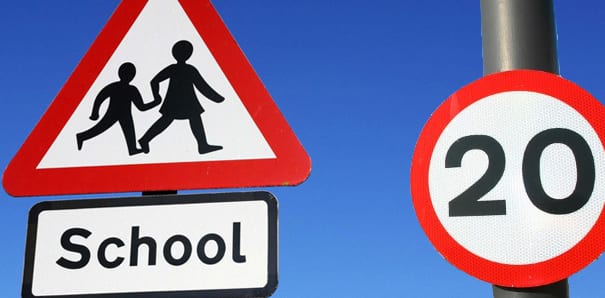 Roads Minister Chris Hazzard has said he will continue to put road safety top of the agenda after facing calls in the Assembly to cut speed limits outside all schools.
The Minister said he wished to introduce a system which could be enforced by law – where speed restrictions carry "legal weight" and are not "simply a suggestion".
Mr Hazzard was responding to calls from a local Ulster Unionist MLA.
Upper Bann Assemblyman Doug Beattie MC – and Sinn Fein's Carál Ní Chuilín – had both raised the issue of road safety outside our local schools.
In recent times, Mr Hazzard announced a temporary 20mph speed reduction outside two primary schools in County Armagh, including St Peter's PS at Collegelands.
This is a recent approach, taken especially at schools on roads where the national speed limit applies.
The Minister admitted to being "particularly keen on this approach" but said the initial schemes had been "expensive to provide".
Mr Hazzard added: "I have, therefore, asked my officials to consider refinements of the measure and to seek a more cost-effective approach that would facilitate an increased provision of a 20mph limit.
"I remain committed to continuing to work towards reducing deaths and serious injuries on our roads, especially amongst vulnerable road users such as schoolchildren. I recognise the continuing challenges of preventing road deaths and serious injuries, and, as such, my Department will continue to address the issues using all practicable methods."
Assemblyman Beattie said many MLAs were concerned about children outside schools and asked the Minister if he wouls consider promoting a "society mindset change by creating a 20mph speed limit outside all our schools as standard" and by "making clearways in front of our schools at the start and end of the school day".
Minister Hazzard said he would continue to do all he could to "promote the message that we must take care around our schools".
He added: "On having a 20 mph zone around urban schools, traffic calming is very often in place in urban settings, and, because of congestion also, traffic speeds do tend to be quite low around urban schools.
"We have seen to date that, particularly on rural roads where the national speed limit applies, there is a danger.
"Of course, I have to operate within the legislation. It is not enough just to say this; I have to set down a process that fits in with the law. It is not enough just to have a speed limit if there is no legislative weight behind it. We have to find a way that does both.
"I have absolutely no problem championing the message, and I and my Department take any opportunity to say to people, 'Take care around schools. Be aware that there are vulnerable people accessing that'.
"There is a responsibility on all of us. Where death or serious injury is caused by a road traffic collision, 95% of the time it is because of human error. It is up to us to make the change."
Read more news:
Elderly woman almost duped into scam home visit by 'health centre'
Prison 'crisis' deepens as Maghaberry inmate takes his own life
Hopes for Haka on Armagh Mall as Ireland officially launch Rugby World Cup 2023 bid
Demolition of former GAA social club in Keady now to be recommended for approval
Free swimming for disabled and unemployed considered across whole ABC borough
Project Board to be appointed to plan for multi-million Armagh leisure centre
Man still in hospital more than a week after serious assault
Near miss for mother and toddler walking hard shoulder towards Armagh prompts calls for footpath
Newsletter
Sign up for our weekly newsletter here.