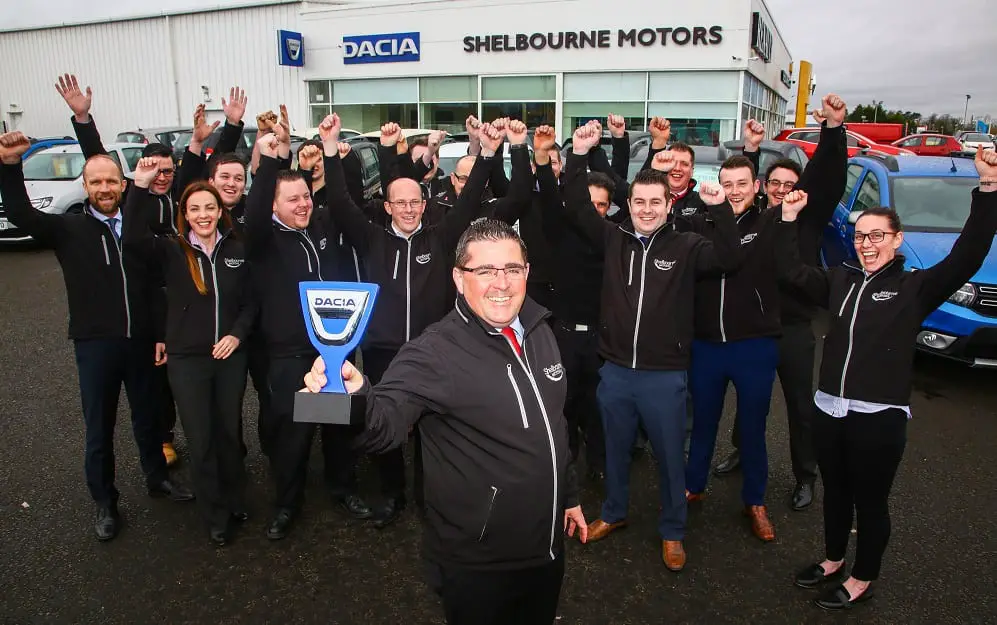 Shelbourne Motors are celebrating another prestigious award win.
For the second year running, the local car dealership has walked away with a top prize from the annual UK Renault Dealer Excellence Awards.
At the award ceremony held in London, Shelbourne Motors Dacia picked up the bronze award for UK Dacia Dealer of the Year 2016. The prestigious award places the company as the number one Dacia dealership in Northern Ireland.
The award follows Shelbourne's major success last year where the family run business picked up UK Renault Dealer of the Year 2015.
The company, which represents four global brands, has won numerous accolades in its 44 year history. Paul Ward, Director at Shelbourne Motors said "It is testament to our hard working staff and our loyal customers for choosing Shelbourne Motors again and again."
Paul adds: "This level of recognition is significant for us, as we work hard every day to build and maintain the highest standards of customer service for our customers in Northern Ireland. The entire team are delighted to yet again be recognised as number one in Northern Ireland."
The Renault Dealer Excellence Awards are designed to recognise Renault's best franchised dealers across their UK network, and is a powerful seal of approval for consumers looking to purchase and service their vehicles at trustworthy dealerships like Shelbourne Motors. A total of 31 Renault and Dacia franchises throughout the UK were nominated by Renault UK Group for the awards, after recording strong performances that go far beyond the high standard in Renault UK's own in-house customer satisfaction measurements.
For over 44 years Shelbourne Motors has been a centre of excellence in Northern Ireland offering new cars and approved used cars, commercial vans, ​servicing and maintenance, Rental, as well as being Motability Scheme specialists.
Sign Up To Our Newsletter