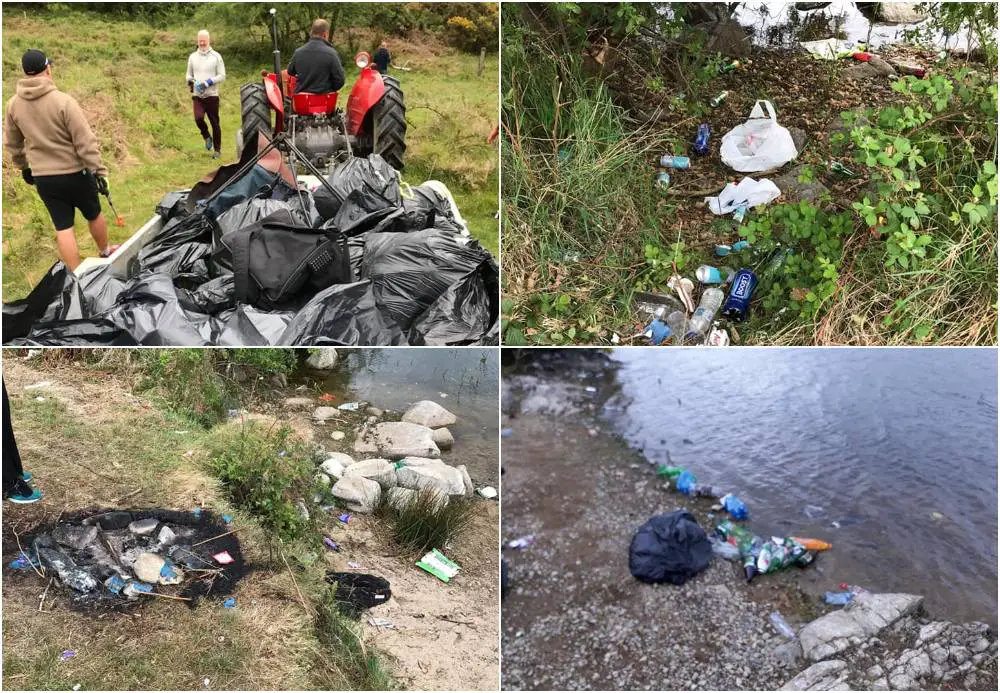 A trailer load of rubbish was collected from the shoreline of Camlough Lake on Wednesday after what residents described as an "horrendous scene" left behind by some inconsiderate visitors.
Empty bottles of beer, boxes and fast food containers – amounting to 53 black bin bags of rubbish – were left strewn at the picturesque south Armagh lake on the days leading up to Wednesday morning, with make-shift camp fires leaving the ground scorched.
Catherine Murphy shared these images on social media, slamming some of those who travelled from far and wide to Camlough, only to leave their abhorrent calling card behind.
"They have shown total contempt and disregard for other lake users, other young people who just wanted to enjoy some long awaited social distancing catch up with friends, our local community, our environment and our health," she said.
"It's very simple, if you cannot show consideration for our lake and our community we don't want you here!
"Many thanks to all the volunteers who helped clean up this morning. Fifty-three bags of rubbish, broken bottles, fast food containers and much more were lifted.
"Please clean up after yourselves, show some respect or stay away please."
Sinn Fein councillor Oonagh Magennis commented on the images, branding it "ridiculous", to have so much litter built up again, following a clean up carried out last Saturday.
"Those leaving such a mess behind them, anywhere they visit, should be absolutely ashamed of themselves," she added.
"It is nothing short of a disgrace! Well done to all on the clean up [on Wednesday]."
Sign Up To Our Newsletter