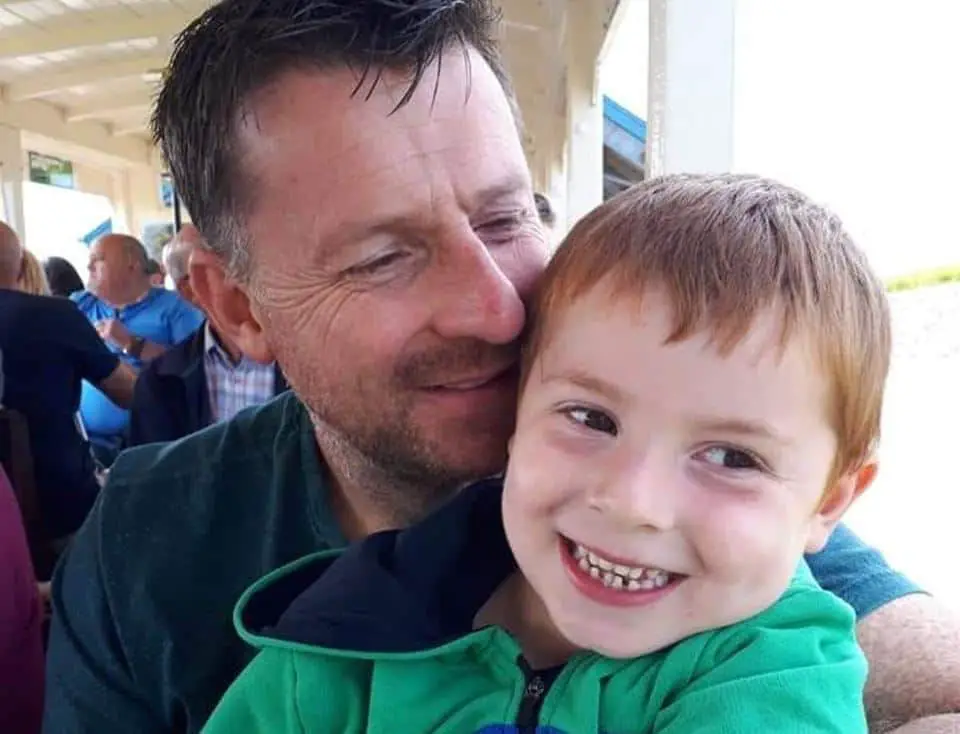 A Co Armagh dad has issued a desperate plea for someone to come forward and save his son's life.
Danny Browne's eight-year-old son Bobby urgently requires a bone marrow transplant but has yet to find a match on the register.
The Bessbrook dad – along with his heartbroken wife Louise – have pleaded with the public to sign up no matter where in the world you are.
Speaking to Armagh I, Danny said one simple action could change his son's life.
"It's not only about saving Bobby's life, it could save some other child's life too," said Danny. "People signing up now could be a match for some other person. I know my campaign is for my son but I know I may be helping others too."
Bobby was diagnosed with leukaemia in May last year having initially been told that a lump on his neck was a result of glandular fever.
However, when Bobby started struggling to walk and losing weight, that's when his parents demanded  – with quite a fight – further tests.
Having developed a lump on his neck in February 2022, the schoolboy was diagnosed with glandular fever.
Following the devastating diagnosis, Bobby was admitted to the Royal Belfast Hospital for Sick Children where he underwent chemotherapy.
Sadly, that had little impact, as did more aggressive chemotherapy months later.
In November, Bobby and his family travelled to Great North Children's Hospital in Newcastle, England where he underwent CAR-T, an innovative new cell therapy treatment.
A type of immunotherapy, the treatment saw Bobby's own immune cells collected and sent to a lab where they were rebuilt and trained to fight the cancer cells. Bobby then had the new blood infused back into his body.
Due to the technical nature of the procedure, Bobby remained in hospital in England for two months.
In February, blood tests revealed the treatment was working and Bobby went into remission. He was able to return to school on a part-time basis just before St Patrick's Day.
But the good news was short-lived because, just a fortnight ago, Bobby's family were told that the treatment had left his body which means that, should he relapse, doctors will struggle to remove the leukaemia from his body – their only hope is a bone marrow transplant.
Danny said his son was due to restart chemotherapy today in a bid to "bridge the gap between him relapsing and until we find a bone marrow donor".
"He's technically in remission but the doctors say he has a higher than high risk of a relapse. They told us if he relapses they'll struggle to get him back into remission and his body needs to be clean before you can do a bone marrow transplant."
Danny said they are desperate to spread the word as far and wide as possible.
As for Bobby, he's feeling good at the moment.
"He can be sore at times but mentally he's in a good enough wee place at the minute," said Danny. "So we will have to keep that right for him because he was locked up for a year in the house, couldn't get out; he couldn't play with his friends, couldn't go to school.
"Before we got this news a fortnight ago – that the treatment wasn't working – we were up at the school organising for him to go back to school on the Thursday morning and that Thursday night we got the devastating news it hasn't worked. It has ruined our world."
Danny added: "He was so excited to go back. So we asked the consultant [after he was given the all clear in February], what's the story with him being able to go back? So, he's in until 12 o'clock two days a week but that's going to be pulled again as he goes in for chemo. He went back on the Wednesday before St Patrick's Day – he only got a couple of weeks.
"It was great for him to see his wee friends, great to give him that wee bit of normality which we're trying to get back into his life. The only interaction he could have with his friends, for a long time, was online with the Playstation."
The impact the illness has had on Bobby and the whole family has been heartbreaking.
Said Danny: "When you have a child of eight going to bed crying and you asking, 'What's wrong son?' Eventually getting it out of him – 'Daddy, I'm afraid of the doctors telling me I'm going to die'.
"A child at eight shouldn't have those thoughts in his heads. He should be thinking of his wee football match that day, or playing with his friends that day, or what he did in school. He shouldn't be lying in bed thinking, 'Am I going to die or not?' That's what we're living with at the minute and the hell of it, it's just tough."
Local charity Caring Coins Association are hosting a family fun day and bone marrow registration event on Saturday, April 8, 12 – 4pm at Carrickcruppen GAA to launch Bobby's bone marrow appeal.
Danny continued: "We just need to get it out there. We only need one, but it's finding that one. As I say, I could be speaking to a person who might have it. We don't know where it's going to come from but we need to find it. No matter whereabouts in the world you are please register as a donor."
You can register as a donor here https://www.dkms.org.uk/register-now
Or here https://www.anthonynolan.org/help-save-a-life/join-stem-cell-register
Sign Up To Our Newsletter