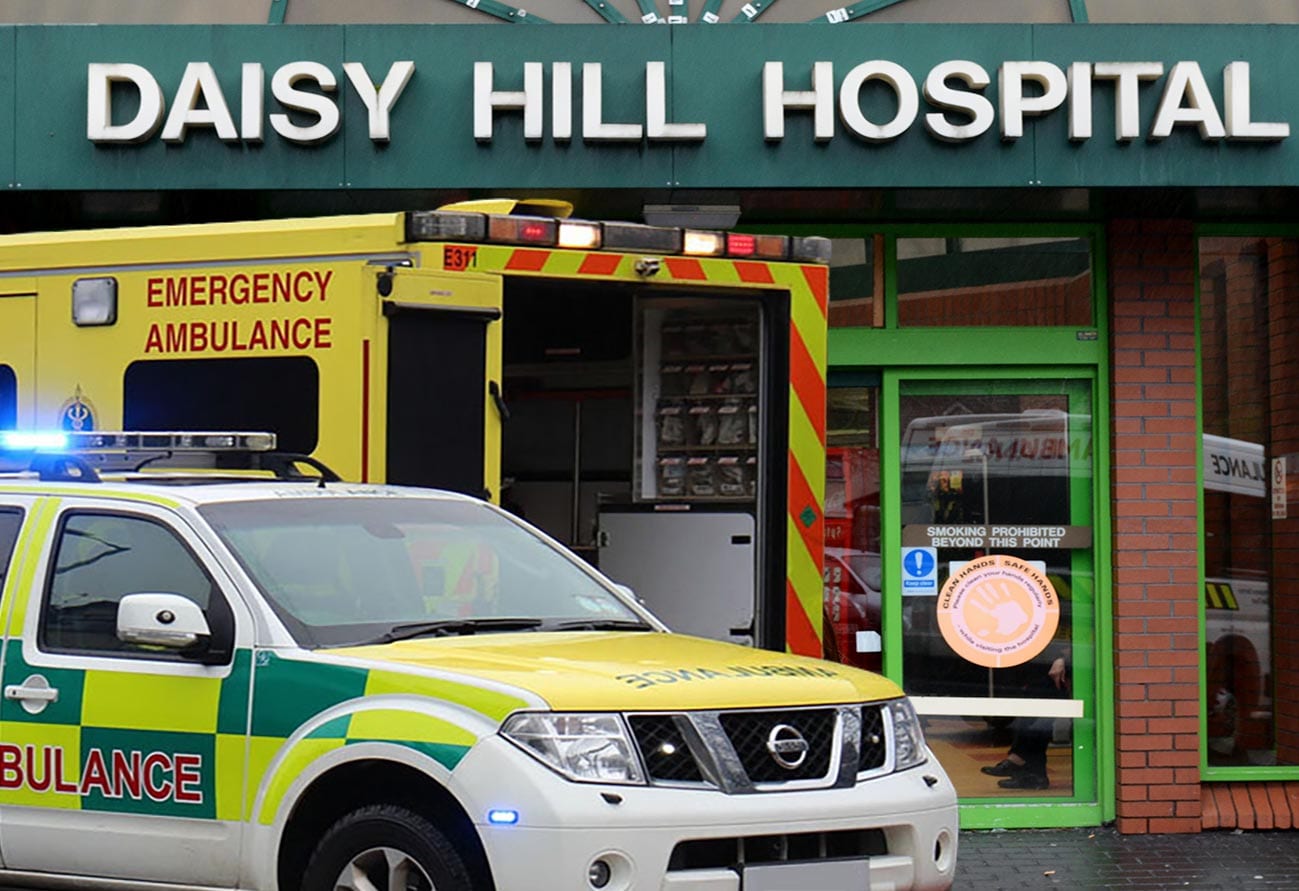 A Camlough man who smeared blood all over the inside of a police car after officers took him to hospital for treatment has been told he has six months to prove himself or face a time behind bars.
Ronan Treanor, 34, of Church Rock, who was already serving a suspended prison sentence at the time of these latest offences, appeared before Newry Magistrates' Court charged with two counts of disorderly behaviour and one of criminal damage.
Court heard how, on August 3, 2021, police were called to a report of a domestic incident at Oriel Park in Bessbrook. On arrival, they were told by a female occupant that Treanor had a cut to his hand, which was bleeding badly.
She stated that Treanor was no longer at the property and was possibly in another property on the same estate. Police were directed by neighbours to another address where the defendant was found. He was administered first aid for a deep cut to his right hand.
As no offences were reported to the police Treanor was advised to go to the hospital to seek medical care for his hand. At this point, he exited the property and approached police on the street, where he became very agitated and aggressive towards them.
He told police that "he's a fighter and that James Connolly was a fighting man".
Police warned him on three occasions to refrain from shouting foul language in a public place, "as there were women and young children close by".
He made derogatory comments in relation to a female in one of the particular houses and once again he was warned about his foul language as it was close to women and young children.
He continued to swing his arms and hands in an agitated way as he was shouting obscenities. This resulted in his blood being dispersed on police uniform. He was warned to remain calm and advised to attend hospital immediately to address his deep wound.
He then agreed to attend hospital and was "actually offered a lift by police to the emergency department at Daisy Hill".
At the hospital, his mother and girlfriend arrived and attempted to calm him down, however, he continued to shout at hospital administrative staff telling them that he'd "hurt his f***ing hand" and, once again, he was warned by police to stop shouting and to refrain from foul language as other patients and visitors were congregated at the main hospital emergency door.
On providing Treanor with this warning he turned to police and shouted that one of the police officers was "a f***ing traitor", at which point he was arrested for disorderly behaviour.
His reply to caution was "f*** you".
He was then removed from the hospital entry area and placed into the rear of a police car. When seated in the rear of the vehicle he began to smear his blood from his right hand onto the windows, side panels and seats of the car causing approximately £300 worth of damage.
He was then arrested for criminal damage. Following his treatment he had calmed down and subsequently de-arrested by the police Covid team and advised to be reported to the PPS for the offences.
Treanor's defence solicitor said his client was "ashamed" of what he did and that he "has no recollection of what happened".
He said: "Ronan actually comes from a very good family…he's been addicted to drink and drugs for a number of years…now he's sober and drug free", before adding that he now avoids the company of bad influences.
District Judge Eamon King said: "The occupant of the house tells the police that she's concerned about you, as a result of an injury that you've inflicted on yourself, and that you're bleeding heavily.
"Instead of the police saying, 'ah well, he did that to himself, let him go', the police go looking for you, to locate you to make sure you're alright. And then they locate you and they advise you to get up to hospital because of the nature of your injury. And what are they met with but bad manners, insults, abuse and aggression?
"And the police don't arrest you and put you in the car and take you away. They again try to persuade you to see sense and what do they do? They actually give you a lift to the hospital. And then when you get to the hospital, what do you do? Your bad manners, your abuse and your insults are directed to the hospital staff, nurses, doctors, orderlies, everybody in there working on the job to make sure everybody's alright, in the height of Covid and you continue until you're arrested and put in a police car.
"And then what do you do? You smear the police car with blood. And then what happens after it all? You're de-arrested. Police are sort of saying you've calmed down, that's it, away you go and get sorted out and we'll deal with this matter later.
"And then you come along today, you stand there and say, I have no memory of this. I have no recollection of this because of what I've consumed…
"Now we're hearing the nurses and doctors, because of all the work that they have done throughout Covid, they're all burnt out, they're all leaving the profession because they can't take the abuse and the pressure they're put under on a daily basis by everybody else in this society that thinks they have a sense of entitlement and no personal responsibility.
"I'm going to defer sentence for six months on a clear understanding that if you appear in this court within that six months for any offence of criminal damage, assault, disorderly behaviour, interaction with the police, that you will go to jail for at least four months.
"It's about time you caught yourself on. Think of the others around you for once. If there's anything at all and you're back in this court before April 26 you may bring your suitcase and you'll come back here with the £300 that it's going to cost to clean this car."
Sign Up To Our Newsletter