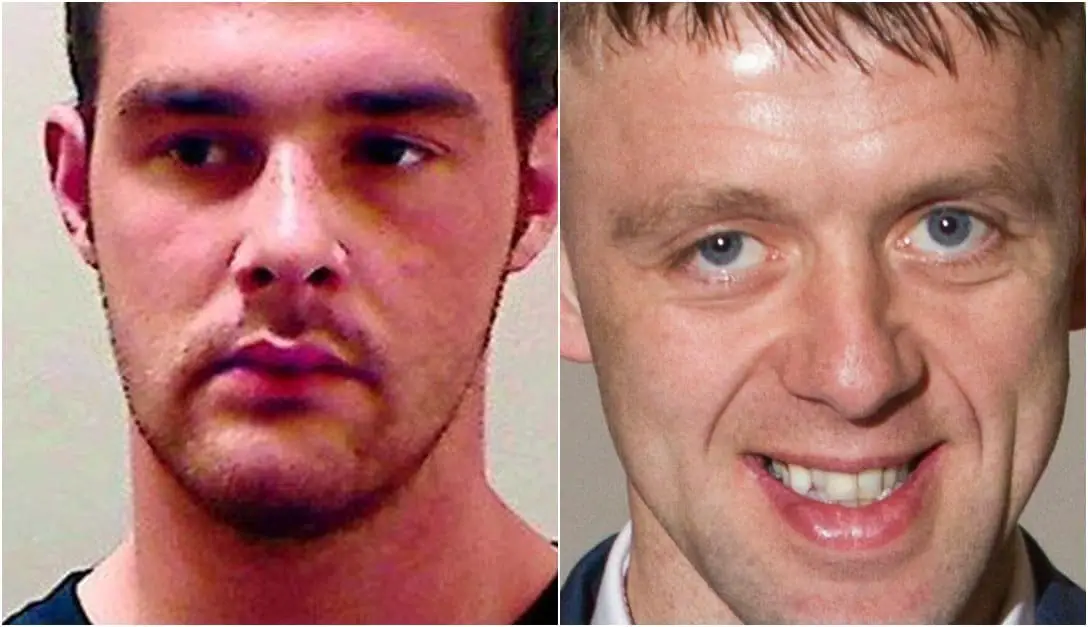 A man on trial for murder told a jury on Monday that while he knows the identity of the true killers, he cannot name them because of threats against him and his family.
Giving evidence at Newry Crown Court on his own behalf, Daniel Carroll claimed that while he knows the three men he says attacked and killed Brian Phelan, "at this present time I cannot name these individuals because my life is in danger, being threatened".
Asked threatened by whom, the 30-year-old convicted kidnapper, turned alleged killer, told defence QC Gary McHugh: "By paramilitaries – they have strong links."
He further claimed that Patrick Blair and Liam Hannaway, men described by the defence as "senior dissident republicans," introduced him to the trio in the days leading up to the killing in relation to a supposed deal for quad bikes and the jury have heard that Carroll was in telephone contact with the two men immediately before and in the aftermath of the brutal stabbing.
Carroll told the jury of six men and six women that while Monday is the first time he had publicly stated his claims, "there was permission given to speak about this event but with no names."
Carroll, originally from Newry but with an address on Edward Street in Portadown, is on trial for the murder of 33-year-old Brian Phelan, who died as a result of five stab wounds, allegedly inflicted by Carroll, on July 26, 2018.
It is the Crown case that Carroll stabbed the 33-year-old father-of-two three times in the neck and twice in the chest close to what's been described as the mountain path on the rural Carrivekeeney Road in Bessbrook, intentionally inflicting wounds that caused him to bleed to death in the garden of a nearby house.
While he remained silent throughout six hours of police questions, Carroll has claimed in a legal document, lodged 15 months after the incident, that he and Mr Phelan had gone there to buy quad bikes when three unidentified men "suddenly appeared" from around the mountain, attacked the victim and ordered Carroll to "stay out of it," claims which are disputed by the PPS.
Earlier on Monday, Det. Con. Ewart confirmed that as far as the police are aware, the motive for the killing was over a debt owed by Carroll and that while Msrs Blair and Hannaway had been spoken to by the investigation team, they had been excluded as suspects.
"There was never any information came in to say that this was a paramilitary execution or murder or that paramilitaries had any involvement in this murder," she told the jury, adding that while the police always kept an open mind, "we have only ever had one suspect in our investigation and that's been Daniel Carroll."
During his evidence in chief, Carroll told Mr McHugh that while there was a debt owed, "about £100 or something," by the time the pair arrived at the Carrivekeeney Road "that had been sorted out," confirming to his lawyer there was "no bad blood" between them.
He described how he and Mr Phelan were standing close to his car when he saw the three men jumping over a fence, two of them approaching Mr Phelan and the third confronting him.
While he ended up on the ground, he claimed he saw Mr Phelan being held in a headlock with one of the assailants standing in front of him "swinging his arms" and holding what he believed was a knife.
At one stage, "Brian broke out….and started taking off down the road" and after "the lives of my children and my family" were threatened, the trio of attackers "says right that's us" and left the scene, according to Carroll who claimed he went looking for the stricken Mr Phelan.
The jury have heard that he did find him and after taking his phone from the dying man's pocket, drove off in the victim's car.
"I panicked, I wasn't thinking clearly," Carroll told the jury, further claiming that having left him there, he contacted Msrs Blair and Hannaway again "to see if they knew anything to why this had taken place."
He conceded that he changed his T-shirt at a friend's house, claiming it was because "there was a mark or a rip on it, not too sure, along them lines" so that he was "presentable" when he went to his uncle's house.
Carroll told Mr McHugh he had not answered any police questions because of the alleged threats against him and also because "I was always told not to cooperate with the authorities."
Maintaining both he and his family are under threat, he told the jury: "I will not ever speak of it because if chills me. It would kill them if I opened my mouth any further. I still to this day am in fear."
At their very outset of his cross examination, prosecuting QC Neil Connor put it to Carroll that his claims are "complete nonsense," asking the alleged killer that even if these alleged attackers existed, how the person holding Mr Phelan in a headlock managed to not get stabbed when the fatal wounds were to the victim's neck.
"I can't explain it," said Carroll, "because I didn't commit the wounds on Mr Phelan."
The trial, and the cross examination of the defendant, continues today (Tuesday).
All the latest from the trial here.
Sign Up To Our Newsletter