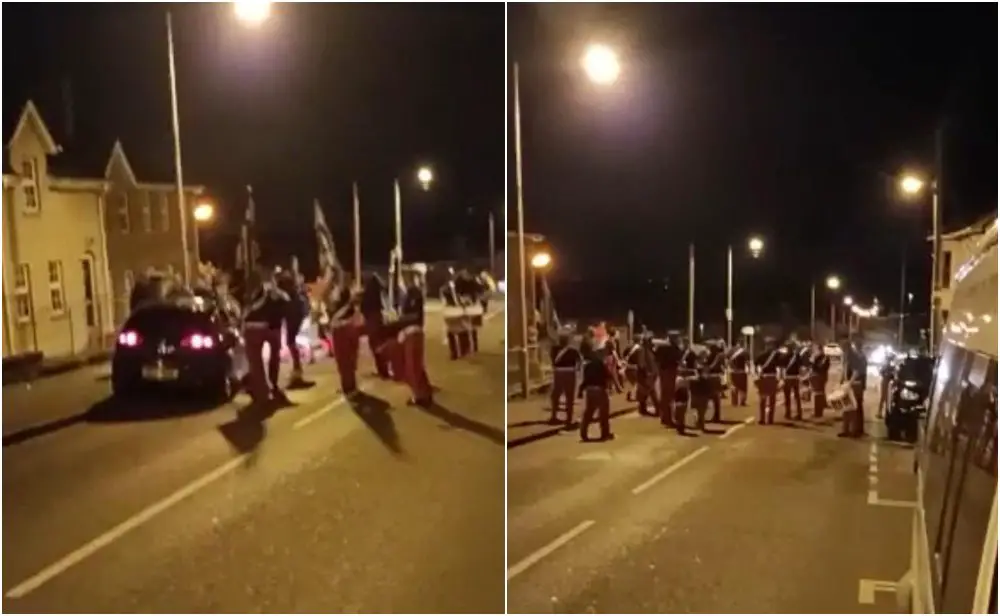 A car reportedly drove through a marching band in Rathfriland this evening (Friday).
Pictures show the driver of a car show little regard for the large group of Downshire Guiding Star Flute Band members as they made their way through the market town.
The band contained a number of young children, and while there are no reports of any serious injuries, there is widespread shock at the actions of the reckless driver.
It is understood the car narrowly missed two police officers on Downpatrick Street.
Upper Bann MP Carla Lockhart branded the incident "absolutely shocking".
"Only for the brave actions of some there could have been someone killed," she said. "The second picture (right) shows two wee kids out parading. It doesn't bear thinking about!
"Anyone with any information please come forward. I have spoken with the Police and will ensure this is fully investigated."
Ulster Unionist Councillor Glenn Barr said it was "unbelievable" what was witnessed.
"I'm liaising with PSNI and the band. If anyone has any information please get in-touch with myself or PSNI on 101."
One woman, who witnessed the incident, commented: "I seen this, scared the life out of everyone, such a shame people can't enjoy their culture. Hope they are caught and get more than a knuckle wrap. There was a little boy about three year old in that band could have very easily been injured if it wasn't for the flag men guarding him."
Another commented: "We were standing at the top of the town and he went straight though the Star of Down hardly giving them time to get out of the way."
There are no further details at this stage.
Sign Up To Our Newsletter