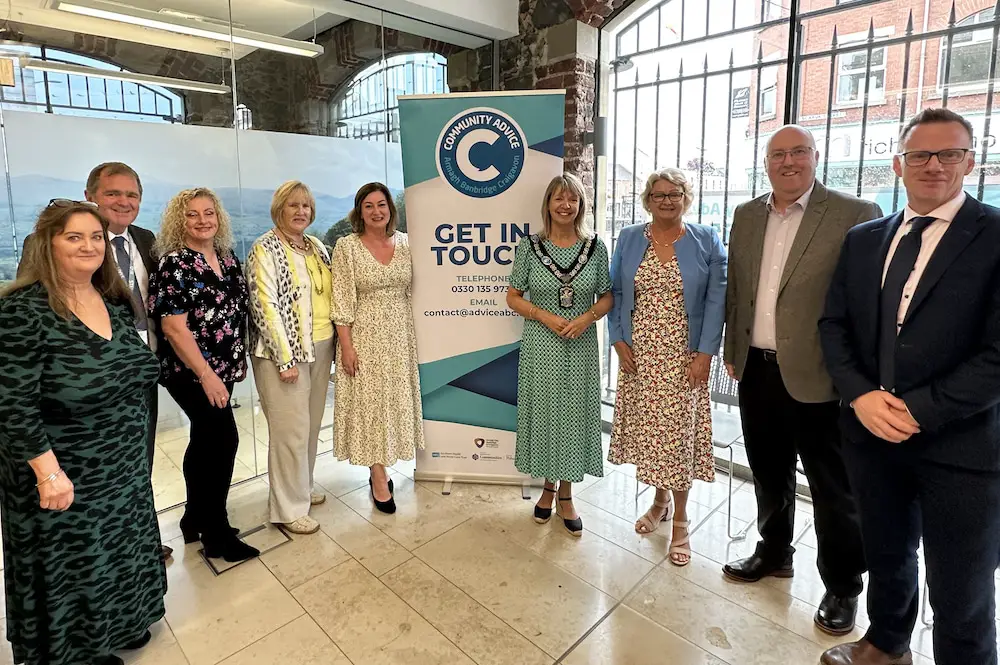 A new Community Advice Centre, based in Banbridge Old Town Hall, has opened this week. 
AdviceABC have also launched a new single borough-wide telephone contact number to ensure all residents across the ABC Council area have equal access to professional help with just one phone call – 0330 135 9733.
Community Advice Armagh, Banbridge & Craigavon provides free, confidential information and advice to support residents living in the Borough.
Covering a range of issues such as welfare benefits advice, consumer rights, debt problems, employment law, immigration, housing, education, family, health, and legal problems.
This service is supported with funding from Armagh City, Banbridge and Craigavon Borough Council and the Department for Communities.
Speaking at the launch of the Community Advice Centre, Lord Mayor Alderman Margaret Tinsley commented: "A growing number of families and individuals are facing the challenges with financial insecurity, unemployment, and difficulties with housing.
"To better reach and support those in need I am delighted to announce the opening of Banbridge Community Advice Centre, a fantastic service offering free, expert advice to our borough."
Manager of Community Advice Craigavon, Jennifer Fearon, said: "We are pleased to be working with our colleagues from Community Advice Armagh to open a Community Advice office in Banbridge. This will ensure that there are independent local advice services available in the four main towns across the Armagh, Banbridge and Craigavon council area.
"People can now ring one single number to speak to an adviser or to arrange an appointment to see an adviser in their local office. At a time of crisis in our local communities it has never been more important that people can access advice about their rights and entitlements."
Sharron Russell, Director of Voluntary and Community Division, Department for Communities said: "We applaud ABC Council's leadership on this innovative initiative. Connecting the dots and joining up services through one contact point is exactly what we should be doing in partnership for people needing advice and support. We are proud to be enabling this work through our Community Support funding and our strong relationships with Council and its important community advice partners.'
Service users can access advice via the channel of their choice – phone call, email, or send a WhatsApp, Community Advice are here for you whenever you need us. Call 0330 135 9733, or email contact@adviceABC.co.uk
Community Advice Centres can be found at the following locations:
Armagh – 9 McCrum's Court, Armagh BT61 7RS
Banbridge – Old Town Hall, 1 Scarva Street, Banbridge BT32 3DA
Lurgan – Mount Zion House, Edward Street, Lurgan BT66 6DB
Portadown – Portadown Health Centre, Tavanagh Avenue, Portadown BT62 3BU
Sign Up To Our Newsletter