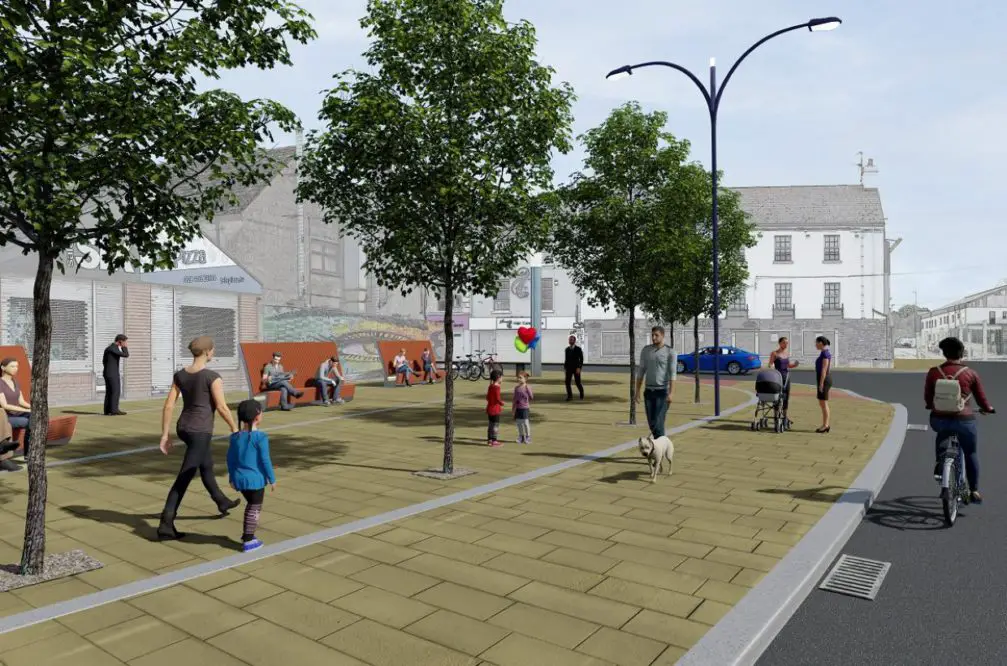 ABC Council has announced that Banbridge will soon undergo a significant upgrade thanks to a £6m investment in the town's public realm.
Centred on the town's main commercial core, the much anticipated scheme will preserve and enhance the existing character of the town and create a high quality, better connected streetscape with a strong focus on improved safety and accessibility for all users.
The Council recently appointed leading construction company, Fox Building and Engineering Limited, to deliver the multi-phased programme of works.
This scheme has received funding from the Council and the Department for Communities (DfC).
Lord Mayor Councillor Paul Greenfield gathered with Council officers and senior officials from DfC, Banbridge Chamber of Commerce representatives and key members of the design and contract team at Banbridge Old Town Hall on Thursday 9 March to officially launch the scheme.
He said: "I am elated to share the exciting news that Banbridge is set to get a multi-million pound makeover. This major regeneration boost will not only transform the look, feel and flow of the town centre but also act as a catalyst to the area's sustained growth and prosperity.
"Given the town's Game of Thrones link, this scheme comes at an opportune time with more international visitors coming to explore Banbridge and experience its retail, leisure and hospitality offering.
"We are grateful to the Department for their funding support and are confident that the completed scheme will help renew the sense of pride that local people have in the town.
"This year is shaping up to be a stellar one for Banbridge with the town winning the 'Champion' category in the UK-wide 'Let's Celebrate Towns' Awards last week. In January the UK Government announced £3.5m in Levelling Up funds to expand and upgrade the F.E. McWilliam Gallery and Studio, and more recently work has got underway to develop a place plan that will guide the future development of Banbridge."
Key features of the scheme include new natural stone paving, granite kerbs, widening and resurfacing of footpaths, wayfinding, cycle parking, interpretive signage and tree planting – all of which will improve access around the town for all users and strengthen the town centre's sense of place and unique characteristics.
In addition, bespoke street furniture and feature lighting will be installed to reflect the historic fabric of the town.
Other major enhancements will include a new plaza area at Scarva Street which will create a new multi-functional event and civic space; new gateway features at existing roundabouts to create more attractive arrival points; improved on-street parking bays on Newry Street and Bridge Street; improved pedestrian linkages to adjacent car parks and bespoke heritage style railings and feature lighting to enhance key landmarks such as Downshire Bridge and Bann Bridge.
DfC Permanent Secretary, Colum Boyle, said: "I am delighted that work will now begin on the new public realm scheme in Banbridge following the appointment of Fox Building and Engineering Limited.
"This is a major investment for Banbridge which will help unlock wider physical and social regeneration in the town by providing a focus for environmental upgrading, improving access to amenities and economic activity as well as enhancing the quality of the streets and landscape, which will boost the appearance of the entire area.
"The scheme will complement ongoing revitalisation works funded by the Department, demonstrating our commitment to making our town and city centres more attractive and safer places to live, work, visit and invest."
Ahead of the start of the scheme, Fox Building and Engineering Limited will host a 'Meet the Contractor' event on Wednesday, March 22 in Banbridge Old Town Hall consisting of a public drop-in session from 12pm to 2pm and a public presentation at 5.30pm.
This event will provide an excellent opportunity for businesses and residents to find out more about the scheme, the works to be undertaken, project timeline and raise any issues in relation to the delivery of the scheme.
Every effort will be made to minimise disruption over the course of the works. Pedestrian access will be maintained, as will access to the premises on the affected streets.
A traffic management plan will also be in place and a dedicated public liaison officer will be based at a centrally located site office in the town centre to assist with queries.
Sign Up To Our Newsletter