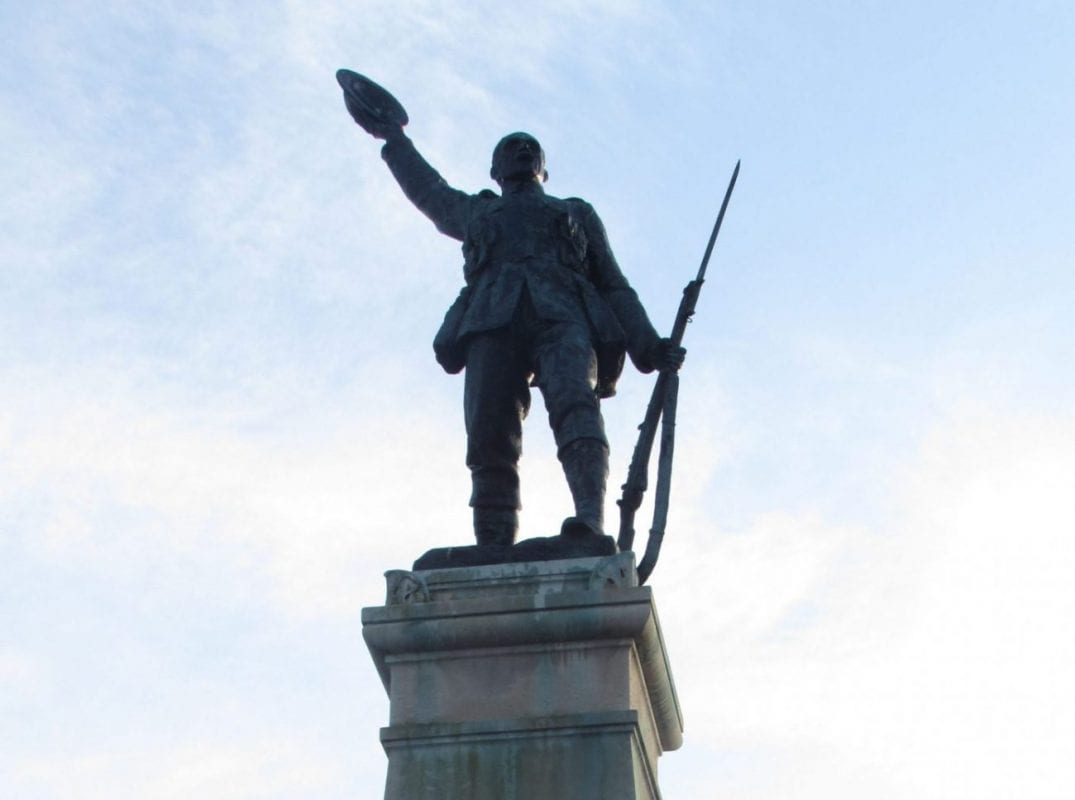 Forty-four names of heroic men from the wider Banbridge area, who paid the ultimate sacrifice while serving their country during the First World War, are set to be added to the town's War Memorial.
Banbridge Branch of the Royal British Legion, in conjunction with local historians and Armagh City, Banbridge and Craigavon Borough Council, have set a date for the unveiling of the additional names.
This will take place on June 25, next year at 3pm, and will also reflect 100 years since the War memorial was first dedicated on June 30, 1923.
Mr Jeff Geoghegan, of Banbridge Royal British Legion, said: "We would like to thank our partners who have helped make this happen with a special mention to local historian Richard Edgar, who has painstakingly researched this, and our local Veterans Champion Alderman Glenn Barr, who has helped drive this project from the start.
"We would also like to thank Kirsty Pinkerton, ABC Council, who has helped with the verification and sourcing nameplates.
"These servicemen meet the criteria for having their names displayed on Banbridge War Memorial, as each one has been verified to ensure they come from the Banbridge Royal British Legion catchment area.
"The youngest, who was 16 years old, was Seaman Christopher Barnett Berry.
"Christopher was born on 30 January 1899 in Banbridge. At that time his father was serving as a Sergeant in the Royal Irish Constabulary in Scarva, County Down. His parents were Robert and Arabella Berry, and the 1911 census lists him as one of their six children.
"It must be remembered that at that time you could enlist in the Royal Navy when 14 years old. Christopher was serving as a Boy Artificer (apprentice engineer) on HMS Indus.
"Sadly, he would die from disease on the 17 March 1915, aged only 16 years and 46 days. This means he will be the youngest service person commemorated on a war memorial in the Armagh City, Banbridge and Craigavon Borough.
"We will also be producing a booklet which will be a copy of the original and are asking anyone who was related to these brave men from Banbridge to please get in touch with Jeff Geoghegan on banbridge.rblclubsec@gmail.com or Alderman Glenn Barr glenn.barr@armaghbanbridgecraigavon.gov.uk".
Alderman Glenn Barr, who is the ABC Council Veterans Champion, added: "Adding the names of these Soldiers and Seamen on the centenary of the original dedication shows that Banbridge honours its war dead and that the sacrifice of young men is never underestimated or forgotten.
"They are never forgotten by their families, their sacrifice will be now remembered by Banbridge for all time. We will remember them."
Banbridge Additional Great War Names:
BERRY, C. B.
BICKER, W. A.
BINGHAM, T.
BINGHAM, W. G.
BOYD, A.
BYERS, W.
CHAMBERS, J.
CLARKE, H.
CONNOR, A. T.
CUNNINGHAM, W.
CUNNINGHAM, T.
CROZIER, J.
DAVIS, J. H.
FLANIGAN, E. H.
FLANIGAN, G.
FORDYCE, W.
FORSYTH, H.
FORSYTHE, G. H.
GORDON, H.
GREER, J.
HAMILTON, J.
HILLIS, J. H.
HUNTER, D. D. V.
KEATING, T. J.
McDEVITT, H.
McDOWELL, G. S.
McDONNELL, P.
McGROARTY, J.
McPOLAND, M.
McMAHON, R.
MERCER, A. R.
MILLIGAN, W.
MURTAGH, J.
NEILL, H. C. M.
NEVIN, A. M.
O'DONOHOE, J.
PILSON, S.
QUAIL, T.
RICHARDSON, I.
SMITH, J.
SMYTH, G. B. F.
SMYTH, G. O. S.
WARD, T.
WILLIAMS, W. E.
Sign Up To Our Newsletter