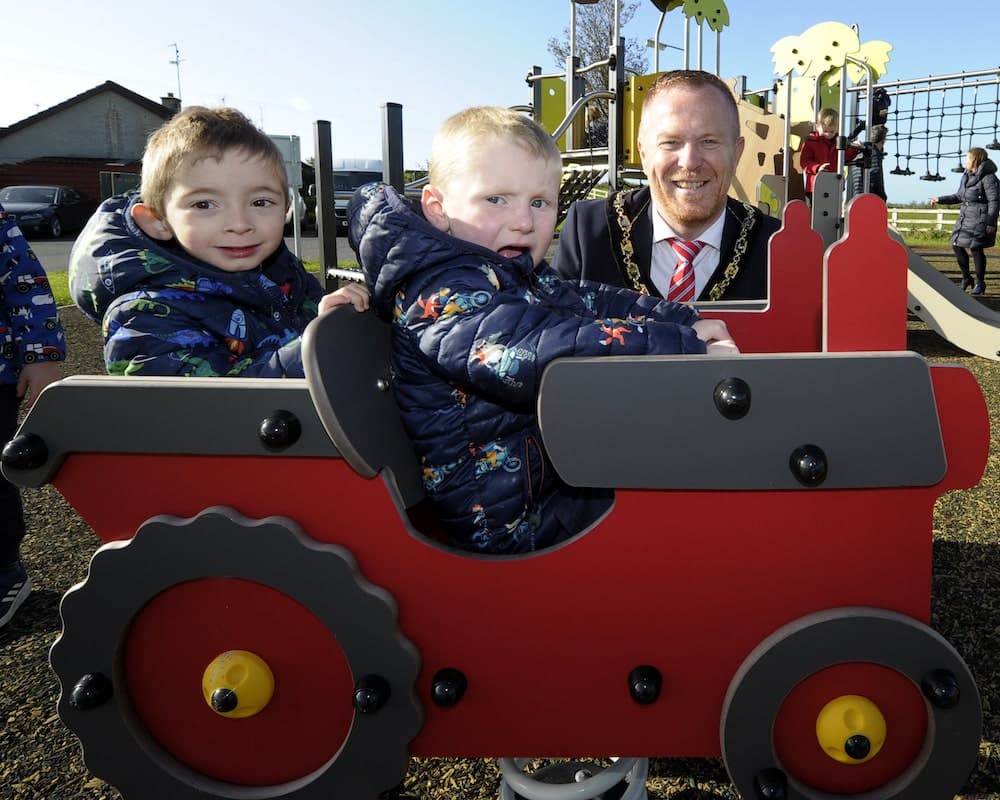 The celebrations were certainly in full swing across Banbridge as four fully refurbished play parks were officially opened last week!
Joined by around 100 local children, the Lord Mayor of Armagh City, Banbridge and Craigavon, Councillor Paul Greenfield cut the ribbon at Frazer Park Play Park, Millstone Close Play Park, Thornhill Play Park, and Cline Road Play Park to celebrate the hard work that enabled these play areas to become a reality.
After consultation with the local community and schools in each area, a total of £75,000 was invested in each park to completely refurbish the play areas, which now cater for children and young people up to the age of 14.
At each park, you will find toddler and junior swings, an inclusive basket swing, see-saw, inclusive roundabout, play panels and multi-play climbing units. What's more, a range of seating has also been added so parents and guardians can come along and share in the children's play experiences.
Children from St Colman's PS and All Saints Nursey, Annaclone; the Nursery Unit at Drumadonnell PS, Moneyslane; and Abercorn PS, Banbridge attended the openings and were delighted to get a break from the classroom and have a go on the amazing new play equipment in their local area.
"We had such a brilliant time launching these four fantastic play parks across Banbridge last week, which I know the local community have been thoroughly enjoying over the past year," commented the Lord Mayor.
"Play is such an important part of childhood – socially, emotionally, physically, and educationally – and these new play parks are a great way to enable children within these areas to get outside into the fresh air and to enjoy themselves. The variety of equipment is marvellous, and we have ensured there is something to suit all children – so now all they have to do is wrap up, get outdoors and play, play, play!"
This investment is part of Armagh City, Banbridge and Craigavon Borough Council's £4.75m Play Strategy, which will see a number of play parks across the borough refurbished, alongside our commitment to non-fixed play, which is crucial to child development.
Work at these play parks was carried out by Farrans and Garden Escapes, overseen by council officers.
For more information, contact Joan Noade, Play Development Officer at Armagh City, Banbridge and Craigavon Borough Council on 07515 607 472.
Sign Up To Our Newsletter