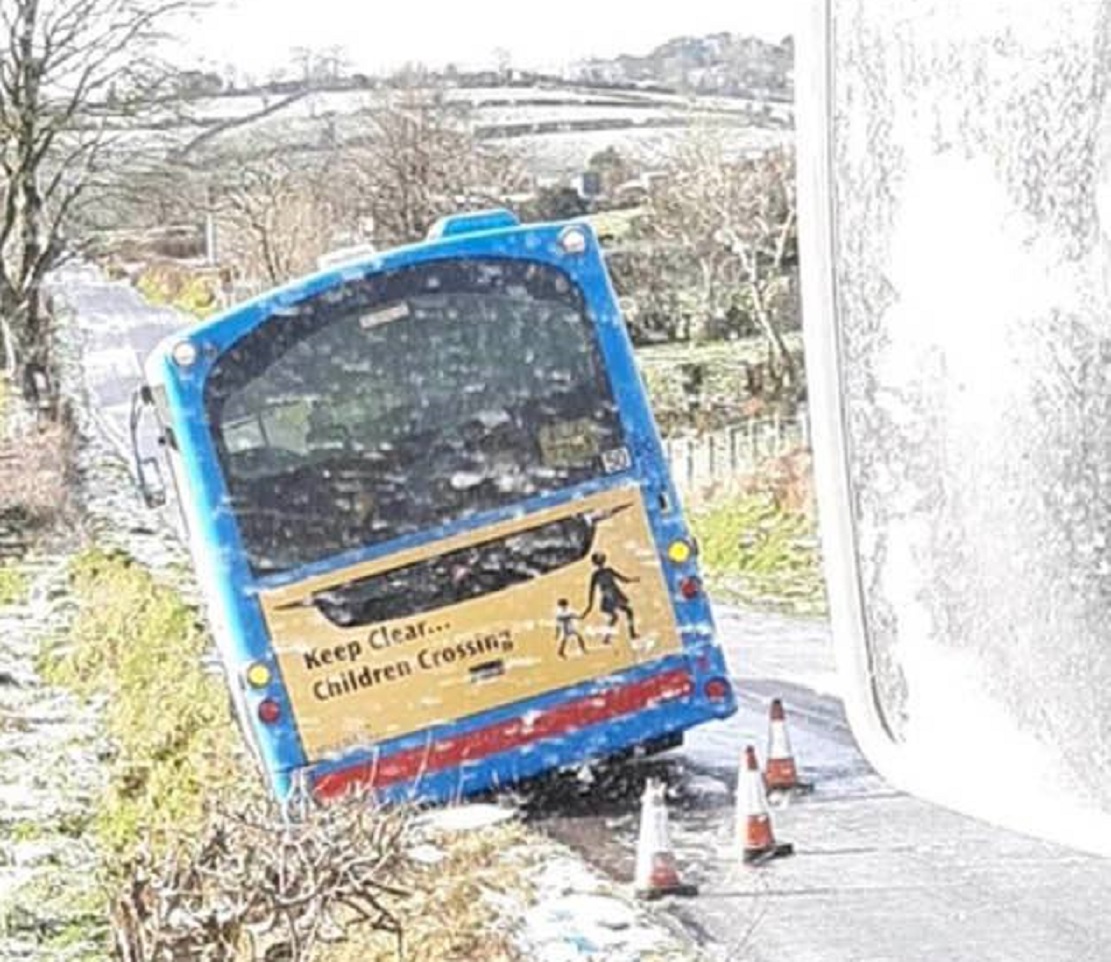 Armagh City, Banbridge and Craigavon Borough Council is to request a meeting with Stormont's Infrastructure Minister, Nichola Mallon, to discuss the urgent need to grit rural roads.
The issue was raised at a meeting of the local authority on Monday, February 28 by Lagan Valley councillor, Tim McClelland who told the chamber of a school bus that "got into difficulties" on the Katesbridge Road near Kinallen as a result of treacherous driving conditions.
"The vehicle slid off the road due to the road conditions as a result of the overnight frost and snow," said the DUP representative.
"It is a mercy that neither the driver nor the small number of passengers came to any harm and fortunately the bus did not topple into the field.
"It is important to acknowledge and thank all of the DfI Roads staff who keep our road network flowing and going, especially in challenging conditions but this incident serves to highlight the huge risk that rural road users face.
"Literally, in some cases, they take their lives into their own hands. It is just not fair, it is not right and it is discriminatory against rural road users.
"Some of the local residents and the local community group have over many years attempted to have this Kinallen to Katesbridge Road added to the gritting network but sadly these request have been turned down.
"I would commend all who have campaigned for this and would ask the question of DfI Roads, has a serious accident to happen before anything is done about this? I propose Council requests a meeting with Minister Nichola Mallon to specifically discuss the gritting of rural roads that are school bus routes."
UUP councillor Sam Nicholson seconded the proposal and said he did not think "there is a member in this chamber that has not tried to lobby DfI Roads to grit rural roads".
"We have debated this over and over again but it is worth trying again, do we have to wait until someone is killed to actually act. This is something we really need the Minister to listen to.
"There will be somebody badly injured or worse and there will be a fatality because of this."
Councillor Kyle Savage said he agreed with everything that had been said and claimed the state of some of the rural roads and verges mean there is "an accident waiting to happen".
UUP group leader, Alderman Jim Speers said it sometimes feel like DfI Roads is the "forgotten cousin in Stormont" and noted that "irrespective of which Minister is in charge of the department" little seems to change.
"There appears to be a lack of urgency as to the needs of rural people and rural areas," said Alderman Speers.
"I do believe it needs to be addressed and am very supportive of the suggestion and proposal that has been made.
SDLP group leader, Councillor Thomas O'Hanlon said he too would support sending a request for such a meeting to take place.
"Agree with the sentiments of the letter and have no issue with it being sent," said Cllr O'Hanlon.
"Though for the record, I have sent similar letters to every Infrastructure Minister. During my time as a councillor, it is an issue that has been ongoing."
Sign Up To Our Newsletter