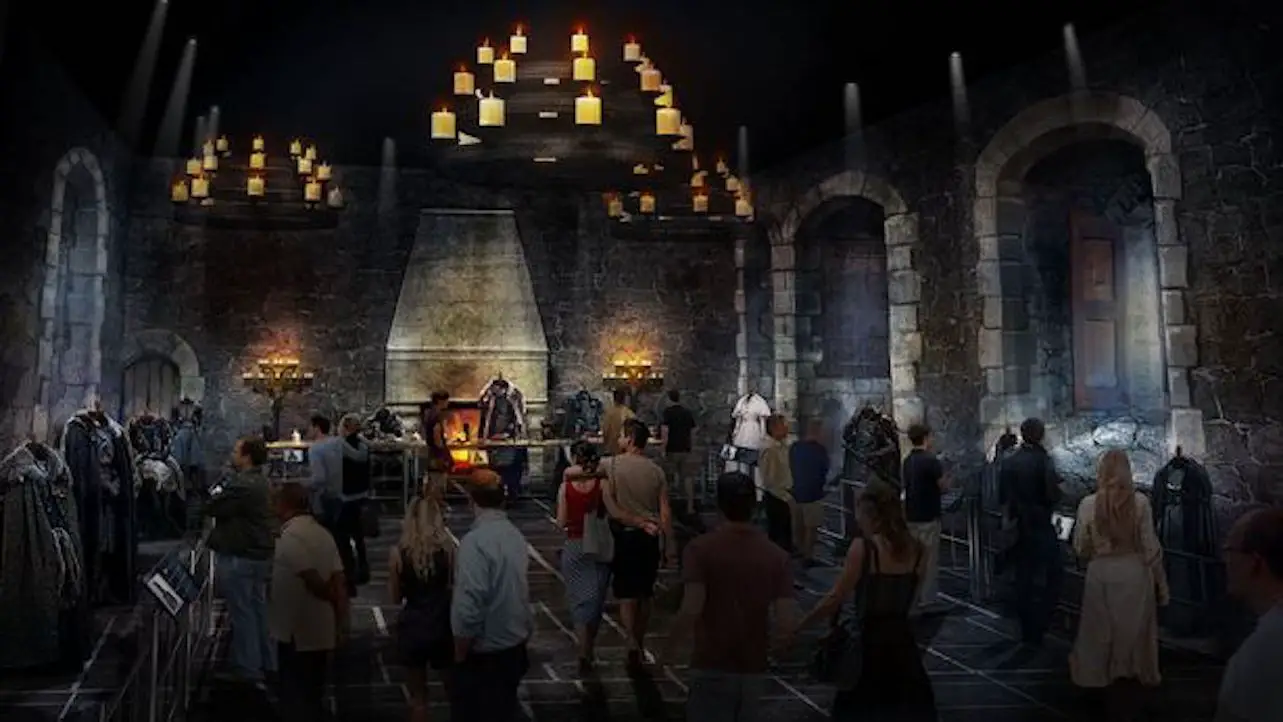 A bid to open a world-leading tourist attraction in the borough centred around the hit TV phenomenon Game of Thrones will pass its final hurdle next week.
Two planning applications to facilitate the £24 million complex in Banbridge will be roundly approved on Tuesday.
Both will go to a sitting of Armagh City, Banbridge and Craigavon Borough Council's planning committee, where councillors will be eager to dispense with the formalities and propel the process forward.
The two applications will be rubber-stamped; one pertains to the actual state-of-the-art attraction and all it entails, while the other is for the development of a separate park and ride facility at a different location, to enable the hundreds of thousands of visitors annually to be ferried to the site.
As Armagh I reported in January, close to 200 jobs will be created when the attraction is up and running.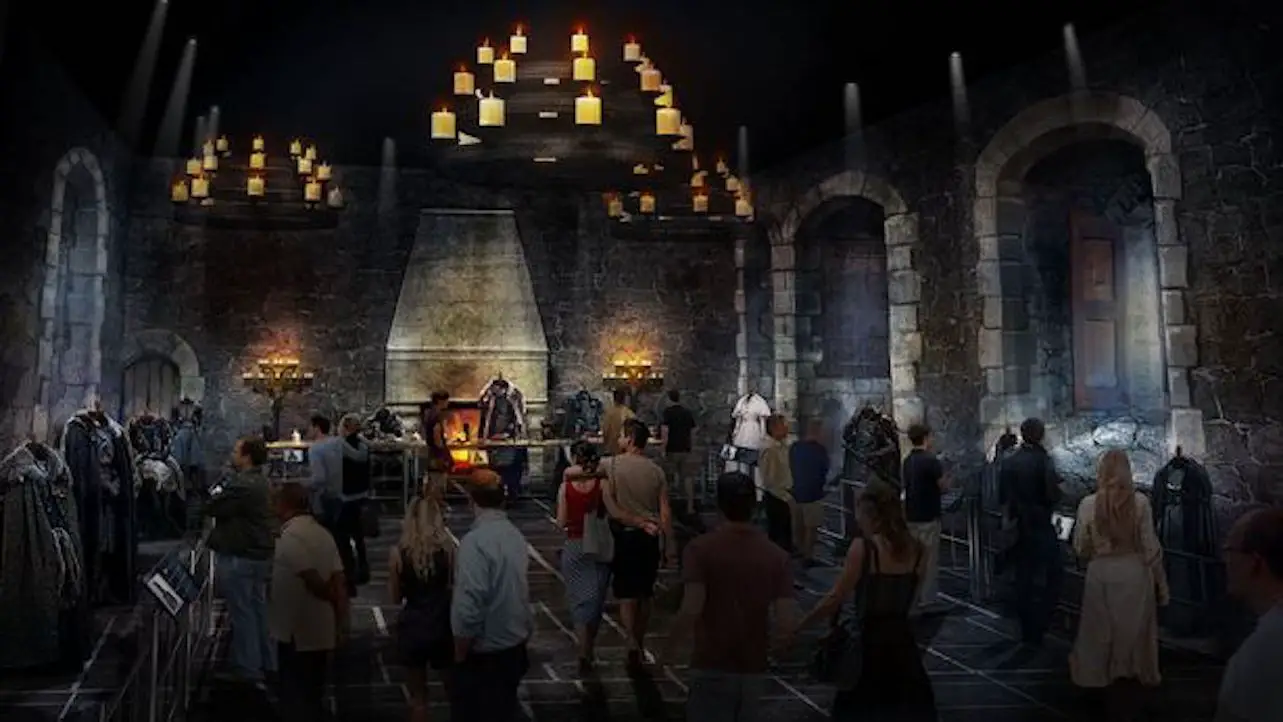 The site in question is at the Linen Mill Studios, on the Castlewellan Road in Banbridge, who are the applicants behind the attraction and will be formally notified after Tuesday's final decision.
The tour, being described as a "deeply immersive and sensory experience", will, when opened, house a permanent exhibition which will feature sets, props, costumes and more behind-the-scenes tidbits of the hit TV show.
It alone will require close to 200 staff – 194 to be precise – working across three set timed shifts to operate.
Sets will include Dragonstone's Throne Room and Map Room, Castle Black's Mess Room, Cersei's Courtyard in King's Landing, and even inside Winterfell itself.
Visitors will be able to walk around the sets and get up close to the real props, costumes and weapons used throughout the series, as well as learning all the secrets of how special effects were created for iconic scenes.
Some of the most iconic scenes from Game Of Thrones were filmed at Linen Mill Studios, which is thrilled to be working with HBO – the network behind the show – to create this spectacular new attraction.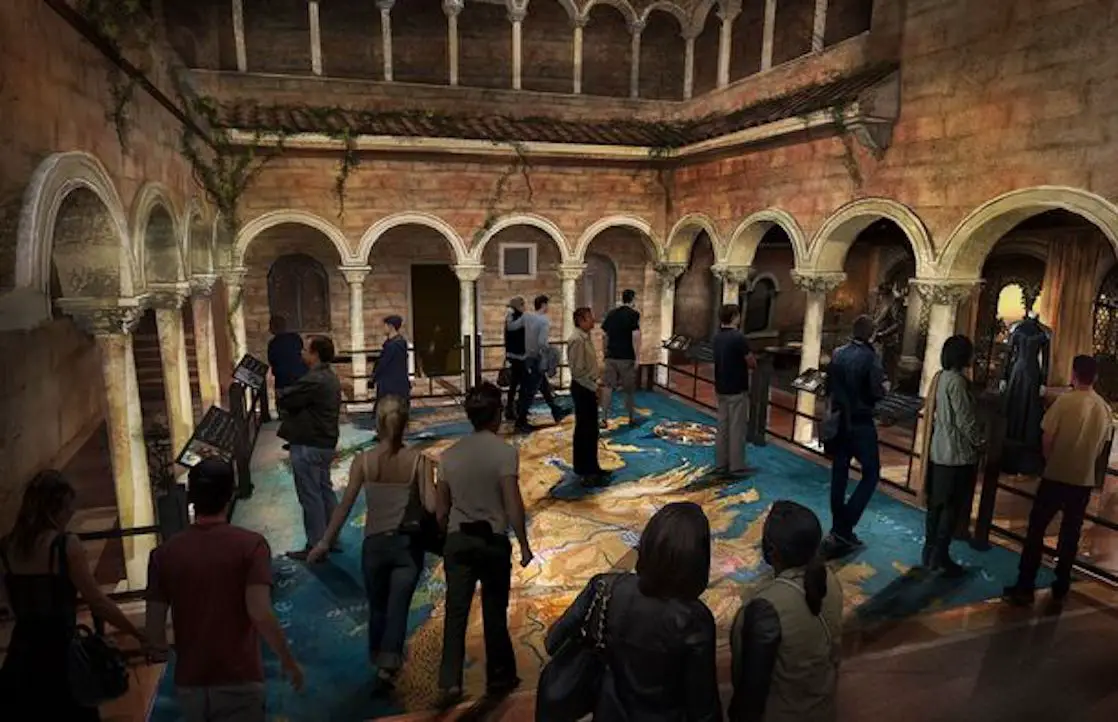 The creation of the themed studio tour will see approval for a 'change of use' of the existing Linen Mill Studios.
And the proposals to be approved will include a 'new-build' extension too, to form extended tour area and ticketing base.
There will be a retail area for fans to snap up merchanise associated with their favourite show.
And there will also be a restaurant and terrace – as well as a cafe area – on site too.
Office accommodation and admin and staff welfare area – for the hundreds of workers who will be employed – are also featured among the multi-faceted proposals.
As well as the existing Linen Mill Studios, the site also takes in the former industrial buildings used by Ulster Weavers, Banbridge Storage and Logistics Ltd and DPD.
The attraction would be expected to draw visitors to the borough every year from all over the world, with the tour running seven days a week.
And to make sure all are accommodated – and given the anticipated demand and popularity of the new venue – the second planning application to be approved will see the creation a park and ride facility on land adjacent to the Boulevard retail park.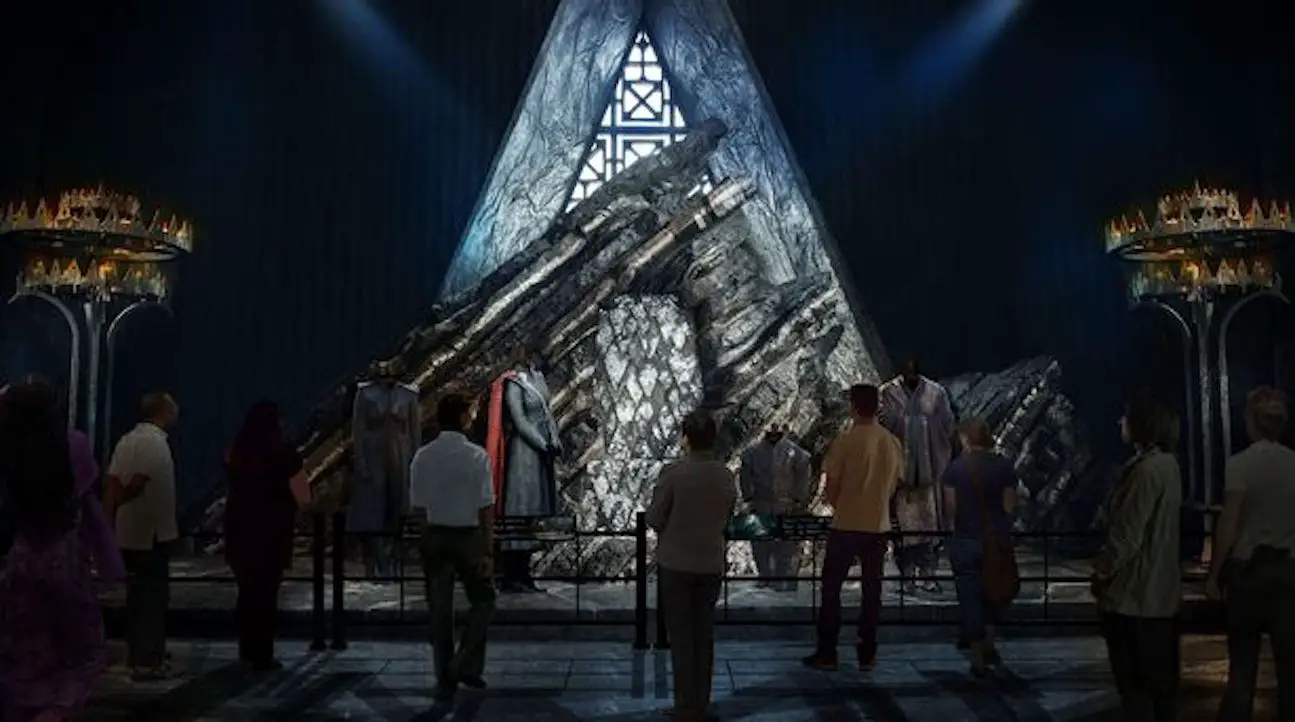 Visitors will therefore either be brought as part of a coach tour or will go to the park and ride where they will collect their tour tickets and avail of the shuttle bus to take them to the site.
The park and ride will accommodate some 350 vehicles, and will be accompanied by a single storey visitor ticket and welfare kiosk. Toilet provision and comfortable waiting area are included. There would be paved pedestrian areas, landscaping, fencing, new street lighting and street furniture and a bus shelter.
It is directly from here – unless they are part of a coach tour – that visitors will make their way to the attraction, where they will be dropped off and picked up again at a landscaped concourse entrance area.
Plans include extensive tree planting to offset trees removed due to the road upgrading, creating areas of meadow, willow planting and 'soft landscaping' around this new concourse.
According to a design statement, a huge interest and economic boost would result from the development.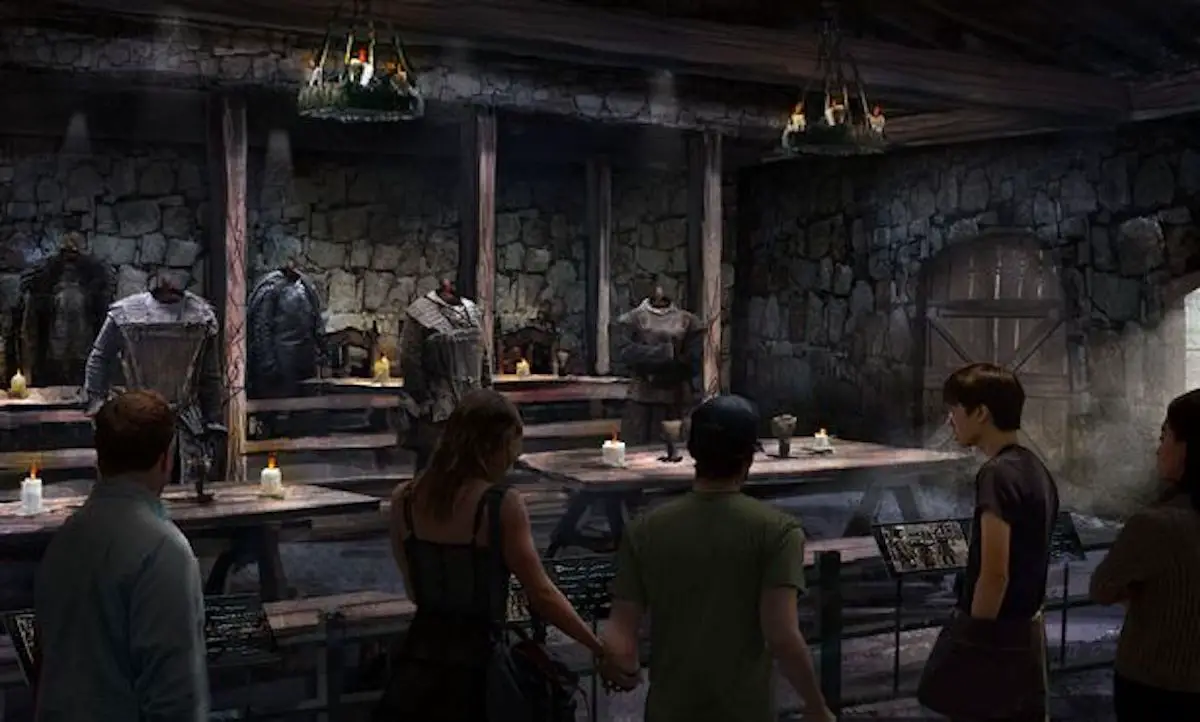 It states: "Due to the worldwide success of the TV series it is envisaged that the tour will attract visitors not only from Northern Ireland but from the Republic of Ireland, the UK mainland and from across the world.
"The overarching design principle from inception has been to create an attraction to a 'world class' standard.
"Linen Mill Studios, in association with HBO, are proposing to create a fully immersive visitor experience with original sets, props and costumes used in the filming of the series.
"Not only is the studio tour aimed at fans of the show but to the wider public in general, with exhibits demonstrating film production techniques, such as set decoration and costume design.
"Visitors to the tour will also be able to partake in numerous digitally interactive activities."
The tour will all be based around a large central and open rectangular 'hub' area, from where it will both start and finish.
To get there, visitors will filter past security desks where they will be scanned with hand held devices and their bags searched.
The design statement reveals: "On entering the hub an information desk is positioned on the right hand side where visitors will
get information, check in coats and bags and pick up digital guides.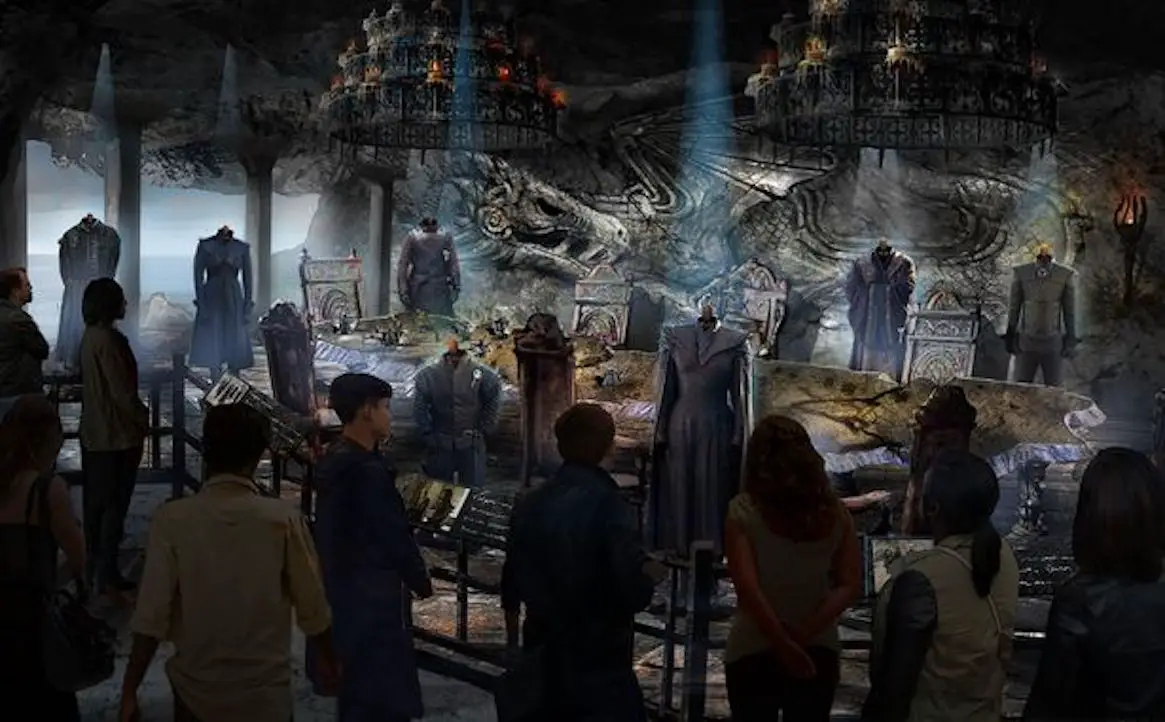 "The hub is sized to allow sufficient space for visitors to wait, circulate to other spaces and facilities and dining. The space will have seating and café seating to allow flexibility of use for pop-up events, exhibitions, screenings or other such events.
"Other elements and functions accessed directly from the hub space will include visitor toilets and baby change, a retail space, the tour entrance and a 'grab and go' style café.
"Additionally, some private and semi-private areas are accessed directly from the hub including a sensory room, a hygiene room, a first-aid room, a security room and an administration area."
The tour entrance area will be accessed directly from the hub and will allow visitors to queue for their allotted time. They will then be 'pulsed' in groups into a pre-show experience and then into the main tour, which will accommodated within two large steel portal framed structures 30 feet tall.
All internal background surfaces will be painted completely black, including all overhead services, to replicate a theatrical/studio environment allowing sets to be properly lit with specialist theatrical lighting and adding to the immersive effect for the visitor.
A café will be situated within the tour to allow visitors to take a break, use the adjacent visitor toilets and avail of some refreshments.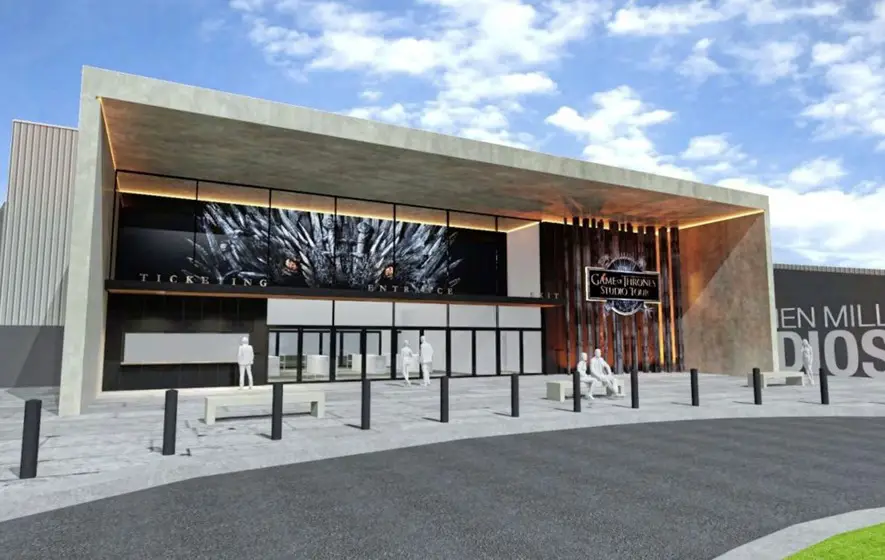 The café will have the look and feel of a film studio – a working area with mobile type catering units found on actual film sets.
The proposals also feature a new restaurant at 'lower ground' height. Accessed directly from the tour, it is located 1.4metres below the tour level with two sets of adjacent steps to lead visitors down, as well as an enclosed platform lift.
Visitor toilets are located to the left-hand side on entry and food order and collection points are straight ahead. The restaurant will be flooded with natural light through rooflights in a vaulted ceiling and a fully glazed wall. Diners will also be able to access a landscaped courtyard directly from the restaurant.
At the completion of the tour visitors flow into the retail area and back into the hub where they can have further refreshments, use the toilet facilities, wait for other members of their group and retrieve their belongings from the cloaks desk.
The first tour daily would be at 9.30am and the last leaves at 6,30pm, with all visitors and staff of the site by 9.30pm each evening.
The planning statement highlights the huge benefits will accrue from the state-of-the-art development.
It adds: "The development delivers significant benefit to the tourism industry through the creation of a 'must see must do' visitor attraction in a key strategic location on the main Belfast to Dublin transport corridor, that will result in substantial direct and indirect job creation and will be a major tourism pull.
"The scheme will provide a long-term positive legacy for the area and wider region."
As Armagh I has recently reported, Covid-19 has delayed the development.
But assurances had been given – as recently as two weeks ago – that the attraction is still very much alive.
Council's head of tourism, arts and culture Brian Johnston said: "We are continuing to work with the promoters in terms of their promotion and sales.
"Obviously with the way the pandemic is going at the minute they are having to look at their business model and looking at visitor numbers.
"At a point they were talking about maybe 600,000 visitors per year.
"They are looking at that again, again looking at the model within the facility in terms of how they ensure social distancing.
"If you look at visitor attractions like Titanic Belfast which has been in the press recently it is clearly the pertinent and responsible thing to do.
"They are still very confident with their product that they are bringing forward to the market. There is still an awful lot of interest from the international market."
Mr Johnston revealed that earlier this month council staff were in contact with the Game of Thrones team in terms of promotion, and there had also been a 'meet the buyer' event, as well as engagement with businesses and tour operators.
It will be a busy time ahead for all involved in bringing the project to fruition.
But with Tuesday's meeting due to confer the approval to move forward, it certainly has given renewed impetus and certainty that it will now become a reality.
Sign Up To Our Newsletter
Sign up to our newsletter for major breaking news stories as they happen – right to your inbox.