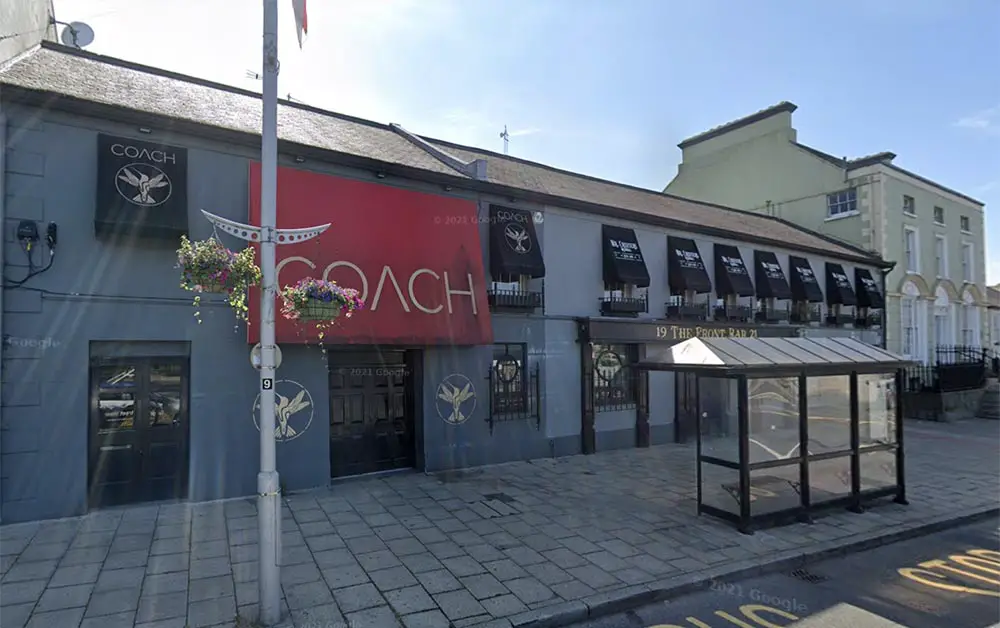 Any hopes of Northern Ireland's iconic Coach nightclub re-opening have been dashed with proposals drawn up for a very different new future for the Banbridge venue, Armagh I can reveal.
The Coach Complex, which includes nightclub, bars and restaurant, shut its doors for the last time when it became a high-profile casualty of the Covid-19 pandemic.
In its heydey, the Coach was one of Northern Ireland's top nightclubs and ranked alongside the Arena in Armagh and Lush! at Kellys in Portrush, which closed last year, in terms of popularity with crowds of young revellers.
But, like its aforementioned party peers, it too has been consigned to the past and the last dance has well and truly been played out.
For now Armagh I can reveal that the premises is to be revamped and resurrected – in keeping with the Easter theme – as a church-backed, community-based development.
The Coach Complex is located at Church Square, at the foot of the town of Banbridge, not far from where its new would-be developer calls home.
The Grace Generation Church, at a site along Church Street, has drawn up proposals for the Coach bar and nightclub and submitted these to Armagh City, Banbridge and Craigavon Borough Council.
It would see the church move some of its popular outreach activities and facilities to the new and more central venue.
The development would be a major move forward for the Grace Generation Church, which this year marks 10 years since it was founded in the County Down town.
Under the leadership of Pastors Paul and Helen Cupples, its own website proclaims that, from small beginnings the church has grown and developed into an effective ministry hub within Banbridge, which has a strong family ethos with people from all ages and walks of life.
It operates the Bean There coffee house and the Storehouse Foodbank, both of which would move to the Coach Complex, if these proposals to convert the property receive the blessing of ABC Council.
Bean There was founded a year after the church opening, in 2013, a popular and not-for-profit port-of-call, which offers free food and drink, but with an honesty box to allow those enjoying said refreshments to make a donation.
The Storehouse Foodbank was also established in 2013 and serves the wider Banbridge area.
It has helped hundreds of people of all ages, with food parcels and assistance, as again the church states: "We are founded on Christian principles and are committed to working with people regardless of religious belief or non- belief. We are simply – local people, helping local people.
"At the Storehouse our fundamental ethos is to consistently demonstrate compassion and dignity. When a client presents at our opening sessions, we accept them with the utmost compassion. It's neither our place to judge an individual's situation or comment on it; we are there to meet an immediate need and we do that with dignity and respect."
Both of these features and other community activities would now shift, all being well, to the new Church Square venue.
It was there, during the 1980s and 1990s, that the Coach enjoyed its most popular times and for many it was the first taste of a social life after the toils of school, university and early working life.
It was taken over by Osiris in summer 2014 and re-launched to much fanfare after a £1 million rebrand and revamp.
The Coach continued to draw in the crowds but, with lockdown, it, like many venues across Northern Ireland, looked at a challenging and uncertain future.
It continued to stream lockdown music sessions online in the early days of the pandemic but the writing was on the wall and, in November 2020, the bombshell was dropped on what was, at the time, Northern Ireland's oldest nightclub.
"Coach has formed a part of many of our upbringings and for lots was the first venture to a night out on the town," said the owner then.
"The first Coach Wednesday of summer when the exams finished will long be a memory to cherish with the promise of long summer nights ahead.
"Christmas meet ups with friends usually started with our St Trinians' Night, a few days off then back for Boxing Night and New Year's Eve as well!
"Tiesto to Nicky Romero, Pete Tong to Laid Back Luke, Timmy Trumpett to W&W, Eddie Halliwell to John O'Callaghan, Mella Dee to Hanna Wants, the list goes on and on.
"For each of these great nights, one thing was always the same when the lights came up at the end of the night. The crowd always chanting one more tune…but not this time.
"Thank-you to all the staff who have worked at Coach over the years and our customers. Thank-you for making Coach come alive. Stay safe and look after each other."
The news devastated those who had hoped that the closure might be temporary and that it might once again come back with a rebrand, new-look and a flourish! But it's not to be.
For now the Grace Generation Church – a year-and-a-half after it was revealed there would be no post-pandemic future for the Coach – is officially seeking a change of use.
It is the intention to provide a ground floor community hall, and it is here that the Bean There coffee house and Storehouse Foodbank would find their new home.
The community hall would be located largely in the nightclub area, with the Storehouse Foodbank where VIP Room 1 was, and the Bean There coffee house in the area which would have included the rear bar, front bar and lounge.
Meanwhile, the first floor of the prominent town centre property would be transformed to provide a multi-purpose room and meeting area.
The multi-purpose room would be located where the current function room is to be found, and adjacent to it, the cocktail bar is now earmarked to become the meeting area.
In all, the new-look building would boast floorspace of close to 28,500 sq ft, with a total of five staff based there on a daily basis.
According to the Grace Generation Church website, they are "generous in spirit – using our talents, time and finances to serve and build God's house".
This latest addition in terms of building and development of their work now lies in the hands of ABC Council, with the proposals due to be publicly advertised shortly.
Sign Up To Our Newsletter