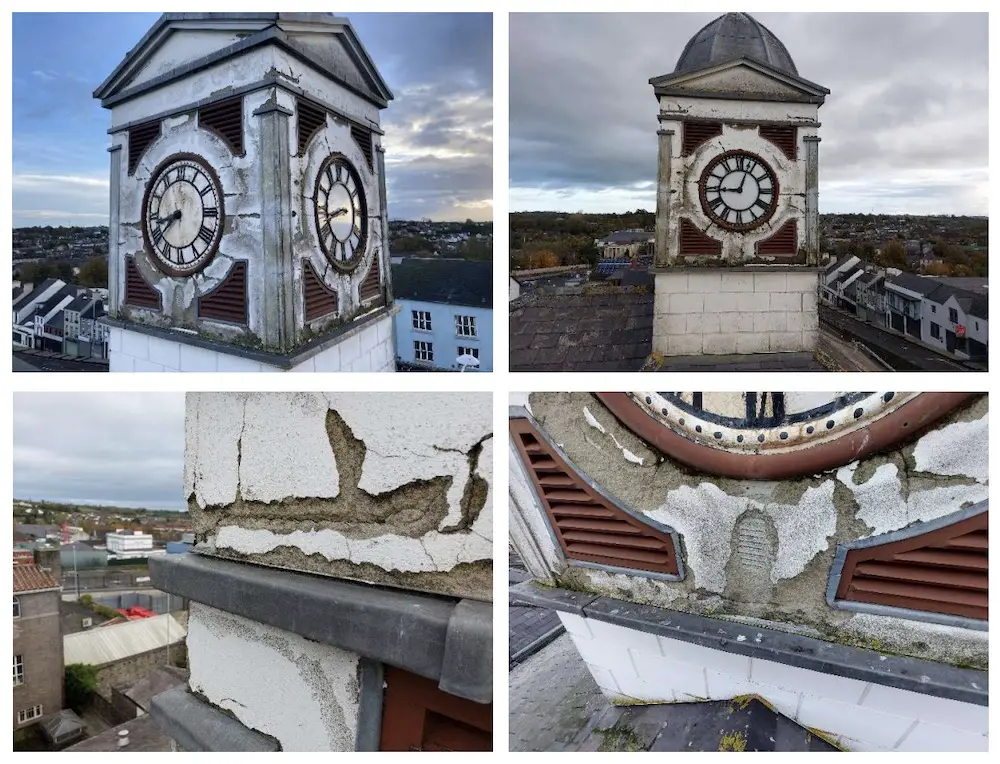 The famous and historic clocktower in Banbridge is to be completely restored and preserved for future generations.
The iconic timepiece – which sits atop the former Market House on Scarva Street – has seen better days.
Time has not been kind to the clock and it is showing real signs of deterioration which means it's now in need of major restoration work to ensure its future.
And now plans are in the pipeline to see that through.
A planning application has been lodged by Armagh City, Banbridge and Craigavon Borough Council for this project.
Listed Building consent is being sought, which gives an indication of the historical significance of the cupola clocktower.
The works, which will require specialists in this field, would involve the refurbishment of the illuminated clock face and copper clock face, to include cast iron numerals and hands.
The work would also see the removal and replacement of the existing cement render and render board, as well as timber repairs to louvers.
The former market house and town hall dates back to 1833 and was built to designs by Michael McGavigan.
The building was restored about 10 years ago, with the interior fully refurbished for commercial use.
A planning statement by AECOM reveals various defects which need to be put right, including rainwater damage and cracks to the lead at roof level.
It states: "The glass clock faces and their wrought iron numerals should be carefully taken down and fully refurbished prior to refitting.
"The same is said for the copper clock faces which should be carefully cleaned and redecorated. All refurbishment of the clock faces will be undertaken by a clock specialist."
And the document adds: "The building remains of quality and character. The clocktower is in working order.
"The proposed works will be carried out to ensure that there is minimal impact on the building heritage and provide protection to the buildings fabric to ensure longevity.
"The proposed works will ensure that the clock tower finishes are consistent and to match the existing details. Any damaged and/ or deteriorated timbers will be replaced using sympathetic methods and materials. All existing lead details will be replaced in a like for like manner."
The official papers relating to the listing of the building and the clock give some insight into its importance to the town of Banbridge and its people over the years.
It explains: "The clock bell used to strike the hours and was tolled to commemorate events of national importance such as Coronations, the death of Sovereigns and great victories of the armed forces.
"At the turn of the 20th Century, the clock bell was pealed to call out the fire brigade, which at that time consisted of a handcart with buckets and hose."
The proposals for the works – which would not require any closure of car park of pedestrian access to carry through – will be advertised shortly.
Sign Up To Our Newsletter