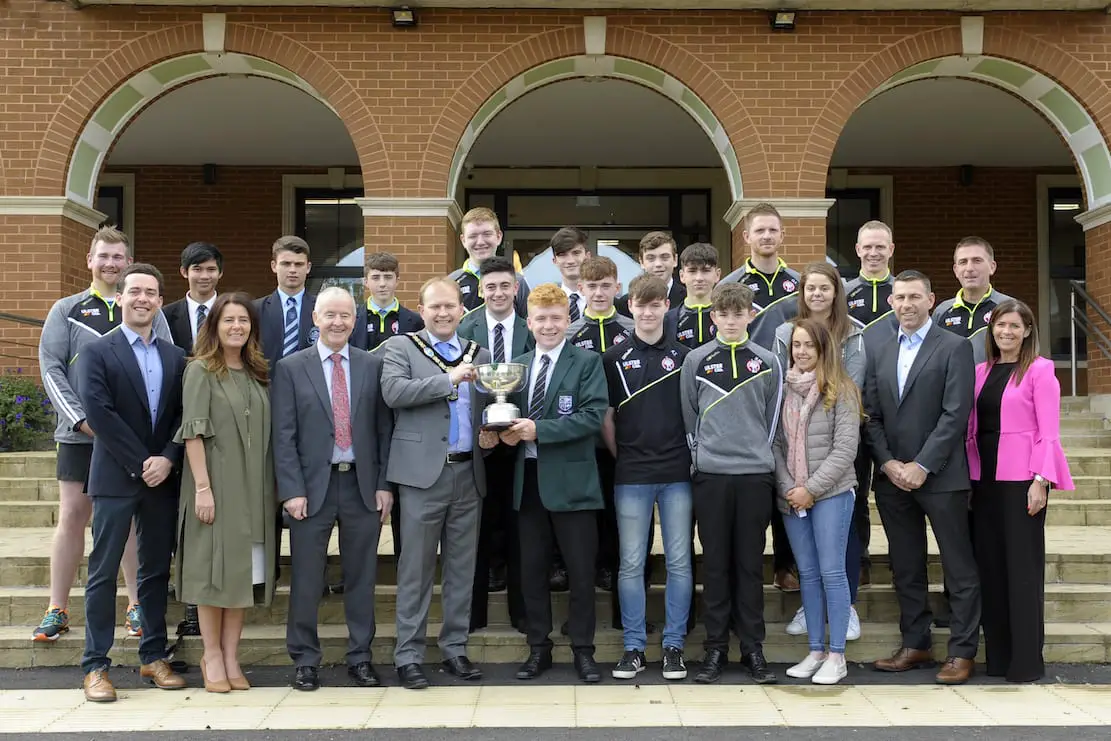 A cross-community GAA team has been celebrated for "breaking down barriers" and achieving tremendous success.
Lord Mayor of Armagh City, Banbridge and Craigavon, Alderman Gareth Wilson hosted the Banbridge Cúchulainns who won Ulster GAA Cúchulainn Cup earlier this year before going on to represented Ulster at the recent All British Championships.
It was fitting for the Lord Mayor to recognise the cross-community Gaelic team during this Community Relations and Cultural Awareness Week.
The team is made up of students from St Patrick's College, Banbridge High School and Newbridge College.
Speaking from Banbridge Civic Building Ulster GAA President Michael Hasson said: "We are delighted that Lord Mayor Gareth Wilson has officially recognised the efforts and commitment of the three Banbridge schools to the Cúchulainn Initiative.
"The Cúchulainn Cup is in its ninth year, is Ulster GAA's flagship cross community initiative which aims to use sport to break down barriers and develop good community relations among young people who live and study in the one town but who may never cross paths because of their different backgrounds.
"This is the first time that Banbridge has participated in this initiative and we are delighted how well they have embraced the ethos of this project.
"The three schools, the boys and their parents have all shown real leadership and commitment to good relations.
"Banbridge Cúchulainns have represented themselves, their schools and their town with distinction throughout the Cúchulainn Cup competition and also in London at the All Britain Championships."
Lord Mayor Gareth Wilson said, "I am delighted to recognise the boys, their teachers and schools for participating in such a positive initiative.
"I am delighted as first citizen to highlight projects like this that help to build relations and break down barriers and also to
congratulate the team on their success."
Ulster GAA's Cúchulainn Initiative is supported by The Executive Office through the Central Good Relations Fund.
Sign Up To Our Newsletter