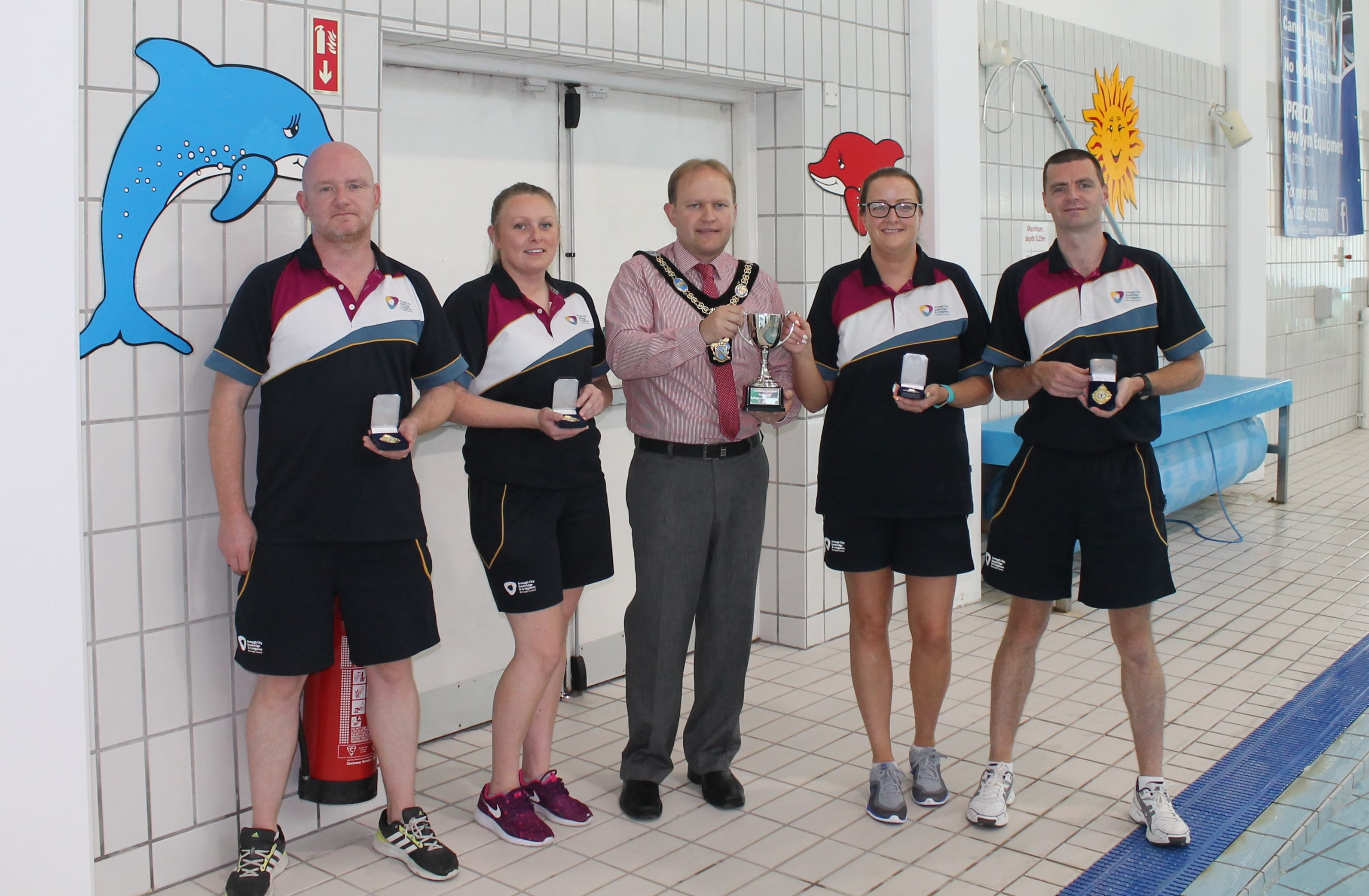 A squad of lifeguards from the ABC borough made a splash when they took gold at the inaugural Northern Ireland Top Team Lifeguard Championship at the Olympia Leisure Centre in Belfast.
The competition, which was hosted by GLL in partnership with Belfast City Council recently, saw nine teams of professional lifeguards from council areas throughout Northern Ireland test their skills both in and out of the water.
The team from Banbridge Leisure Centre – which consisted of Zoe Dennison, Mark Judge, Sophie Rimmer and John McGreevy – went head to head against counterparts from Shankill, Whiterock, Olympia, Falls and Grove leisure centres in Belfast, as well as facilities in Craigavon, Newry and Omagh.
Each team competed in practical scenarios designed to test their skills at dealing with a number of incidents including simulated CPR, first aid management and in-water rescue.
Lifeguards were scored on their speed in reacting to the scenarios and the protocols they followed in their responses. Each participant also had to undertake a written exam to test their life saving knowledge.
Once the scores were tallied up it was a triumphant Banbridge Leisure Centre team who came out top and received their trophy from Lord Mayor of Belfast, Councillor Nuala McAllister.
GLL Regional Director Gareth Kirk said: "Lifeguarding is one of the most important services we provide in leisure centres. We take the training and development of these professional team members very seriously and were delighted to be joined by council lifeguard teams from across Northern Ireland.
"This the first time we have brought lifeguards from across the country together and plan to grow the competition in the coming years."
On welcoming the Banbridge team back to the leisure centre after their success, Lord Mayor of Armagh City, Banbridge and Craigavon, Alderman Gareth Wilson offered his congratulations to all involved saying.
"This was a fantastic opportunity for all lifeguards to showcase their lifesaving skills and well done to all staff," he said.
Sign Up To Our Newsletter