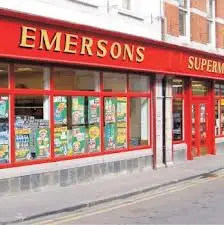 A public consultation exercise has been launched into proposals to close the Post Office in the shopping centre at Thomas Street in Armagh and relocate it to Emersons Supermarket.
The move, if it is agreed, would also see opening extended to 79 hours a week, which would include Sundays.
There would be four serving positions, a mixture of screened and open plan, with the aim being to modernise the network and extend hours.
The full range of services offered would be available during the normal opening hours of Emersons Supermarket. This would be 8am to 8pm, Monday, Tuesday, Wednesday and Saturday; 8am to 9pm on Thursday and Friday; and 1pm to 6pm on Sunday.
The public consultation runs until April 25.
If approved it would be the first part of a major expansion for Emersons Supermarket, located at Scotch Street.
Last year it was revealed that the owners had bought the former TJ Walker store at Market Street as part of a major £2 million development plan.
The Walker's premises has since closed altogether and the Regatta shop relocated to Thomas Street.
Speaking at the time, supermarket owner Gavin Emerson confirmed he will be expanding his business, which in turn will lead to the creation of a number of jobs for the centre.
He said: "This deal underlines our commitment to Armagh city centre and demonstrates our belief in its long term future. In general the expansion will allow us to enhance our offerings we currently have while at the same time developing in other fields. We are excited about the deal – it has been on the cards for a long time but now we are ready to move forward."
Read more news:
St Patrick's Grammar share in £134 million schools investment
Development proposal raises hopes for new-build Markethill High
Sign Up To Our Newsletter
Sign up to our newsletter for major breaking news stories as they happen – right to your inbox.