Flooding is affecting large parts of Armagh and making driving conditions hazardous.
The Orchard Leisure Centre has announced this evening that their swimming pool will be closed "due to heavy rain and conditions beyond our control".
There will be no Bodypump Class, no Swimming Pool, Relaxation Suite or Members Changing Areas opened tonight.
This is the scene on the Ballygassoon Road (pictured below), which is impassable at present.
Motorists are being advised not to risk driving through flooded areas and risk vehicles becoming stranded.
They should also slow down and exercise extreme care on the roads as conditions are expected to worsen in the coming hours.
Torrential rains and thunder and lightning have been witnessed over the past number of hours.
There are also reports of power cuts too. Parts of Newry, as well as Bessbrook and Poyntzpass, are without electricity and are expected to be out for a number of hours yet.
The Met Office's yellow weather warning remaining in place until 10pm tonight.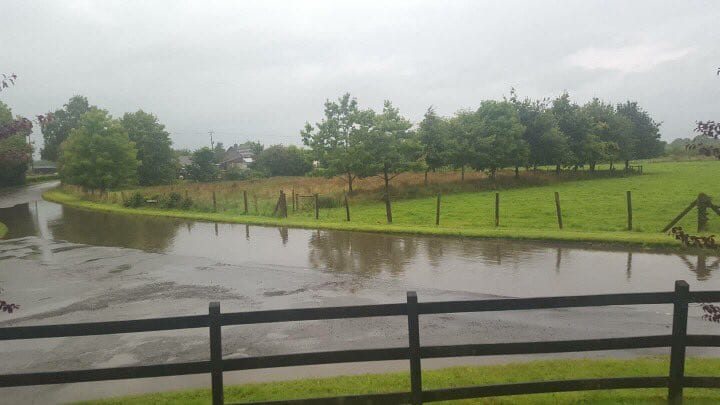 It is a scene which is to be found in other areas across the county.
And with darkness falling it may be more difficult to realise areas are flooded until the last moment, particularly away from main roads.
PSNI and Fire Service are asking the public to exercise caution.
Other roads affected:
Ardress Road close to Ardress House towards Moy is impassable.
Sign Up To Our Newsletter