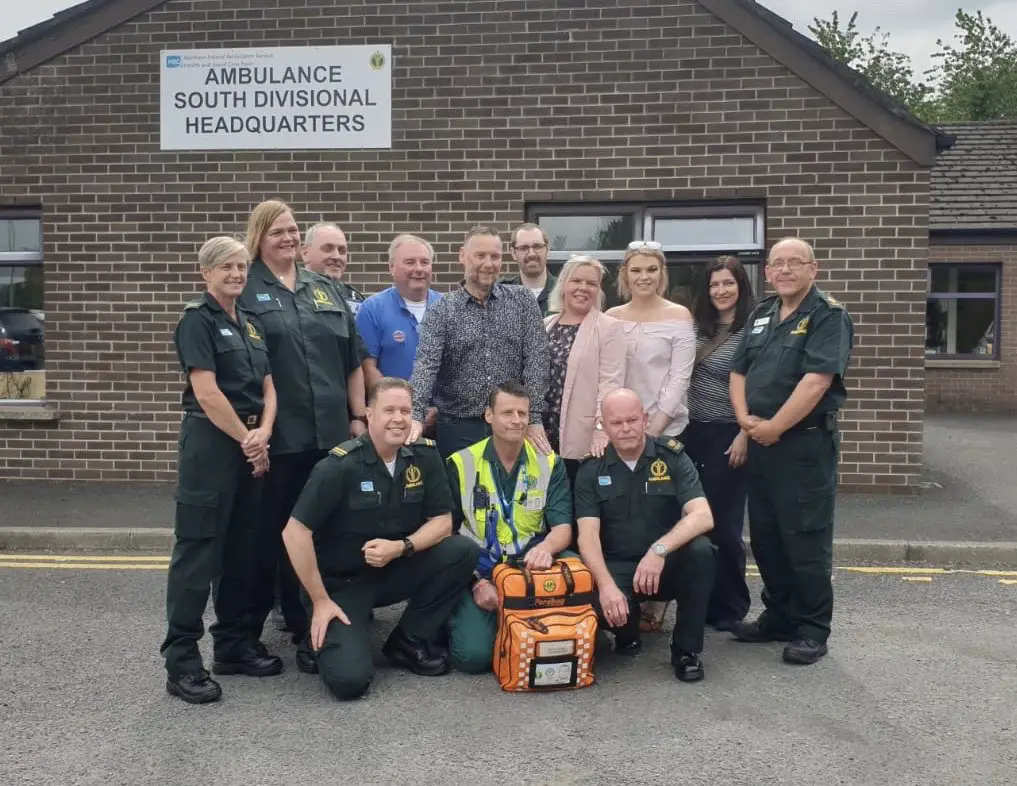 This is the moment an Armagh man was reunited with paramedics who saved his life.
In an emotional reunion with members of the ambulance service and first responders, Colly McBrien thanked each person individually and presented them with a personal memento.
The 50-year-old lorry driver suffered a heart attack at his home in the city on October 1 last year, before his wife Majella, with the assistance of an emergency call handler, performed CPR, while awaiting the arrival of the ambulance crew.
Paramedics Philip McFadden and Gillian Furniss, and ambulance technician Kerry Gooding attended the Mr McBrien's home on the night, as did community first responder Mark Winter, who was also in attendance at the Ambulance Service's district headquarters at Craigavon Area Hospital today (Thursday).
There were hugs and tears as the emotional father-of-two got to meet those responsible for giving him a second chance at life – his first meeting, he did not remember!
"They are all my heroes," Mr O'Brien told the Press Association. "Anyone who was involved that night are heroes. Not all heroes wear capes, as I always say, and they definitely are heroes.
"I'm over the moon – words can't explain how I feel. How do you thank somebody who saved your life? I am just lost for words.
"I never knew any of them before – to come out and help me, a stranger, it's more than a job.
"They keep saying they are only doing their job, but it's not – it's saving somebody's life."
Loved this story today. Heart attack survivor Colly McBrien asked to meet the @NIAS999 paramedics who saved his life. The Armagh lorry driver, 50, hailed them his heroes as he presented them with awards – final award went to wife Majella who did vital CPR to keep him alive. pic.twitter.com/zTs7xplwJb

— David Young (@DavidYoungPA) July 4, 2019
Cardiac Arrest survivor Colly McBrien visited Southern Area Headquarters today to say thanks to all those who played a part in saving his life – control staff, Community First Responders, RRV and Emergency crews #communityoflifesavers @healthdpt pic.twitter.com/ZENIJkLp5n

— NIAS (@NIAS999) July 4, 2019
Newsletter
Sign up for our weekly newsletter here.