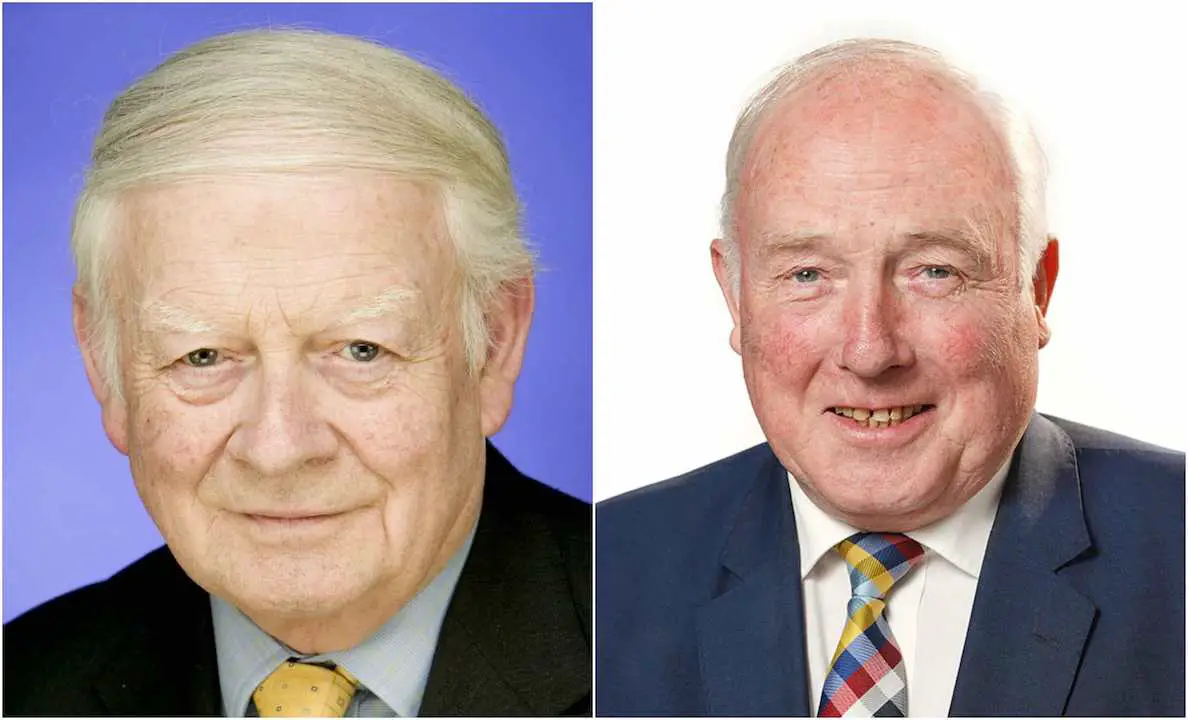 Political opposites who led their party groupings and pledged to work for the common good, they may not always have seen eye to eye.
But an Ulster Unionist Alderman – who took his first steps into the local government arena alongside former SDLP mayor Pat Brannigan back in 1977 – has paid tribute to a "very honourable and very upright and a very decent man".
Veteran unionist Jim Speers has spoken of the respect which he had for the affable and accommodating Pat, who passed away earlier today at his home at Glen Mhacha, in the Cathedral Road area of the city he loved.
As funeral arrangements were finalised for Armagh's first nationalist council chairman and subsequently mayor, tributes have been paid throughout the day after news of his passing was confirmed.
Alderman Speers spoke highly of a man with whom he admits to having exchanged heated words inside the chamber, but for whom he had a deep admiration. Their political ideals may have been far apart, but the shared drive to promote Armagh and district united them on more than would divide across the intervening years.
It was they who, back in the early 1990s, would form an unspoken gentleman's agreement which would see the rotation of the council chair, unionist and nationalist sharing power before it became fashionable on a wider stage.
To that end, Pat Brannigan became the first council chairman from the nationalist community to represent the people of Armagh and he pledged to be there for all of those people. He held the chain of office in 1993 and shared duties with a unionist deputy, and would go on himself to become the first nationalist mayor of Armagh four years later.
It was in 1977 that Pat Brannigan became a publicly elected representative – on the same day as Jim Speers.
He served in local government right up until 2011.
And while he may have stepped down off the main political stage, he always maintained his interest in the party's politics and was proud of what had been achieved.
Jim Speers remembers a man who helped bring about a new era of politics in Armagh.
He told Armagh I : "I knew him well. I had many, many long and happy – and sometimes difficult – conversations with him.
"He and I, we were opposite numbers on the district council for many years, from the 80s right through the 90s and into the noughties.
"We were elected on the same day back in 1977, so we chartered out a path together. He was always amenable and no doubt he worked hard; he represented the community in a very honourable and honest way.
"We had a long and good relationship, he and I. We were in America together, we travelled together and represented the council in many spheres of society.
"Pat Brannigan was one of those people who had a busy agenda and was hard-working. He knew what he could do and he was always willing to stretch himself to work with others. In that respect I found him a decent man.
"I was speaking to his family on Saturday night. I knew he wasn't well. I spoke to his wife Molly and his daughter Collette.
"I was also down with Pat and it is sad he has passed on now.
"In my dealings with him down the years, I always found him as very honourable and very upright and a very decent man."
Alderman Speers also paid tribute to his old Armagh Council colleague Seamus Mallon, the former Deputy First Minister who passed away less than a week before his SDLP colleague and friend.
"It's a huge blow for the party and politics," said Mr Speers, "not only provincially but indeed in a local sense.
"Two of the key anchors, as they were, have passed away in such a short period of time."
Pat Brannigan's funeral, meanwhile, will take place on Saturday. It will leave his home at 9.15am, and make the short journey to St Patrick's Cathedral for 10am Mass. He will be laid to rest afterwards in the adjoining St Patrick's Cemetery.
The last surviving of four siblings, he was predeceased by Bernie Eileen and Thomas.
To Pat's devoted wife Molly, to his sons John and Paul, his daughter Colette, and a wide family circle, including grandchildren and great grandchildren, we extend our heartfelt condolences at this time. May he Rest in Peace.
Donations in lieu of flowers are being accepted for Lisanally Special School, c/o donation box or J.J. McArdle & Sons, 37 Thomas Street, Armagh.
Sign Up To Our Newsletter