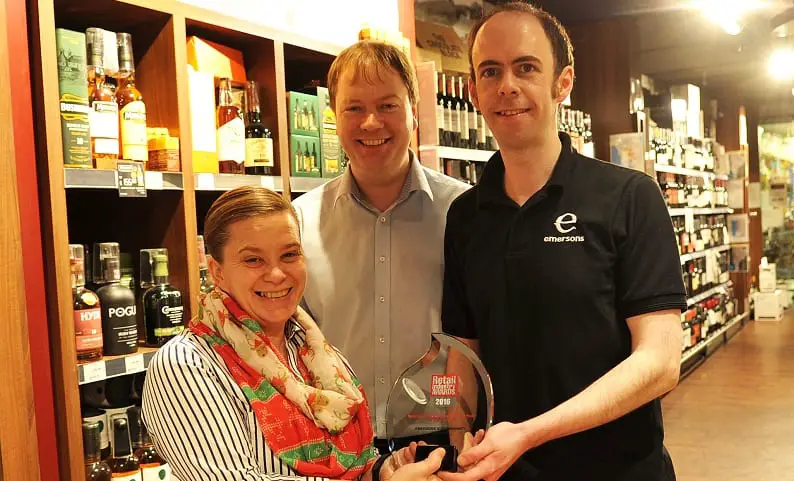 Armagh is on the map for many things – its two Cathedrals, Georgian architecture, famous Mall and now, for the second year in a row, we can boast we have the UK's Most Sustainable Independent Retailer here.
Emerson's Supermarket, run and managed by a fourth generation retailer, was recently announced as the winner of this sought after accolade in London for the second year running.
Alessie Magowan travelled to London's Grosvenor Hotel to pick up the award at a glittering ceremony which was attended by the creme de la creme of the UK's retail world.
The supermarket, which houses the city's Post Office, PhotoLab and Uluru Bar & Grill, is also celebrating because its own off-licence, stocked with craft beers, cider and a variety of wines and spirits, also picked up the Off Licence of the Year Award at the Neighbourhood Retailer Awards 2016.
Speaking about their 2016 successes, supermarket owner Gavin Emerson said: "Christmas is fast approaching and a new year will be upon us soon. We are continually looking to the future and planning ahead to ensure everything we do is sustainable. Every year, we all work so hard to make sure the offering we give our customers is the best. We have to think outside of the box and think long term.
"All independent supermarkets are challenged by the big chain supermarkets, and indeed smaller convenience stores, so it's important for us to stay ahead of the game so sustainability is an end goal for us.
"For us this covers a variety of aspects of our business from staff retention, using renewable sources for our energy, reducing food waste, food provenance, supporting local producers, supporting local families and creating new jobs. Being sustainable is vital so for us to be able to bring this award back to Armagh, and beat stiff competition from right across the UK, is a fantastic achievement and a credit to our team here and indeed a credit to our loyal customers.
"And looking to the wider community, we also want to make a long term, sustainable impact on local people. In our submission this year we were able to include The Emerson's Foundation which is our own Foundation which was set up and run by our own committee to help transform local communities. To date we have donated over £3,000 to local causes."
Neil Powell, The Wine Store manager, is delighted too that his selection of craft beers, craft ciders, world wines and spirits, captured the attention of the judges too at the Neighbourhood Retailer Awards.
He said: "We stock products from producers and distillers from Co Armagh, from across the region and nationally. Every employee has full product knowledge of our range of craft beers, ciders, wines and spirits. It's fantastic to have won Off-Licence of the Year 2016. This year was the Year of Food and Drink in Northern Ireland and we were delighted to play our own role in that initiative which has been a great success and has showcased what we are capable of here. The interest in craft ciders and craft beers has increased dramatically and we continue to build on our reputation as stocking a fine variety."
Main photo: Alessie Magowan, Gavin Emerson and Neill Powell celebrating the 2016 successes at Emersons-Supermarket.
Sign Up To Our Newsletter