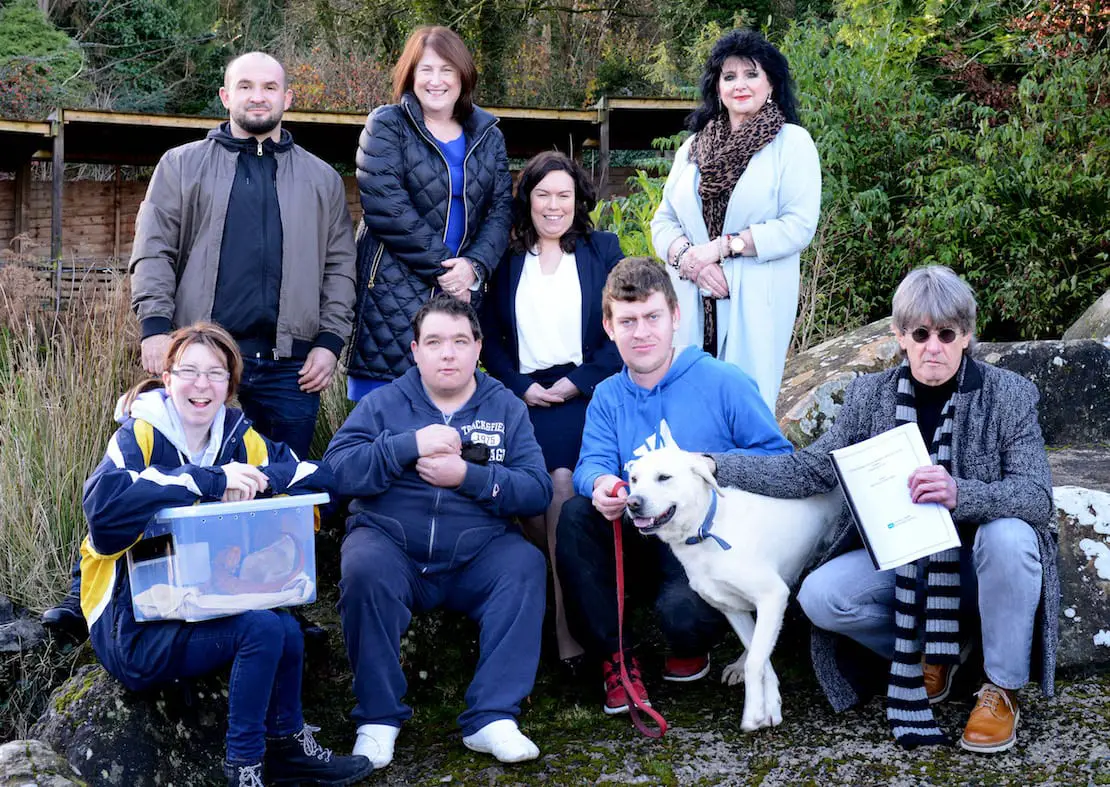 The Southern Health and Social Care Trust held an official launch of a new research paper titled 'The Perceived Impact of Caring for Animals on Adults with a Learning Disability' earlier this week.
The research was undertaken by Gene Fallon, an independent facilitator and Eilish Kilgallon, Community Development Worker for the Trust, and demonstrated that caring for a range of animals in a non-domestic setting had a positive and beneficial effect upon the Adults with a Learning Disability who took part in the study.
Noreen McComiskey, Southern Trust Head of Specialist Services said: "Participants through their own words and those of staff and their carers have expressed increases in patience, self-confidence and independence together with improved social
skills.
Read more: Young Armagh man diagnosed with leukaemia has stem cells donated by brother
"In addition participants demonstrated positive interaction with animals and other participants, as well as evidencing personal development and improved emotional well-being."
Micéal Crilly, Assistant Director of Disability Services for the Southern Trust added: "For some time we have believed that interaction with animals is therapeutic for individuals with a learning disability and can bring many benefits to their lives and the lives of their carers.
"We believe that such activity increases the confidence of those involved, provides them with opportunities they may not have otherwise experienced and increases their self-esteem.
"While this is an exploratory Pilot Study it does raise many interesting questions and highlights the need for further research in this area as we all strive to optimise the services for people with a learning disability.
"I would like to acknowledge and thank those who have contributed to this very important research. The Southern Trust views research and evidence based practice as a solid foundation for service development.
"This work will prove a valuable tool to Trust staff, other agencies and the wider academic field in understanding and further learning in this field."
The Trust's research study was carried out at the ARC, Bessbrook in partnership with the Ulster Society for the Prevention of Cruelty to Animals (USPCA).
To view the full research paper 'The Perceived Impact of Caring for Animals on Adults with a Learning Disability' please visit the Southern Health & Social Care Trust website or Click Here. An easy read version is also available.
Main photo: David Jurkiewicz ARC Bessbrook, Patricia Gillen SHSCT Head of Research & Development, Colleen Tinnelly USPCA Development Manager, Noreen Mc McComiskey SHSCT Specialist Services Manager and Gene Fallon Author pictured with research participants; David Jones from Portadown, Shauna O' Reilly from Camlough and Ross Mc Mullen from Poyntzpass.
Read more: Items of great sentimental value taken in despicable burglary near Hamiltonsbawn
Sign Up To Our Newsletter