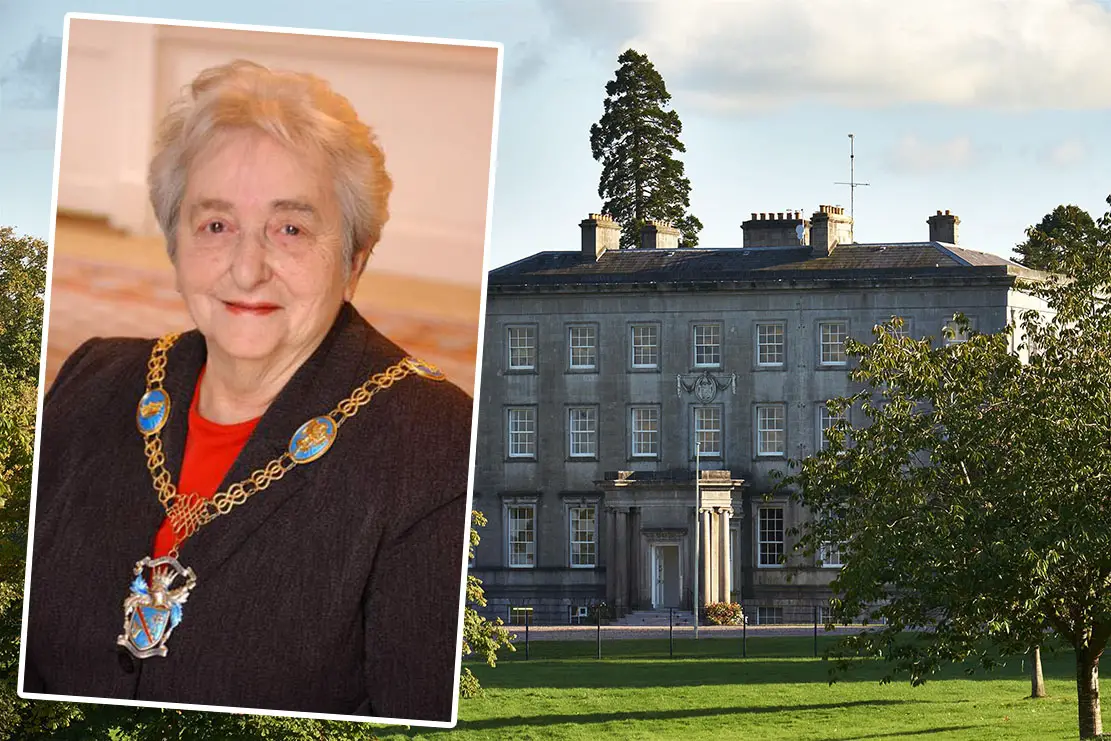 The funeral will take place on Thursday of a former Mayor of Armagh, Anna Brolly, who passed away on Monday.
Anna, who lived at Mullanstown Park in the city, had been Mayor of Armagh City and District Council in 2002.
She had served on all of the major committees within council and has very highly thought of on all sides within the chamber.
Anna was an SDLP councillor throughout the 1990s and she stepped down before the 2005 local government elections, just two years after serving as the city and district's first citizen.
SDLP MLA Justin McNulty MLA led tributes to his former party colleague.
"Anna Brolly was an outstanding public representative who gave her all for the community she represented," said Mr McNulty.
"She was a good old fashioned community representative who was grounded in the community. Anna wasn't one for grandeur or the trappings of public office – all she was interested in was in getting things done.
"Of course Anna made history when she became the first nationalist female to lead the council in 2002.
"When she took up that office little did she know that she would have had the privilege of welcoming home the victorious All-Ireland winning Armagh team in September of that year.
"It was fitting that a woman of her calibre was on hand to welcome the Armagh team back to this city with the Sam Maguire, and I know it was a memory she held dear."
Sitting Lord Mayor Mealla Campbell also paid tribute to Anna.
Councillor Campbell succeeded Mrs Brolly as a Councillor in 2005.
"I am deeply saddened by the passing of Anna, she was a colleague, a friend and an inspiration," said councillor Campbell.
"Anna Brolly was a formidable and determined councillor who worked hard for her constituents and didn't allow an issue to drop even after she retired from her elected role.
"Anna was of the community and for the community and she gave her life to the service of others.
"She became a councillor during a difficult political climate but she remained steadfast in her vision of equality and social justice.
"She was highly respected in the SDLP and across the political spectrum. She was a straight-talker but also someone who enjoyed a bit of fun and that endeared people of all backgrounds.
"Her political style was one that I admired when I began my political journey. As I made my foray into the field of elected politics Anna was at my side to guide me through the nuances of political life.
"Without her encourage and support I doubt I would have achieved so much. After my installation as Lord Mayor she was the first one to congratulate me and her delight and pride was humbling.
"As a former Mayor herself her advice to me was to enjoy the role and use it to help those who needed it most. That was Anna's way – she always thought of others first.
"Anna was small in stature but politically she punched well above her weight.
"She will be dearly missed by me, the wider SDLP family and indeed the people of Armagh who loved her dearly."
Anna passed away on Monday at hospital.
Her funeral will take place on Thursday to St Malachy's Church, for 11am Mass.
Afterwards, she will be laid to rest in St Patrick's Cemetery.
A wife of the late Paddy, she was a mother-of-five and will be mourned by Thecla, Gemma, Paul, Ursula and Caroline, brother Romeo, grandchildren, great-grandchildren, nephews, nieces and a wider family circle and friends.
Sign Up To Our Newsletter