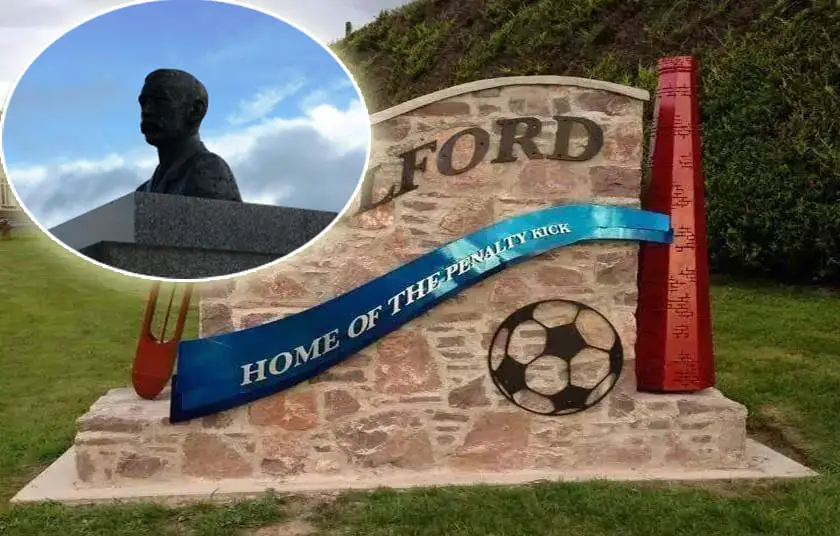 A world expert on tourism has floated an idea which could give Armagh and Milford a unique selling point as a global attraction.
Speaking at a tourism seminar in the Market Place Theatre, Professor Terry Stevens suggested that the unique draw of the area, with Milford as the home of the penalty kick – undoubtedly world sport's most dramatic rule – might be put to more use locally.
Dreamt up by William McCrum shortly after he graduated from Trinity College Dublin, where he had studied Greek and Roman drama, the penalty shoot-out has become an essential part of settling some of the biggest soccer cup finals in the world.
Its founder was a former student of the Royal School Armagh and is laid to rest at St Mark's Parish Churchyard in Armagh, where the Milford Northern Ireland Supporters' Club carried out a restoration programme.
The Patron of the John O'Connor Writing School is the Pulitzer Prize-winning poet Paul Muldoon.
And the penalty kick is one of many subjects he will touch on during "A Conversation with Paul Muldoon and Robert McCrum", which is just one of many events taking place over the first weekend in November.
Robert McCrum, who will be attending the school as an associate editor of the Observer, and former editor in chief of the publishers Faber & Faber, is a McCrum family descendent of the famed Victorian football administrator and goalkeeper whose rule was sparked by his passion fair play.
With its claim as the home of the penalty kick Professor Stevens wondered why Armagh and Milford, where McCrum owned mills and was the goalkeeper in the village football club he financed, have not capitalised on organising an international penalty kick competition.
A memorial and museum to McCrum does exist at Milford but the professor was making the point that a penalty kick festival competition particularly for children could attract the world's football fraternity and some stars.
William McCrum artefacts including his football jersey will feature in a new museum being opened by the Irish Football Association at Windsor Park, Belfast.
McCrum and his rule is one of an eclectic bunch of subjects that will be raised at the weekend school, including a special class on blogging by Sara O'Neill, the leading style and beauty blogger.
The school opens with an exciting attraction, the Bronagh Gallagher concert on Thursday, November 3 in the Market Place Theatre, Armagh. It runs, with various events, until Sunday, November 6.
Details of all events at: www.thejohnoconnorwritingschool.com
Read more news:
Debt collectors chasing eye-watering £200k in unpaid 'pay and display' fines
Permission granted for £350k poultry house in Armagh city
Police put on show explosive device as four charged in dissident investigation
Major disruption ahead as Armagh sewer works to start up again on the Mall
Trial opens for man and woman accused of Owen Creaney murder
Funeral of 15-year-old 'gentleman' Patrick Quinn to take place today
Heroic police officers save man's life after late night canal drama
Sign Up To Our Newsletter