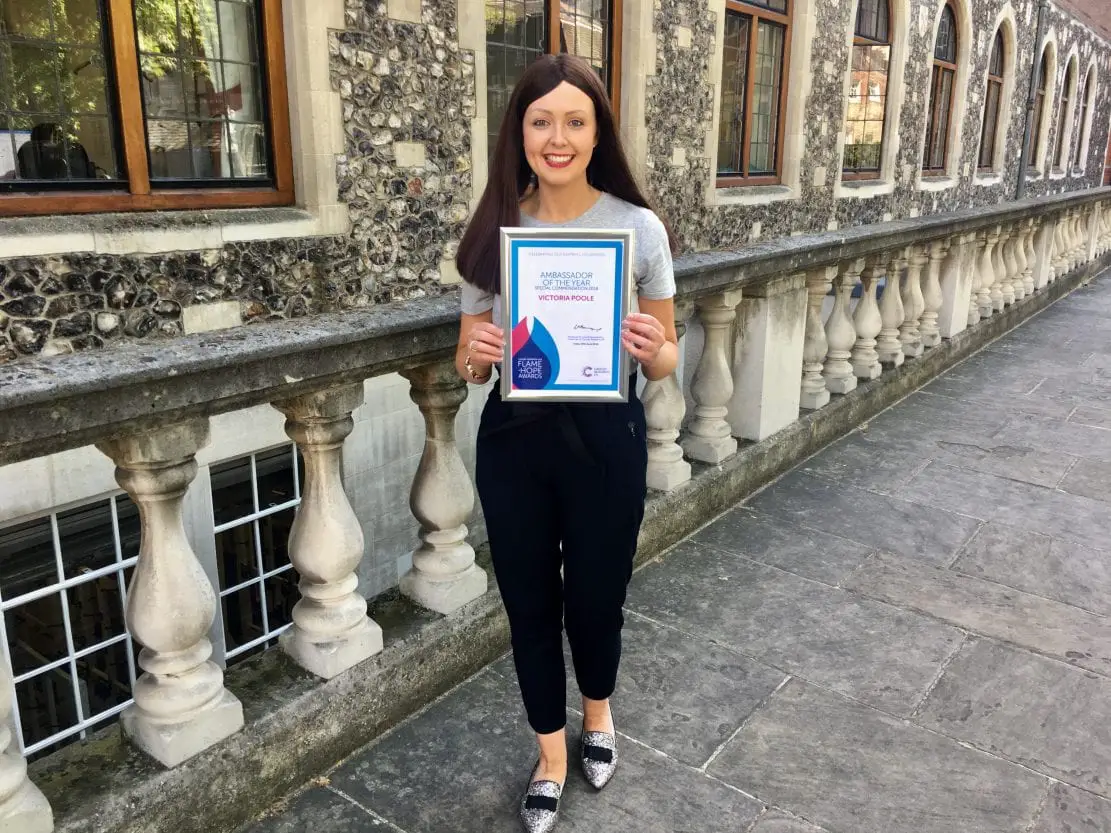 A Co Armagh charity volunteer has been given a prestigious award to recognise her dedication and passion for raising awareness of cancer in Northern Ireland and across the UK.
Victoria Poole, a Cancer Research UK (CRUK) volunteer, has been presented with a Special Commendation in the Flame of Hope Awards in the Ambassador of the Year Category.
The CRUK Flame of Hope Awards celebrate the charity's most inspiring volunteers and supporters who give of their time and energy to further the charity's vision of bringing forward the day when all cancers are cured.
Sir Harpal Kumar, Chief Executive of CRUK, presented Victoria with her Flame of Hope award during a special presentation at CRUKs Parliament Day at Westminster.
In her voluntary role as Cancer Campaigns Ambassador for CRUK, the 27-year-old is working with the charity to secure commitment from the Northern Ireland Executive and Assembly to develop a comprehensive cancer strategy that outlines plans for the long term, sets ambitious goals and identifies sufficient resources to ensure improved patient outcomes across Northern Ireland.
Cancer, which is Northern Ireland's biggest killer, sees more than 25 people diagnosed with cancer each day – that's more than 9,250 per year, with rates projected to rise to over 14,000 by 2034.
The positive news is that more people are beating the disease than ever before and cancer survival rates in the UK have doubled in the last 40 years, with CRUK's work having been at the heart of that progress.
Northern Ireland is the only part of the UK and Ireland without a current cancer strategy, with the most recent strategy dating back to 2008.
Victoria hopes that, by working together, policy-makers, clinicians, researchers, charities and those affected by cancer can take on this devastating disease together, to change the cancer story.
She said she was "so honoured" at the recognition by the charity.
"CRUK staff, volunteers and supporters work incredibly hard and I am proud to volunteer with the charity and play a part in advocating their work," said Victoria.
"It is important that we make sure cancer remains a priority on the political agenda in Northern Ireland.
"In order to improve patient outcomes it's vital that the Northern Ireland government develops a comprehensive cancer strategy so we can focus resources where they're most needed.
"I hope that by working together we can all make a real difference in changing the cancer story across Northern Ireland and the UK."
Margaret Carr, Cancer Research UK public affairs manager for Northern Ireland, said having volunteers like Victoria liaising with politicians in Westminster and Stormont brings "an important local and personal aspect to our work in Northern Ireland".
She added: "I congratulate Victoria on her commendation for the Flame of Hope Award which recognises the contribution that volunteers make to the charity's work."
Cancer Research UK's ambition is to ensure that, by 2034, three-quarters of people survive their disease for 10 years or more after a cancer diagnosis.
To find out more about CRUK visit www.cruk.org
Sign Up To Our Newsletter