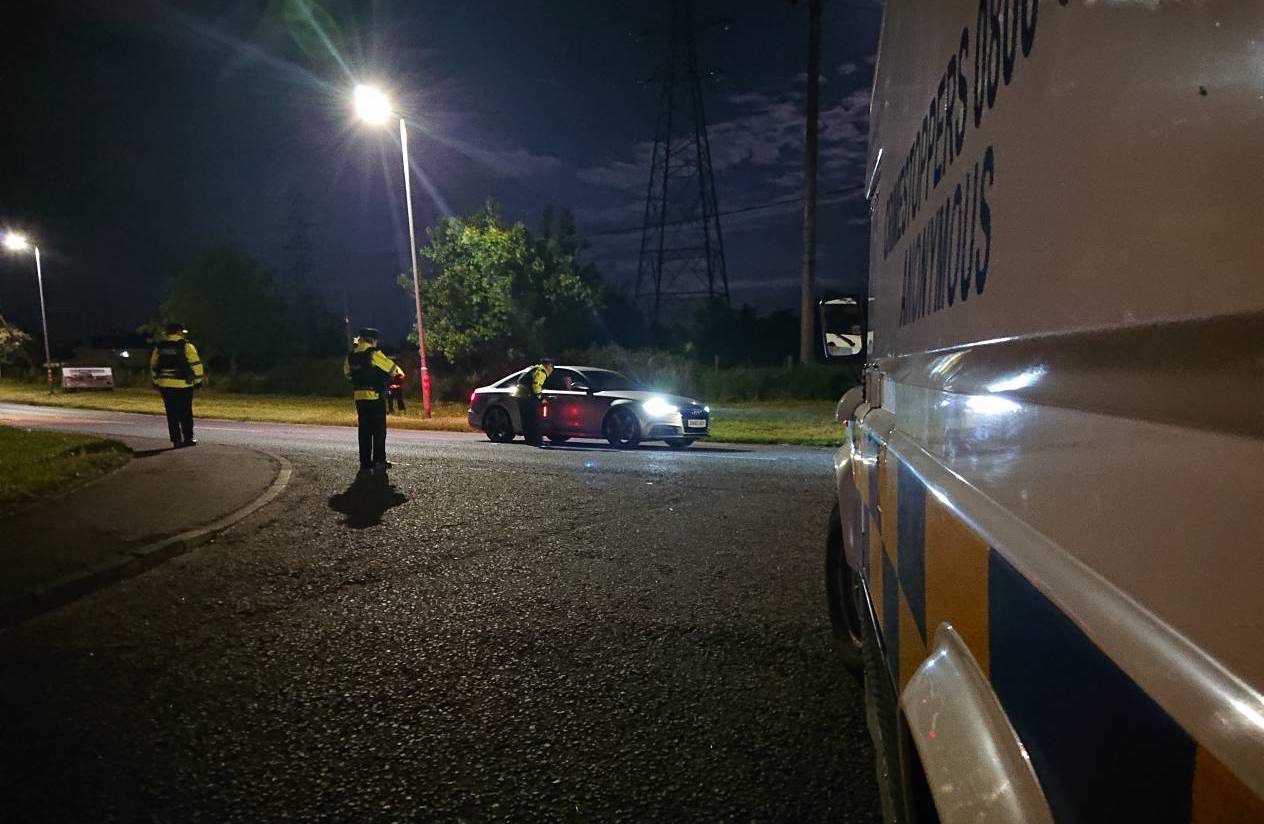 Three Lithuanian nationals have appeared in court facing charges relating to the seizure of a substantial quantity of cocaine.
Court heard that £60,000 worth of cocaine was allegedly located concealed under the carpet of a vehicle which was stopped on the Armagh Road.
Edmundas Gedvilas, 62, and Remigius Vitkauskas, 28, both of Mourne Crescent, Coalisland, along with Raimondas Zilionas, 40, of Gortmyre, also Coalisland, appeared via videolink at Lisburn Magistrates' Court on Monday.
Gedvilas and Zilionas were charged with a range of drugs offences including possession of class A drugs, possession of class A drugs with intent to supply, importing a class A controlled drug and being concerned in the supply of class A drugs.
Meanwhile, Vitkauskas faced charges for possession of class A drugs, possession of class A drugs with intent to supply and possession of class B.
Bail applications made on behalf of Zilionas and Vitkauskas were objected to by police.
Outlining the case, prosecution stated that on May 29, at 7.30pm, police stopped a vehicle on the Armagh Road, between Newry and Armagh.
Court was told that the vehicle was owned and driven by Gedvilas with Zilionas being a front seat passenger, and the men explained that they had been returning from visiting a friend in Dublin.
It was stated that police conducted a search, during which one kilogram of cocaine was located concealed under the carpet in the rear of the vehicle.
Prosecution submitted that this had a street value of around £60,000.
Gedvilas and Zilionas were arrested, making no reply to caution, and were conveyed to Lurgan custody suite.
Zilionas gave police a home address in Coalisland, however, when this was checked they spoke with his ex-partner, who said he did not live there and she had not seen him in some months.
Gedvilas gave another address in Coalisland, and police attended and spoke to Vitkauskas at this property.
He told officers that he lived at this address with Gedvilas and claimed not to know Zilionas.
During a search of this property, it was alleged police located a further £6,000 worth of cocaine in the kitchen along with a number of mobile phones and a set of scales in an upstairs bedroom.
A rucksack containing a vacuum packing machine and a small quantity of herbal cannabis were also seized, the court was informed.
Vitkauskas was subsequently arrested and taken to Lurgan police station.
When interviewed, Vitkauskas said he had been living in Northern Ireland for four years; he accepted ownership of the cannabis and said the scales were used to weigh this.
He told officers that he had a partner and child living in Lithuania, where he wished to return after the pandemic, but denied any knowledge of the cocaine found in the house.
Zilionas accepted that the cocaine found at the house was his and claimed to have bought the vacuum packing machine from "gypsies" 10 days prior.
He denied any knowledge of cocaine in the car and maintained he had been visiting a friend in Dublin.
Prosecution commented: "This is a complex investigation at a very early stage."
The connecting officer stated that a bail address for Zilionas had been offered with his nephew, however, there were concerns as a 12-year-old resides there and his nephew's wife was pregnant.
He added that "irrespective" of this permission would have to be sought from the landlord before this address could be accepted.
Prosecution outlined bail was objected to as it was felt the defendants would fail to surrender whilst on bail, and there was also a risk of  committing further offences or hindering the ongoing investigation.
The constable added that there was a fear Vitkauskas would abscond as he had a partner and child in Lithuania, to whom he wished to return.
Defence barrister Paul Burns, who represented Zilionas, stated: "He has been living here some 15 years, he has four children here. The address he gave was one which was his base with his partner.
"They separated in September, he went to Norway to work as a fitter but returned here when the pandemic hit and has been living with friends since. I feel that if he were to go anywhere, he would have done so by now."
He continued: "His nephew is a welder and is willing to put up his savings of £1,500 as a surety. The main concern in this case, the cocaine under the carpet, does not belong to him.
"He has given a full account, his DNA or fingerprints will not be on the drugs. As with case law in similar cases, there will be no way of proving that the applicant knew about the drugs."
Mr Burns added: "He has admitted that he has had an issue with cocaine since he separated from his partner. He paid £1,500 and €1,500 as a lump sum for the cocaine in the home.
"This is a man with no offences in the last 10 years and no history of drugs offences, I submit that he is a suitable candidate for bail."
Defence solicitor Conor Downey, who represented Vitkauskas, stated: "We must differentiate, Mr Vitkauskas was arrested in his own home, there is no link between him and any drugs found in the vehicle.
"With respect to the cocaine in the house, credit to Mr Burns' client for accepting ownership. My client, to his credit, has accepted owning the small amount of herbal cannabis."
He continued: "Mr Vitkauskas has been employed as a welder in this jurisdiction for the last four years. He did not obstruct the police in anyway and was very candid as he had nothing to hide.
"He has one previous conviction, which is of a completely different nature. It was a motoring matter which spiralled out of control."
Mr Downey added: "He does not have a passport but he does have a national identity card, which he is willing to surrender to the PSNI or the court.
"Given the current situation, there are very few flights and he would quite easily be flagged up and apprehended if he did try to flee.
District Judge Amanda Brady stated: "The is a case involving a substantial amount of drugs which is at an early stage, therefore I am not convinced by these bail applications.
"Bail is refused on risk of flight and risk of further offences."
All cases were adjourned to Newry Magistrates sitting on June 24.
Sign Up To Our Newsletter