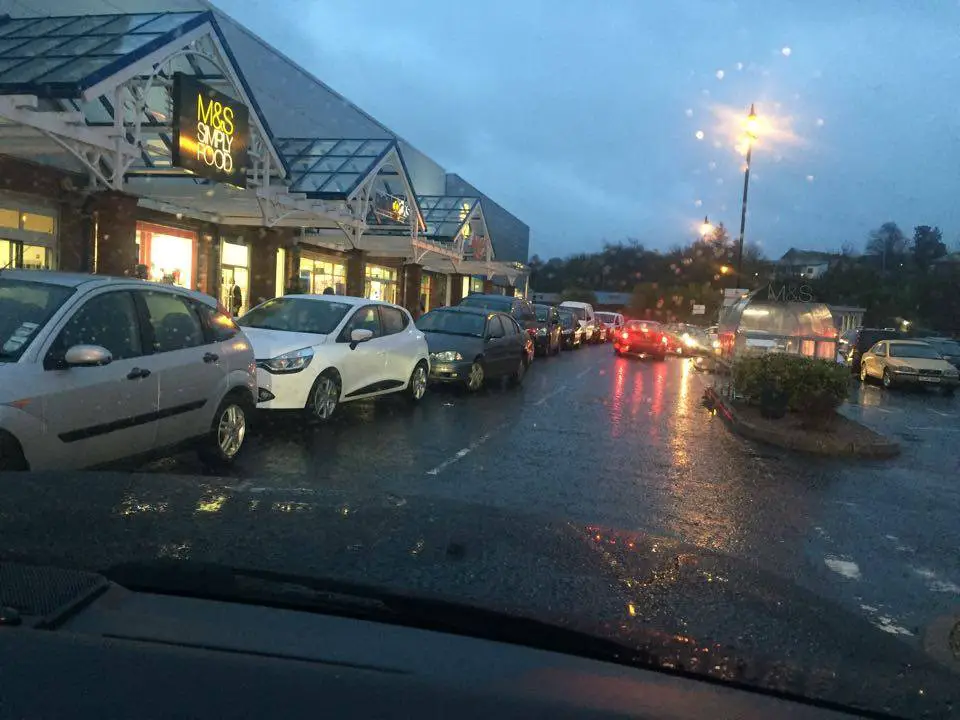 These pictures show the cars lined up outside shops at Spires Retail Park earlier tonight – blocking entrances and making life difficult for other motorists.
The photographs were sent to us by one fed-up citizen who said there were numerous parking spaces available.
But, despite this, and given the weather conditions, drivers are choosing to park as they please.
"It would make for a simple life and especially in the run-up to Christmas if folk would just obey the rules and have consideration for others instead of being lazy!," said the far-from-amused shopper.

"This is the Spires Retail Park near Lidl and it is just chockablock with loads of cars queued because of double line parkers when there is clearly space if you look further."
Another local shoppers had similar views and says the situation is made even worse as work continues on the new Costa Coffee outlet adjacent to the road into the retail park.
"Something needs to be done about people parking in front of the shops and on the double yellow lines outside Argos," he said. "It is bad enough at the best of times, but now with the ongoing construction works it's a total nightmare. "
The local man said that anyone parking in this fashion should be "photographed and fined", adding : "Where are the traffic wardens here?"
What do you think? Have you experienced difficulties? Tell us your views below…
Read more news:
Rampant Crossmaglen kill off Kilcoo for Ulster SFC final showdown with Scotstown
McDonalds forced to pull the plug early after fighting breaks out
Pictures show just how lucky man was following co Armagh accident
Civic buildings to be lit up and book of condolences in wake of France terror attacks
Archbishop of Armagh calls for solidarity and prayers for the people of Paris
Listen: Armagh man tells of 'total panic' in Paris
Armagh man takes refuge in house at dozens killed in Paris attacks
Sign Up To Our Newsletter