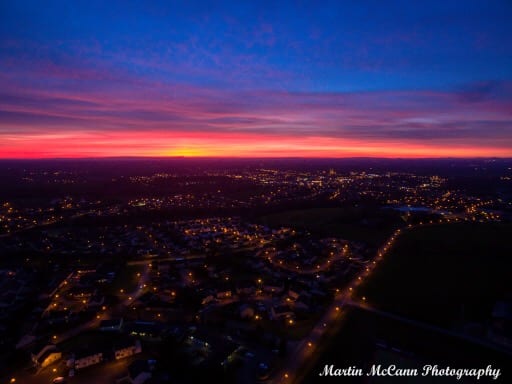 What a sunset we have witnessed this evening.
We've gained an hour of daylight and just like clockwork, mother nature responds in kind.
Feast you eyes on these beauties and feel free to send us your pics if you've happened to captured the lowering sun before it disappeared over the horizon!
Middletown overlooking Monaghan as the sun sets this evening. Beautiful.

Thanks to Steve Mack for the photo! pic.twitter.com/rFoyH3Y3EJ

— Armagh I (@ArmaghI) March 26, 2017
@barrabest Derryadd, County Armagh, near Lough Neagh. pic.twitter.com/ZeV5N3Howe

— Ciara Mc Namee (@12cm21) March 26, 2017
Sunset Lurgan park @barrabest @WeatherCee @LurganNI @newslineweather pic.twitter.com/e4JQamqVH4

— Dale Mccrory (@MccroryDale) March 26, 2017
Beautiful pueple/red hue in the Co Armagh skyline tonight. There's a nice strectch in the evenings 🙂

Thanks to Deidre McShane for the pic! pic.twitter.com/EUiEUIYR7f

— Armagh I (@ArmaghI) March 26, 2017
Gorgeous evening walk in Portadown #redskyatnight #Gorgeous pic.twitter.com/2jBt2AkTMO

— Emma Ní T. (@Gaeilge_abu) March 26, 2017
Sunset over Newry pic.twitter.com/IJ8yVOyMvT

— shirleyrodgers-mee (@shirleymeerodge) March 26, 2017
What an end to a stunning day #Newry is glowing #countydown #home @ConnectNI @barrabest pic.twitter.com/dSpZg1cxtg

— Andrew Cowan (@AndrewCowanNI) March 26, 2017
That sunset ????
Windsor Park in Belfast tonight ???? pic.twitter.com/D3bPPhAdcw

— #WCQ (@FIFAWorldCup) March 26, 2017
Become a member
Support local, independent businesses by becoming an independent member.
Become a member