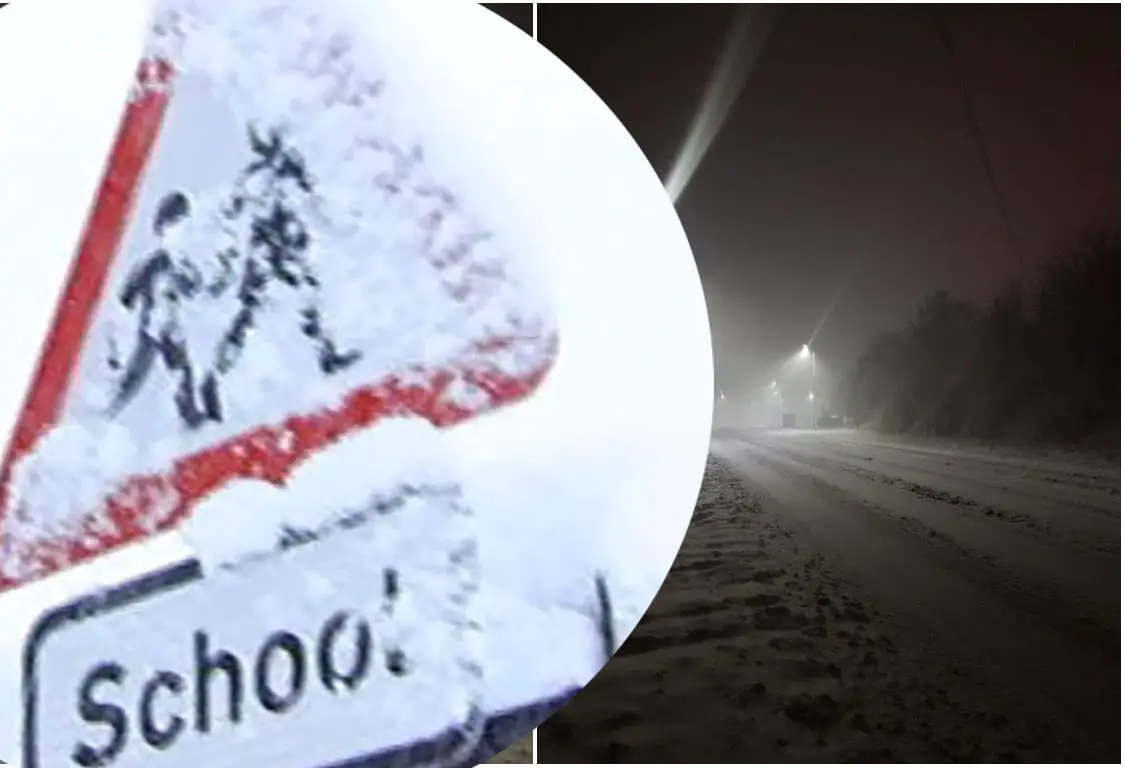 Heavy snow continued overnight which will cause another day of major disruption across Co Armagh.
An amber warning for snow will remain in place until 9am this morning (Wednesday).
However, that will only be replaced by a yellow warning for snow and ice up until 6pm before a wind warning comes into place from 9pm tonight, right through until 11am tomorrow.
Salting of roads on the scheduled network continued through the night and will do so this morning, however the Department for Infrastructure's winter service team is experiencing difficult conditions in many areas.
Read more: Thieves prepare for cold snap by stealing heating oil from Armagh residents
Road users are advised to travel only if essential, take care and leave extra time if making journeys today.
John Irvine, Head of Network Services, Department for Infrastructure, said: "The Department's winter service team has been working round the clock, endeavouring to keep main roads open following snow and ice
"This evening, conditions in some areas have been extremely difficult and challenging, some routes have required salting up to five times since this afternoon to keep them passable.
"Salting and ploughing of the scheduled road network will continue overnight and additional staff and gritters have been deployed.
Information about road conditions is available at www.trafficwatchni.com
Here is a list of the school closures in the souther area this morning:
Cortamlet Primary School, 19 Cortamlet Road, BT35 0EE
Clea Primary School, Keady
Ballydown Primary School, 64 Lisnaree Road, BT32 4JN
Milltown Primary School, 167 Lurgan Road, BT32 4NR
Fivemiletown Primary School, 166 Ballagh Road, BT75 0QP
Brackenagh West Primary School, 22 Church Road, BT34 4QB
Fair Hill Primary School Kinallen, 4 Tullynisky Road, BT25 2PJ
Drumadonnell Primary School, 133 Dromara Road, BT32 5EY
Orchard County Primary School, Blackisland Road, BT62 1NH
St Michaels Primary School Newtownhamilton, 86 Dundalk Street, BT35 0PB
Cloughoge Primary School, 81 Chancellors Road, BT35 8NG
St Joseph's Primary School Meigh, 1 Seafin Road, BT35 8LA
Killowen Primary School Rostrevor, 88 Killowen Old Road, BT34 3AE
St Joseph's Primary School Ballymartin, 18 Ballymartin Village, BT34 4PA
St Joseph's Convent Primary School Newry, Edward Street, BT35 6AN
Grange Primary School, 20 Lurganconcary Road, BT34 4LL
Holy Cross Primary School, 6 Attical Bog Road, BT34 4HT
St Mary's Primary School Barr, 3 School Road, BT34 1SX
St Paul's Primary School Cabra, 35 Ballykeel Road, BT34 5RH
St Mary's Primary School Rathfriland, Downpatrick Street, BT34 5DQ
St Mary's Primary School Dechomet, 6 Closkelt Road, BT31 9QE
St Patrick's Primary School Derrynaseer, 3 Aghalee Road, BT67 0AR
St Colman's PS and All Saints' NU Annaclone, Annaclone, BT32 5LS
St Joseph's Primary School Bessbrook, 28 Convent Hill, BT35 7AW
St Ronan's Primary School Newry, Ashgrove Avenue, BT34 1PR
St Colman's Primary School Kilkeel, Greencastle Street, BT34 4BH
St Patrick's Primary School Drumgreenagh, 40 Longstone Hill Road, BT34 5BT
Newtownhamilton High School, 9 Armagh Road, BT35 0DG
Banbridge High School, Primrose Gardens, BT32 3EW
Dromore High School, 31 Banbridge Road, BT25 1ND
Rathfriland High School, 76 Newry Street, BT34 5PZ
Newry High School, 23 Ashgrove Road, BT34 1QN
St Joseph's Boys' High School Newry, 20 Armagh Road, BT35 6DH
St Columban's College Kilkeel, 127 Newcastle Road, BT34 4NL
St Patrick's College Banbridge, Scarva Road, BT32 3AS
St Patrick's High School, Keady
Darkley Primary School
St Francis of Assisi, keady
St Mochua's Derrynoose
Foley Primary School, Ballymacnab
St Michael's Primary School, Clady
St Mark's High School, Upper Dromore Road, BT34 3PN
St Paul's High School, 108 Camlough Road, Bessbrook, BT35 7EE
St Joseph's High School Crossmaglen, 77 Dundalk Road, BT35 9HP
New-Bridge Integrated College, 25 Donard View Road, BT32 3LN
Naíscoil an Ceide, Keady
Rathore School, 9 Martin's Lane, BT35 8HJ
Donard School, 22A CASTLEWELLAN ROAD, BT32 4XY
Lisanally School, Lisanally Lane, BT61 7HF
Banbridge Academy, Lurgan Road, BT32 4AQ
St Louis Grammar School, 151 Newry Road, BT34 4EU
Our Lady's Grammar School, Chequer Hill, Newry, BT35 6DY
St Colman's College, 46 Armagh Road, BT35 6PP
Sacred Heart Grammar School, 10 Ashgrove Avenue, BT34 1PR
Ballydown Primary School, 64 Lisnaree Road, BT32 4JN
Milltown Primary School, 167 Lurgan Road, BT32 4NR
Brackenagh West Primary School, 22 Church Road, BT34 4QB
Fair Hill Primary School Kinallen, 4 Tullynisky Road, BT25 2PJ
Drumadonnell Primary School, 133 Dromara Road, BT32 5EY
Orchard County Primary School, Blackisland Road, BT62 1NH
St Michaels Primary School Newtownhamilton, 86 Dundalk Street, BT35 0PB
Cloughoge Primary School, 81 Chancellors Road, BT35 8NG
St Joseph's Primary School Meigh, 1 Seafin Road, BT35 8LA
Killowen Primary School Rostrevor, 88 Killowen Old Road, BT34 3AE
St Joseph's Primary School Ballymartin, 18 Ballymartin Village, BT34 4PA
St Joseph's Convent Primary School Newry, Edward Street, BT35 6AN
Grange Primary School, 20 Lurganconcary Road, BT34 4LL
Holy Cross Primary School, 6 Attical Bog Road, BT34 4HT
St Mary's Primary School Barr, 3 School Road, BT34 1SX
St Paul's Primary School Cabra, 35 Ballykeel Road, BT34 5RH
St Mary's Primary School Rathfriland, Downpatrick Street, BT34 5DQ
St Mary's Primary School Dechomet, 6 Closkelt Road, BT31 9QE
St Patrick's Primary School Derrynaseer, 3 Aghalee Road, BT67 0AR
St Colman's PS and All Saints' NU Annaclone, Annaclone, BT32 5LS
St Joseph's Primary School Bessbrook, 28 Convent Hill, BT35 7AW
St Ronan's Primary School Newry, Ashgrove Avenue, BT34 1PR
St Colman's Primary School Kilkeel, Greencastle Street, BT34 4BH
St Patrick's Primary School Drumgreenagh, 40 Longstone Hill Road, BT34 5BT
Newtownhamilton High School, 9 Armagh Road, BT35 0DG
Dromore High School, 31 Banbridge Road, BT25 1ND
Rathfriland High School, 76 Newry Street, BT34 5PZ
NEWRY HIGH SCHOOL, 23 Ashgrove Road, BT34 1QN
St Joseph's Boys' High School Newry, 20 Armagh Road, BT35 6DH
St Columban's College Kilkeel, 127 Newcastle Road, BT34 4NL
St Patrick's College Banbridge, Scarva Road, BT32 3AS
St Mark's High School, Upper Dromore Road, BT34 3PN
St Paul's High School, 108 Camlough Road, Bessbrook, BT35 7EE
St Joseph's High School Crossmaglen, 77 Dundalk Road, BT35 9HP
New-Bridge Integrated College, 25 Donard View Road, BT32 3LN
Rathore School, 9 Martin's Lane, BT35 8HJ
Donard School, 22A CASTLEWELLAN ROAD, BT32 4XY
Lisanally School, Lisanally Lane, BT61 7HF
Banbridge Academy, Lurgan Road, BT32 4AQ
St Louis Grammar School, 151 Newry Road, BT34 4EU
Our Lady's Grammar School, Chequer Hill, Newry, BT35 6DY
St Colman's College, 46 Armagh Road, BT35 6PP
Sacred Heart Grammar School, 10 Ashgrove Avenue, BT34 1PR
Sign Up To Our Newsletter