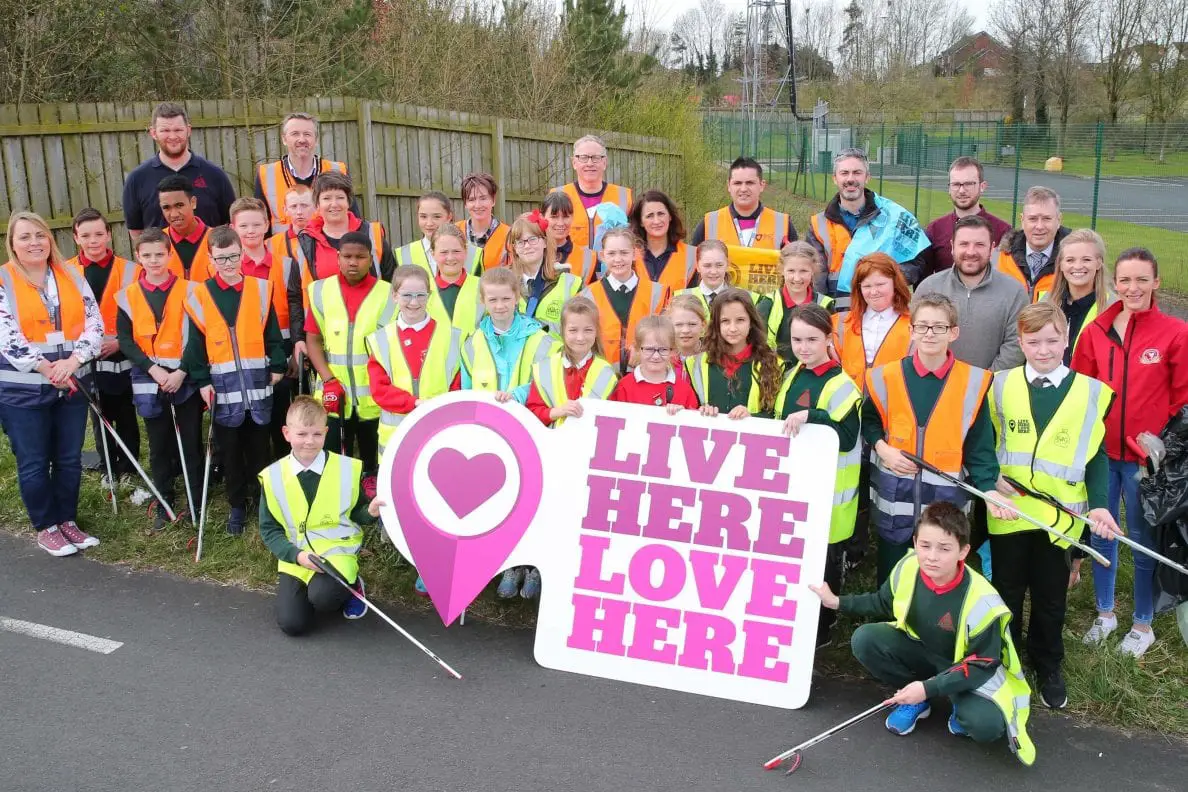 Council staff together and local schools rolled up their sleeves and got stuck in as part of a 'Big Spring Clean' this week – collecting a staggering 49 bags of rubbish from three areas within the borough!
Keep Northern Ireland Beautiful's initiative ran throughout the month of April.
Staff in Craigavon joined up with Tullygally and Drumgor Primary Schools and some Tesco employees to clean up some of the black paths in and around Marlborough Retail Park.
In Banbridge staff focused their efforts on the river walk in Dromore Park along with the local Cadets.
And in Armagh volunteers cleaned up along the Callan river walk from Killylea Road to Nursery Road.
The Big Spring Clean is the fastest growing community clean-up volunteering campaign in the country and is open to individuals, schools, community groups and businesses from all communities wishing to rid their streets of litter and discarded rubbish.
Last year, 111,000 volunteers got involved in clean up events across Northern Ireland removing an amazing 141 tonnes of litter (that's equivalent to 77 family cars!).
"We are delighted with the continued support shown by the local community for the Big Spring Clean," said Deputy Lord Mayor Sam Nicholson. "Residents and organisations want to do their part to keep the borough beautiful and are keen to get involved.
"We all want to see positive changes to where we live, cleaner streets, less dog fouling and graffiti. With support from Live Here Love Here we hope to encourage more people to play a part.
"Through the scheme, Councils provide volunteering individuals and groups with the necessary equipment and support to enable them to help make a difference to their local area."
Jodie McAneaney, from Keep Northern Ireland Beautiful, said the charity was "absolutely delighted" with the enthusiasm shown by the local community in the ABC borough.
"Street cleansing costs millions each year but we can all play a part in reducing the amount spent by not dropping litter," she said.
"The great willingness to take part this campaign shows the community wants to be involved and make a difference to their areas and we hope our Big Spring Clean volunteers will inspire others to do their bit to ensure we live in a clean, safe and beautiful environment."
If you think you would like to become involved with a clean-up as a resident, group, school or business please contact Armagh City, Banbridge and Craigavon Borough Council on 0300 0300 900 for further information.
PICTURE INSET: Council staff Paul Swift, Trevor Geary, Elaine Devlin, Edel Ferson, Lynn Esler, Julie Telford, Rose Rushe, Caoimhe Connolly and Maria Herron who carried out a litter pick along the river walk from Killylea Road to Nursery Road, Armagh as part of Keep Northern Ireland Beautiful's 'Big Spring Clean' collecting a total of nine bags of rubbish.
Sign Up To Our Newsletter