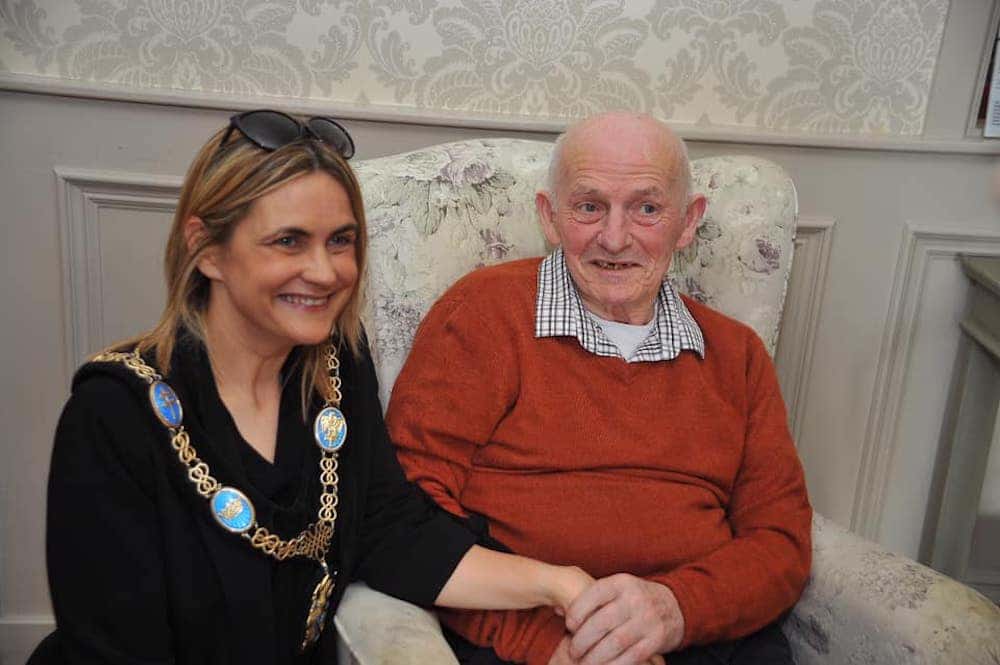 Tributes have been paid to John Campbell, a hugely popular former Mayor of Armagh, who has sadly passed away.
Mr Campbell, from Blackwatertown, stood down from Armagh City and District Council at the end of 2013.
During his time on council, he had sat on all major committees and held and performed the role of Mayor with a professionalism and impartiality which endeared him to many.
A diligent servant for the Orchard Ward – one of four electoral areas on the former Armagh City and District Council – he will be remembered as a champion for the rural community.
It was within that rural community which he represented with distinction and flair that Mr Campbell passed away peacefully on Tuesday, at Collegelands Nursing Home.
A tireless worker, he was destined to help others and set and achieve goals.
He won his first election on to council back in 1997 and successfully contested three more local government polls, his last in 2011.
Mr Campbell served more than half of that last council term before stepping down, at the end of 2013.
Co-opted to fill the vacancy at the start of 2014 was Eamon McNeill, who still serves on the more recent Armagh City, Banbridge and Craigavon Borough Council.
He paid tribute at the time to his predecessor and said he had "big shoes to fill" in replacing Mr Campbell on council.
John Campbell had served as Mayor during 2005/06 and, even after his resignation from council almost eight years later, he maintained a close interest in local government and a firm supporter and voice for SDLP policies, there to guide and counsel others.
Among those paying tribute were two younger members of the party, each of whom went on to step up and fulfil the duties of the highest role within the council chamber.
Sharon Haughey, who stood down from council at the last election, said she was "saddened" to learn of the death of her former SDLP colleague and friend.
The former Lord Mayor said: "I served alongside John on Armagh City and District Council and it was always a joy to be in his presence.
"He was a man with no back doors, he called things just as he saw them. His honesty and straight talking were refreshing.
"He was a committed SDLP stalwart who represented the entire community with great passion.
"His humour and his trademark laugh was endearing. I always appreciated his advice and his steer on events of the day.
"He was a very popular representative and his passing will bring sadness to many.
"My thoughts and prayers are with his family at this time especially his children Gavin, Jill and Ross and his brothers and sisters. Rest in Peace Mo Chara."
Another former Lord Mayor, Mealla Campbell said she was "totally devastated" to hear news of the passing of John Campbell.
Describing him as a "great friend, colleague and mentor", she added: "He was a joy to work with as a councillor – a straight-talker who never missed a beat, a dogged and determined public representative who served the Orchard DEA diligently.
"He was passionate about his rural area and worked tirelessly for everyone in the local community.
"John was a dear friend and his loss is felt deeply. My thoughts are very much with his family at this difficult time. May his gentle soul rest in peace."
Mr Campbell's funeral will leave his son Ross's home on the Annahagh Road on Friday. The cortege will make its way to St Jarlath's Church, Clonfeacle, where Requiem Mass will be celebrated at 2pm. He will be laid to rest afterwards in the adjoining cemetery.
Owing to the current restrictions, both the wake and funeral are limited to family only.
Mr Campbell is survived by sons Gavin and Ross, and daughter Jill, as well as siblings James, Annie, Hughie, Paddy and Sally, and to they we offer our deepest sympathy at his time. May he Rest in Peace.
Sign Up To Our Newsletter