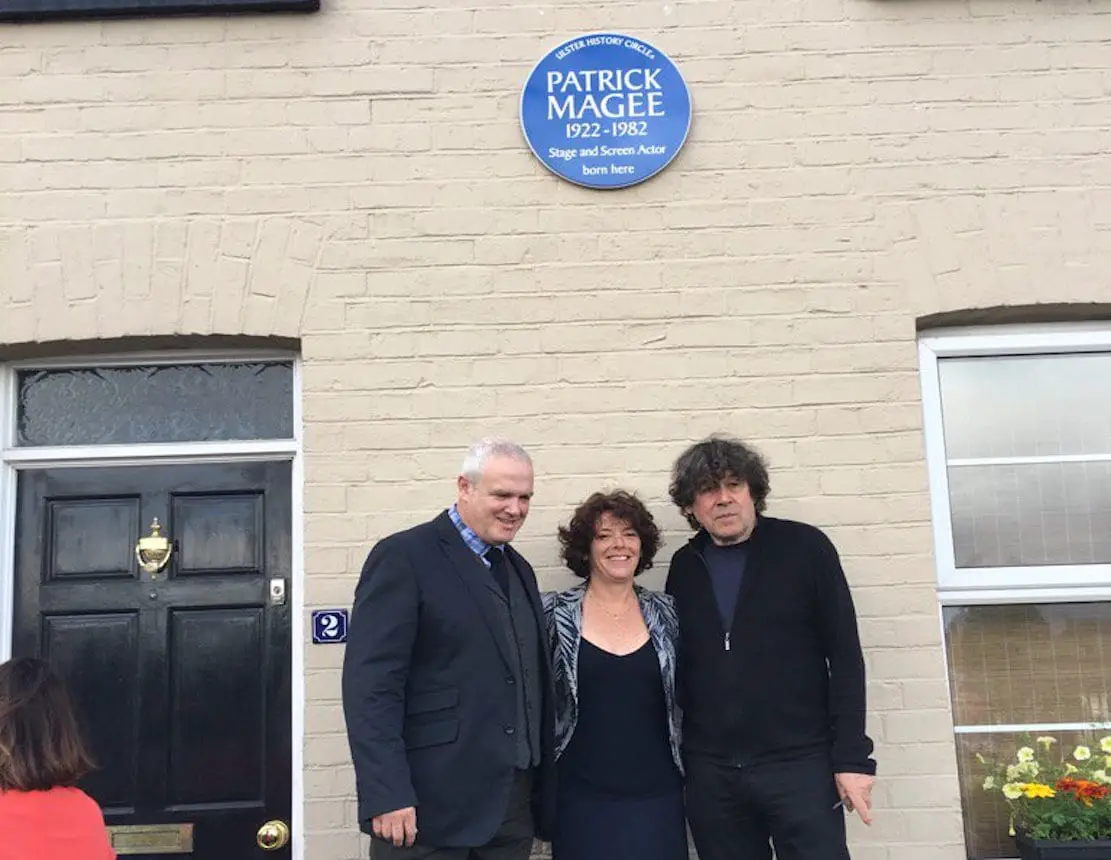 Five famous Armachians are to be honoured with blue plaques marking their birthplace.
Armagh actor Patrick Magee – who died in 1982 – was honoured with the famous 'blue badge' at his home at Edward Street in the city (main image).
The star of such classic movies as Zulu, A Clockwork Orange and Chariots of Fire, the plaque was unveiled in July last year by home-grown Hollywood star Stephen Rea.
It is the Ulster History Circle which chooses recipients, placing commemorative plaques in public places in honour of people and locations that have contributed to all genres of history.
Founded in the early 1980s, the group receives no government funding, unlike many similar organisations in the United Kingdom.
To date a number of plaques have been erected within the Armagh City, Banbridge and Craigavon Borough, including to George Russell and Ike Weir in Lurgan, John Butler Yeats at Tullylish and author John O'Connor in Armagh.
The Ulster History Circle uses set criteria for selection, in that recipients must have been deceased for at least 20 years or would have reached the centenary of their birth before this time.
The person should have been held in high esteem by their 'professional' peers in their area of achievement, which can be of note locally, nationally or internationally.
The Ulster History Circle has no funds of its own, so cannot proceed with any plaque until it is assured of funding in full from an outside body. Mostly, funding comes from local councils or groups such as the Ulster-Scots Agency or Foras na Gaeilge.
In January 2017 it was approved by the ABC Council that £4,800 would be used to erect six blue plaques.
The first of these was unveiled in July 2017, celebrating actor Patrick Magee.
Now the remaining five recipients have been chosen.
William Kennedy – after whom the international William Kennedy Piping Festival is named – is one of those.
Robert Hart, the son of a Portadown greengrocer, went on to found the modern Chinese Customs Service in the 1860s.
Armagh-born playwright Jack Loudan was the author of many works, most famously Henry Joy McCracken. He passed away in 1976, at the age of 74.
Architect Francis Johnston will also be celebrated with a blue plaque. Born in 1760 in Armagh, he was a noted and leading figure in his field, and perhaps his most famous design that of the General Post Office building on Dublin's O'Connell Street.
Rev Robert James Patterson – a former minister of the Mall Presbyterian Church in Armagh – founded the Catch-my-Pal movement. It branched out across Northern Ireland as the Protestant Temperance League but was aimed at saving lives of all faiths of those facing despair and inevitable death through alcoholism.
Dates and formal plans for the unveiling of the five blues plaques can now be worked on and arrangements finalised.
Sign Up To Our Newsletter