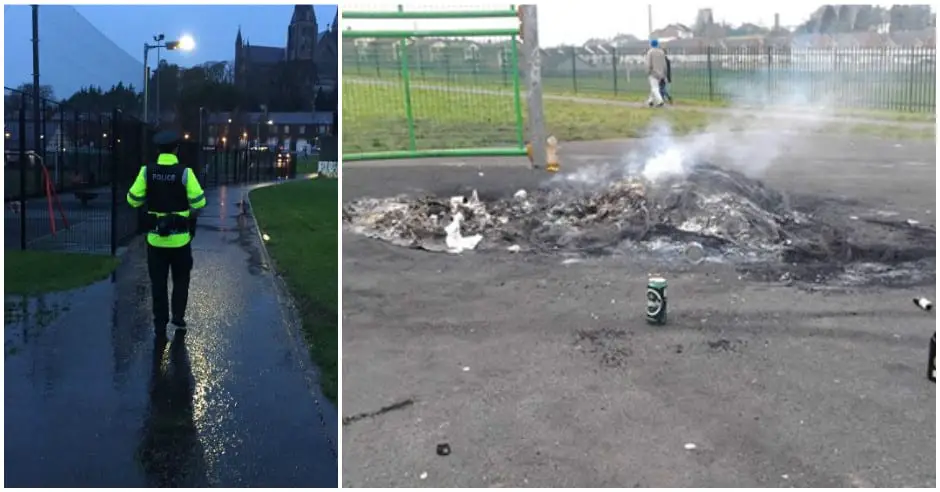 Police in Armagh say they are continuing to monitor the area around Sherry's Field.
It comes amid reports that vandalism and anti-social behaviour have hit an all-time high.
The most recent incident saw a huge fire lit close to the playing field, which has burned in the tarmac surface. The area was strewn with empty drink bottles scattered about, and broken glass posing a danger to child and adult alike.
Plans to develop the Cathedral Road Recreation Centre – which included CCTV and enhanced lighting in the area – were deferred in the summer on the proposal of DUP Councillor Darryn Causby, seconded by Independent Unionist Paul Berry, despite being at an advanced stage.
The £1 million development was put back to first explore options for overall leisure provision in the city, including the Mullinure site.
The West Armagh Consortium has said that the Sherry's Field area is a nightmare for residents living nearby, who are experiencing the same type of problems which have plagued those living near the underpass at Killylea Road, the 'college field' at the Moy Road, and the Callan footbridge.
The situation has been ongoing for some years but has gradually got worse due to the "activities of young people high on drink, drugs and more increasingly now both" with residents now "at their wits end over it".
The West Armagh Consortium says: "Weekend parties lasting into the early hours, underage drinking, drug taking and drug sellers, destruction of property, increased noise levels and physical attacks are a regular fact of life in this area.
"To combat this, local resident representatives and political representatives have come together to see what can be done.
"A number of meetings with the local council, PCSP and the PSNI have been held at which a series of proposals aimed at combating this weekly onslaught on the community have been put forward.
"These include increased street lighting, improved fencing, additional CCTV, better reporting of incidents either through the 101 number or Crimestoppers on 0800 555 111, and increased police patrols.
"What has clearly emerged is that this problem is not one that can be solved without a combined approach by the community, statutory bodies and police authority.
"For the local residents of Callan Street, Convent Road, Cathedral Road, Edward Street, a solution cannot come quickly enough."
The PSNI, meanwhile, is trying to reassure residents that it is maintaining a presence in the area to try and act as some form of deterrent.
Earlier today (Wednesday), the PSNI in Armagh shared a picture on social media in the vicinity, and assuring it is continuing to "monitor Sherry's Fields following recent problems in the area".
Read more news:
Talented GAA player fights for life days after winning championship
Storm misery ahead as forecasters say it's about to get VERY, VERY wet and windy!
Firefighters forced to cut roof off car to free trapped woman
Four-year-old girl's version of Jingle Bells will melt your heart
Emergency services at scene of RTC at ring road in Armagh
Sick burglars empty dog's ashes from urn in hunt for valuables
Help us: Heartbroken family appeal to get beloved boxer Finn home for Christmas
Sick burglars empty dog's ashes from urn in hunt for valuables
Brave Joshua bags 'Campaigner of the Year' award for reaching out to victims of bullying
Watch the heartwarming moment Co Armagh girl is reunited with mum after two years
Sign Up To Our Newsletter