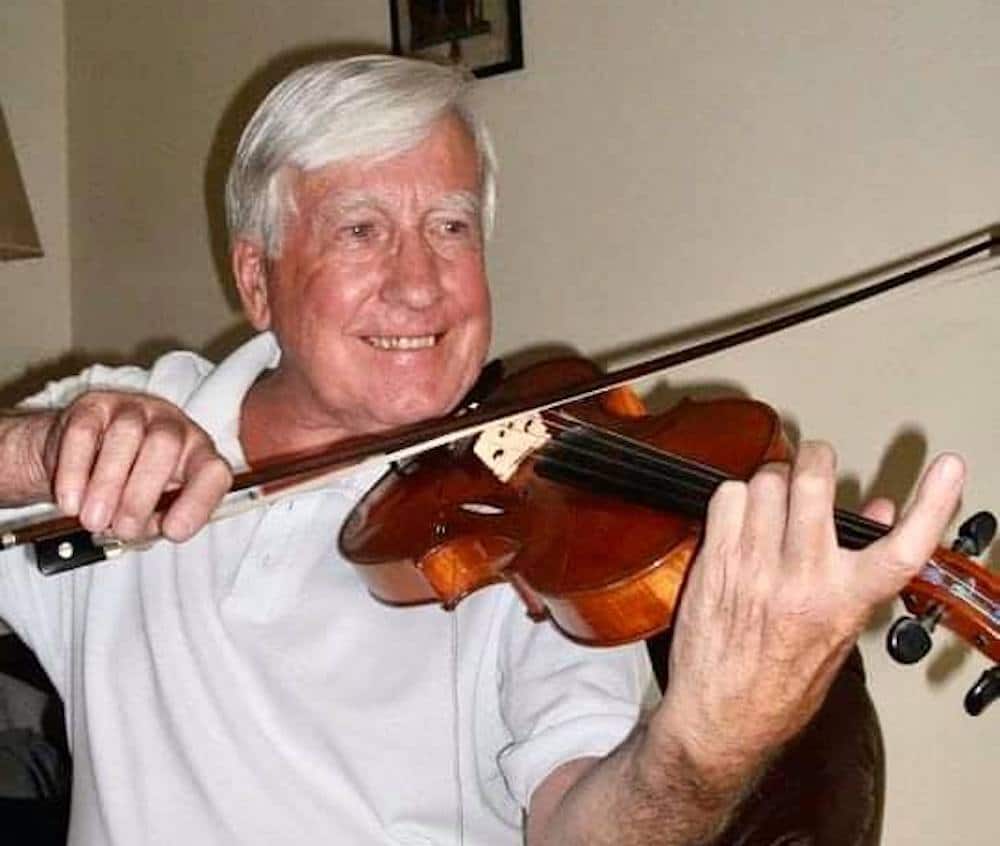 A renowned fiddle player from Armagh has passed away at his home in Sussex, England.
Brendan McGlinchey, one of the greatest musicians that Armagh city has ever produced, had been ill with cancer for some time.
He was 79-years-old.
Mr McGlinchey began playing fiddle at the age of 12 from local teacher John Conway, followed by Archie Collins in Portadown, and within a short time had won numerous medals on the Irish traditional scene.
At 15, he won a competition at the Dungannon Feis and was subsequently asked by ceili band leader Malachy Sweeney to join his band, which he toured with for two years.
Mr McGlinchey moved to London for work when he was 18, returning to his homeland from time to time. He was a teacher at summer schools throughout Ireland and England and was also a regular adjudicator at Fleadh Ceoil na hEireann.
Armagh Pipers' Club led the tributes to one of the city's greatest musical exports.
"Brendan was already established by his early 20s as a star in the Irish traditional music scene; he had played with the Armagh-based Malachy Sweeney Céilí Band in the late 1950s, before breaking away with Johnny Pickering of Markethill who formed his own Céilí Band in which Brendan played for several years.
"During this time Brendan, despite disliking the ethos of musical competitions, treated them as a learning opportunity and won many All-Ireland titles as a fiddle player.
"There was a famous and friendly rivalry with Clare's Séamus Connolly at successive Fleadhanna Cheoil na hÉireann, though neither Brendan nor anyone else matched Séamus' eventual tally of ten solo fiddle championships.
"Brendan, who had previously worked for a short time in England, emigrated to London in the 1960s. Although he gave up playing from the mid-1970s until the early '90s, he later resumed his musical career and was in great demand as a performer, teacher and adjudicator.
"He spoke of how in his youth he 'failed' as a student to classical violin teachers, but found his own way in; his bowing was largely self-taught from listening to northern and Scottish players, while the playing styles of Galway and Clare were the sources of his left-hand ornamentation. His best-known compositions include 𝘚𝘸𝘦𝘦𝘯𝘦𝘺'𝘴 𝘉𝘶𝘵𝘵𝘦𝘳𝘮𝘪𝘭𝘬 and 𝘛𝘩𝘦 𝘍𝘭𝘰𝘢𝘵𝘪𝘯𝘨 𝘊𝘳𝘰𝘸𝘣𝘢𝘳.
"It was something of a coup for Armagh Pipers Club to persuade him to return to Armagh city in 1993 for a concert attended by over 500 people.
"One of Brendan McGlinchey's most influential recordings was, with Mary Mulholland, the LP Music of a Champion, released in 1974. This included his 𝘚𝘱𝘭𝘦𝘯𝘥𝘪𝘥 𝘐𝘴𝘰𝘭𝘢𝘵𝘪𝘰𝘯, a tune composed to lament the breakdown of a musical partnership but one which so united musicians in admiration that it has itself now been recorded over 70 times.
Thank you, champion."
He is survived by his wife Margaret and his three children Sarah, Helen and Mary Ann.
Become a member...
Have you considered becoming an Independent member, where not only you support local independent businesses, but you help Armagh I champion a wider, more independent, and impartial range of journalism that matters to your local community – from videos and photos to features and events.
Not only do members get the Independent Card, which gives you exclusive access to fantastic discounts from local businesses but you can get an exclusive members-only newsletter packed with the best deals locally, as well as unique first-look content. Not to mention, our competitions, discounts and giveaways will be made exclusively to our members only. Sign up to become a member or find out more here.
Become a member